MTV reality show had cast members living outside of Key West in pricey house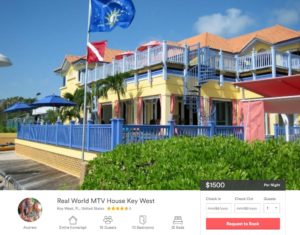 Ten years have passed since the final episode of MTV's Real World Key West. During its season, the cast members lived outside of Key West on a neighboring island called Key Haven. This kept them largely isolated from, strangely enough, the real Key West.
This isolation was confirmed in a recent interview with cast member John Devenanzio, aka Johnny Bananas. He stated, "They called it Key West, but I was 30 minutes outside of Key West! I didn't really get the full experience because I'm in a town, it's a seasonal town, everyone there is like fisherman and older pirate (expletive) hookers. We got gypped."
Interesting side story: Mr. Devenanzio sued HBO when its Entourage show featured a cartoon character with a nickname Johnny Bananas, which according to the lawsuit, caused emotional distress and defamed Mr. Devenanzio. This case was dismissed by the courts due to a technicality, but the judge went out of his way to note that Mr. Devenanzio would not have prevailed.
Cast members did spend some time in downtown Key West where they were tasked with running a start-up tanning salon, a business that sunny Key West wasn't very much in need of. Once the show stopped filming, the tanning salon quickly went out of business.
The Key Haven house where the cast resided was rented by MTV for $25,000 per month. That was an astounding number at the time, but today that house is now on AirBnB for $1500 per night, which equates to $45,000 for a month!
Here is the original lease MTV signed for that season's house: