Despite news reports, Key West was not wrecked; the storm's eyewall passed just 20 miles to the east
Key West, one of 43 islands that comprise the Florida Keys, very narrowly dodged not just a bullet, but more aptly a cannonball known as Hurricane Irma.
The center of Hurricane Irma passed approximately 30 miles east of Key West, leaving Key West on the western, relatively calmer side of the storm, and just outside the most intense eyewall. As a result, Key West did not flood and nearly all structures on the island received no major damage. The most significant effect was to trees; numerous large trees were toppled.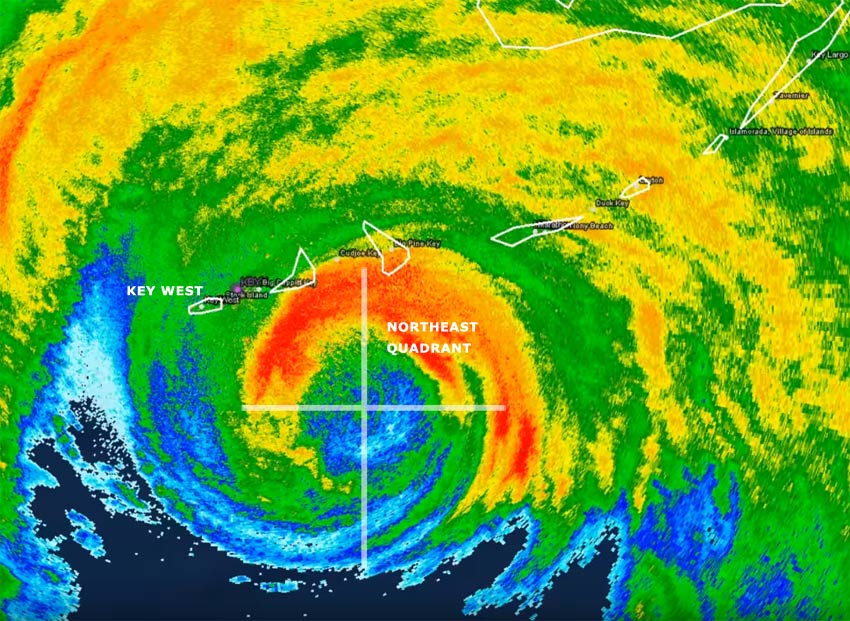 Visitors to Key West will likely be surprised at how unharmed and beautiful the island is, especially with the imprecise reporting from major media outlets.
The greatest devastation from hurricanes comes from the north-eastern quadrant of the storm, sometimes referred to as the "dirty side" of the storm. There, onshore winds can bring storm surge and flooding while winds will be their most ferocious.
Islands that were east of Hurricane Irma's track, in that north-eastern quadrant, sustained significant major damage, especially Cudjoe Key, Sugarloaf Key, Big Pine Key, Summerland Key, Little Torch Key, and Marathon Key. These low-lying islands saw 5-10 foot storm surge and 140+ mph wind gusts.
Using the official National Hurricane Center data, Key West Travel Guide has compiled an interactive map, below, showing the exact track of Hurricane Irma throughout the storms life, including barometric pressure, maximum wind speed, and category on the Saffir-Simpson scale. Notice just how close Key West came to devastation.
Click the map markers to reveal underlying data; zoom out to see entire storm track.
[mappress mapid="7″ width="100%" height="400″ poiList="true" ]