First fee increase in 18 years affects daily visitors and overnight campers.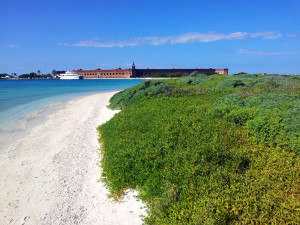 Visiting one of America's most scenic and unique national parks just got a bit more expensive.
Effective October 1, 2015, the Dry Tortugas National Park entrance fee has been increased from $5 to $10 per adult.
This will affect day visitors as well as those camping at Fort Jefferson. Additionally for campers there is a new fee structure. In the past, campers paid $3 per person per night. That has now been eliminated and replaced with a nightly $15 per campsite fee. Group camping fees have also changed with the elimination of the per-person-per-night fee and the addition of a $30 per group-camping site per night.
According to the park service, fees at the Dry Tortugas National Park have not increased in eighteen years. The new revenue from the increased fees is to be spent on deferred maintenance at the park. Currently, the park service estimates there is $56 million in deferred maintenance at the Dry Tortugas National Park.
The Dry Tortugas National Park is 70 miles west of Key West, Florida and accessed by high-speed ferry or seaplane (float plane). With the new fees, the daily trip aboard the ferry is now $175 per adult, $125 per child 16 & under, and $160 per senior, student, and military. The seaplane will now cost $309 per adult for the half-day trip, and $535 per adult for the full day trip.
More information about visiting the Dry Tortugas & Fort Jefferson