Key West should ban sunscreens that harm the coral reef. We support reef-safe sunscreen legislation.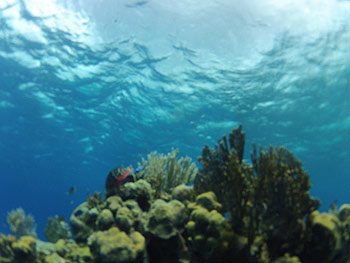 Tomorrow [January 15, 2019], the Key West City Commission will debate a new ordinance that would ban the sale of sunscreens that are known to harm coral reefs.
This should be an obvious decision, however, a chemical-industry effort has muddied the waters. The industry's "PASS Coalition" has been bombarding Florida Keys locals with advertisements on YouTube and Facebook declaring that passing this ordinance would cause harm by not giving access to the most powerful of sunscreens. (The following chemical and cosmetic companies, among others, are behind PASS Coalition: DeWolf Chemical, Inc, McCullough & Associates, A.I.G. Technologies, Akzo Nobel Surface Chemistry LLC, Autumn Harp Inc., Johnson & Johnson, Product Quest LLC)
What they fail to mention is that sunscreens containing two specific chemicals, oxybenzone and octinoxate, are known to stress and kill coral. With tens of thousands of people snorkeling and diving the Florida Keys reefs, most covered in these chemicals, the fragile reef has deteriorated.
It should also be noted that the PASS Coalition website fails to mention three words: "coral," "reef," and "ocean." It is abundantly clear that they have no interest in what Key West residents hold dear – the precious marine ecosystem.
Reef-safe sunscreens already exist and are on the market. These contain zinc-oxide as the active ingredient for sun protection instead of oxybenzone and octinoxate. Should the ordinance be approved, these reef-safe sunscreens would continue to be available for sale in the Florida Keys.
Hawaii has already banned non-reef-safe sunscreens.
It is time for the Florida Keys to do the same.
Key West Travel Guide wholeheartedly supports this effort and encourages the commissioners to pass this ordinance.
Below is the executive summary for the ordinance the City Commission will consider. Meeting is scheduled to begin at 6pm at City Hall.