Key West's best vegetarian restaurant pleases all.
This funky cafe features some of the best vegetarian dishes in Key West. Flavorful soups, spring rolls, sandwiches, pizzas, pasta, and salads are offered, including inventive and delicious tofu recipes. The Cafe's veggie burgers are especially tasty and guilt free.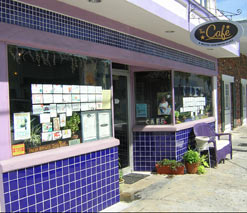 The Cafe calls itself a "mostly" vegetarian restaurant because they do serve one or two fish dishes.
Location: 509 Southard Street
Hours: Open every day except Sunday, 11am-10pm.
Phone: 305-296-5515 (Delivery Available)
The Cafe Menu
Beginnings, Sides, & Such
Today's Soup – cup $3.23, bowl $5.50
*Cafe Veggie Burger Bites – with curry lime sauce (not vegan) & BBQ sauce
*Spring Roll – with sweet chili sauce – $4.45
*Un-Wing Dings (hot, BBQ, or Teriyaki) – celery & Blue cheese (not vegan) – $6.75
*Edamame – $4.25
Vegetable Stuffed Portobello Mushroom – with goat cheese cream sauce – $8.50
*Spinach Gyoza Dumplings – $6.25
Polenta Sticks – with marinara sauce – $5.75
*Sweet Potato Fries – with curry-lime sauce (not vegan) – $4.25
Steamed Organic Brown Rice – $3.50
*Sauteed Spinach – $4.75
*Sauteed Mixed Vegetables – $5.75
*Cold Peanut Noodles – soba noodles, snow peas, red peppers, peanuts, and black sesame seeds – $8.25
Hand Cut French Fries – with truffle oil, black pepper, and parmesan – $6.25
*=VEGAN
Salads
*Garden Salad – organic baby greens & mixed vegetables (choice of dressings: Orange-Mango Vinaigrette, Balsamic Vinaigrette, Miso Ginger, Curry-Lime, Blue Cheese) – small $4.25, large $8.25 (add tofu $2.75, add veggie burger $6.00, add seared Yellowfin tuna $7.50)
Grilled Portobella Mushroom – organic baby greens, goat cheese, roasted red pepper, toasted almonds, and balsamic vinaigrette – $9.75
*Chilled Tofu Salad – organic baby greens, roasted sunflower seeds, sliced green apples, and dried cranberries and orange-mango vinaigrette – $9.50
*Spinach and Tahini Salad – spinach, avocado, our marinated bean salad, cherry tomatoes, red onion, sunflower seeds, and a tahini dressing – $10.50
*=VEGAN
Sandwiches
(made with Ciabatta or whole wheat bread and served with our marinated bean salad (substitute sweet potato or regular fries or small garden salad – $3.00)
*"Veggie" Veggie Burger – made with legumes, carrots, broccoli, mushroom, scallions, and sunflower seeds – $8.75
*Artichoke Delight – artichoke hearts, roasted red peppers, portobella, red onion, mixed greens, and balsamic vinaigrette – $7.75
Tofu Parmesan – $9.25
BBQ Tofu – with caramelized onions and extra sharp cheddar cheese – $8.25
Classic Sprouthead – with avocado, cucumber, swiss cheese, lettuce, tomato, and sprouts – $7.25
*Colossal Veggie – grilled eggplant, zucchini, portobella, roasted red peppers, tomato & spinach – $8.75
Blacked Tuna – with pineapple-mango salsa, lettuce, tomato and sprouts – $10.25
*Falafel – with hummus & Israeli salad in grilled pita – $7.75
Grilled Portobella – roasted red pepper, goat cheese, and spinach – $8.25
Grilled Fresh Mozzarella – tomato & pesto – $7.25
Grilled Eggplant – fresh mozzarella & tomato – $7.75
Grilled Zucchini – roasted red pepper, feta cheese, pesto, red onion – $8.25
Seitan Pepper Steak – shitake and portobello mushrooms, onions, peppers, and swiss cheese – $9.25
*=VEGAN
Food Food – Entrees
*BBQ Tofu – with roasted potatoes and sauteed spinach – $11.75
*Kung Pao Tofu – with mixed vegetables over organic brown rice – $12.75
Tofu Parmesan – with fettuccini marinara – $11.50
Polenta Cakes – with goat cheese, roasted red peppers & parmesan over chilled tomato sauce with sauteed spinach – $11.25
Seared yellowfin tuna – honey-wasabi sauce, organic brown rice, sauteed spinach and pickled ginger – $15.75
Pasta of the Day – priced daily
Tofu Pot Pie – in puff pastry with peas, carrots, and pearl onions, served with roasted red potato – $13.75
*Brown Sugar Baked Acorn Squash – stuffed with curried couscous, zucchini, scallions, dried cranberries, pine nuts, served with sauteed spinach – $13.75
*Seitan Pepper Steak – with jasmine rice – $15.25
*=VEGAN
Grilled Pizzas
Served with small garden salad
Gorgonzola – dried mission figs, caramelized onion, olive oil, garlic, walnuts, and fresh spinach – $13.75
Pesto – zucchini, roasted red peppers, fresh mozzarella, red onions, and pine nuts – $12.75
Grilled Pizza of the Day – price daily
Stir Fry
served with mixed vegetables & choice of organic brown rice or flat noodles (or substitute soba noodles for $0.75). Add: tofu $2.75, seared Yellowfin tuna $7.50, seitan $2.75
*Szechuan (spicy) – $9.75
*Thai Curry – $9.75
*Peanut – $9.75
*Oriental (garlic, soy, molasses & ginger) – $9.75
*Teriyaki – $9.75
*=VEGAN