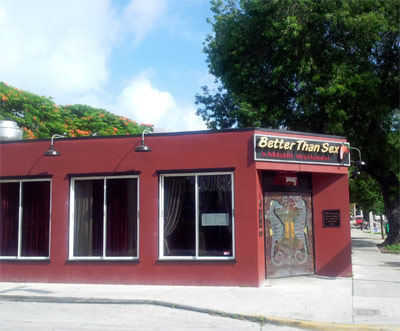 This romance-themed restaurant serves rich, decadent deserts, beer, and inventive wine drinks. If you have a sweet tooth, then a visit here will drown it in sugar, chocolate, and saucy sauces.
Located on the corner of Truman Avenue and Simonton Street, Better Than Sex has a decidedly flirtatious spirit. For lovers looking for a sweet treat and an intimate ambiance, you'll find this dimly lit dining room an excellent place to whisper (and eat) sweet nothings with your partner.
Expect plenty of innuendo on the menu, including the Tongue Bath Truffle, Missionary Crisp, and Kinky Key Lime.
Location: 926 Simonton Street
Hours: Open every day, 6pm – midnight
Phone: 305-296-8102