An impressive organic cafe, juice bar, and market.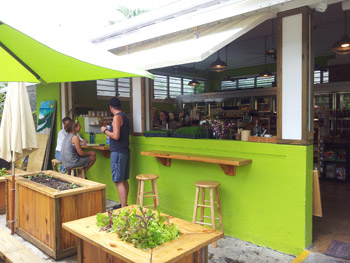 Serving some of the healthiest food on the island, Date and Thyme is the little cafe and market that keeps surprising us with its creativity, authenticity, and motivation.
Opened just a few years ago, this little take-out cafe has gained a very loyal local following due to its dedication to fresh organic ingredients and delicious cuisine that caters to vegetarians, non-vegetarians, vegans, and gluten-free.
The cafe recently expanded and now offers an impressive market of organic groceries and green goods. Plan are to further expand to a more complete organic vegetable and fruit market.
And don't miss the Date and Thyme Smoothie bar, which blends organic frozen fruit with fresh, house-made creamy coconut milk or organic apple juice.
Food is take-out only, with tables and benches provided for you to dine and hang out.
Hours of Operation: 8am-4pm, every day
Location: 829 Fleming Street
Phone: 305-296-7766 (offers free delivery)
Help Yourself Menu
SALADS
INDIAN SUMMER LIGHT 6 FULL 11
Creamy mix of chickpeas, quinoa, carrots, raisins, onion and curried cashews with Indian spices over mixed greens, house vinaigrette
ULTIMATE LIGHT 6 FULL 11
Mixed greens, sprouts, broccoli, avocado, tomato, dulse, hemp seeds, spicy pumpkin seeds, lemon tahini dressing
ANCIENT SECRET LIGHT 6 FULL 11
Quinoa (high protein endurance grain), goji berries, apple, almonds, chickpeas, mixed greens, orange-cumin vinaigrette
SUPER SPINACH LIGHT 6 FULL 11
Spinach, cashew cheese, marinated tempeh, candied walnuts, apple, balsamic dressing
MEXICAN LIGHT 6 FULL 11
Romaine, black beans, corn, brazil nut 'taco' meat, tomato salsa, cashew sour cream, avocado, key lime vinaigrette
SIMPLE SIDE SALAD 4
ADD CHICKEN, SALMON OR SEAFOOD OF THE DAY 4.95
ADD TEMPEH 3.50
ULTIMATE NUTRITION
These are the 'super foods'. Besides filling you up, they energize the brain as well as the body. Nothing is cooked or heated above 115 degrees. There's no wheat, meat or dairy and all enzymes and nutrients are intact!
LASAGNA 12
Layers of zucchini, brazil nut meat, pesto, fresh tomatoes, marinara, served with a green salad
ASIAN ZUCCHINI NOODLES 11
Mixed raw vegetables over zucchini noodles, curried cashews, sesame asian sauce
BREAKFASTS
HOMEMADE GRANOLA 7
100% organic granola sweetened with maple syrup, choice of organic whole milk or fresh made coconut milk
FRUIT PARFAIT 9
Organic mixed fruit, homemade granola, house cultured coconut yogurt
POWER BOWL 7
Oatmeal, flax seeds, chia seeds, hemp seeds, goji berries
BREAKFAST WRAP 8
Organic scrambled eggs, vegetables, avocado, tomato salsa
FRENCH TOAST 8
Made with whole wheat bread and organic eggs, maple walnut syrup, fresh fruit (vegan version available)
BAGELS (SPROUTED WHOLE GRAIN)
Choice of Plain or Cinnamon Raisin
Coconut butter 2.50
Organic peanut butter and jelly 3.95
Cashew cream cheese, tomato, avocado 4.95
SIDE OF ORGANIC FRUIT 4.95
BEVERAGES
FRESH PRESSED JUICES
ORGANIC COFFEE AND TEA FROM FAIR PLANTATIONS
COOKED DISHES
All dishes are cooked in a wok and come with mixed vegetables of the day plus your choice of Brown Rice, Quinoa, Udon Noodles, or Whole Wheat Pasta.
COCONUT CURRY 9.50
Delicious, fragrant and creamy – made with our own fresh coconut milk
KOREAN BBQ 9.50
Dark and hearty using soy and mineral rich molasses
SLIGHTLY SPICY PEANUT 9.50
Thick and creamy with a light nutty flavor
MIGHTY MARINARA 9.50
Slow cooked tomatoes, with peppers, onions, garlic and fresh basil
MISO BROTH 9.50
Light, flavorful broth with a whole host of nutritional benefits
ADD CHICKEN, SALMON OR SEAFOOD OF THE DAY 4.95
ADD TEMPEH 3.50
WRAPS
All wraps are made with a whole wheat tortilla. Gluten-free wrap available.
TLT HALF 4.50 FULL 9
Marinated tempeh (energy-building cultured soybean), lettuce, tomato, avocado, chipotle mayonnaise, mixed greens
HUMMUS HALF 4.50 FULL 9
Chickpea hummus, quinoa tabouli, cucumber, red onion, sprouts, mixed greens
ENGLISH GARDEN HALF 4.50 FULL 9
Mixed raw vegetables, garden herbs, pesto, mixed greens, mayonnaise
WILD SALMON HALF 6.50 FULL 13
Maple-soy glazed salmon, sprouts, cucumber, carrot, sesame seeds, mixed greens, avocado wasabi spread
CHICKEN SALAD HALF 6 FULL 12
Chicken, celery, herbs, apple, mayonnaise, mixed greens
SMOOTHIES
We use 100% organic frozen fruit and blend with fresh, house-made creamy coconut milk or organic apple juice. Nothing else. If you need an extra boost, ask about our supplements!
TEA PARTY 8
Matcha green tea, goji berries, pomegranate, banana
CHOCOLATE BUZZ 8
Cacao powder, cacao nibs, banana
CITRUS "C" 8
Florida oranges, grapefruit, lemon, ginger, banana
BERRY BLISS 8
Blueberries, raspberries, strawberries, banana
HAPPY MONKEY 8
Banana, peanut butter, vanilla
TROPICAL GREEN 8
Pineapple, mango, banana, cucumber, cilantro, spinach, lime
PURPLE JUNGLE 8
Acai, blueberries, goji berries, banana