One story above the sidewalk, the Rooftop Cafe does a nice job of serving island cuisine and classics.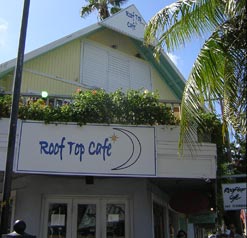 Located above all the hustle and bustle of the Mallory Square area is the Rooftop Cafe.
Here, inventive new-American cuisine is featured for dinner that has consistently pleased guests.
Great salads and sandwiches are served at lunch. Also serves some of the island's best Key Lime Pie.
Location: 308 Front Street
Hours: Open every day, 11am – 10pm (closed from 4:00pm – 5:30pm each day)
Phone: (305) 294-2042
Rooftop Cafe Menu
Breakfast & Lunch Menu
Soups & Starters
Conch Chowder – $7
Chilled Island Gazpacho – $8
Peel n' Eat Shrimp – served with classic cocktail sauce, mustard sauce, & chipotle aioli – 1/2 lb or 1 lb – $Market
Caribbean Conch Fritters – served the way the locals like them – 1/2 dozen $10
Shrimp & Crab Cake – master chef's winning crab cake on spring mix salad with citrus beurre blanc – $16
Tree House Coconut Shrimp – golden fried shrimp with mango-jalapeno dipping sauce – $12
Breakfast
Eggs Benedict – poached eggs and Canadian bacon on an English muffin with hollandaise – $11
2 Eggs Any Style – bacon, toast, and home fries – $7
Chesapeake Bay Eggs – poached eggs with award-winning shrimp & crab cake with hollandaise – $16
Key West Meets Texas Toast – thick egg washed toast, pressed and topped with maple soaked walnuts, warm butter, strawberries, and a dash of powdered sugar – $8
Roof Top Brunch Burrito – scrambled eggs, pepper jack cheese, and avocado all wrapped in a tortilla topped with fresh salsa and sour cream – $9
Tree House Omelet – fluffy signature omelet, filled with tomatoes, mushrooms, spinach, and white cheddar cheese – $10
Yogurt and Granola – vanilla yogurt, topped with granola and fresh fruit – $8
Lobster Benedict – Florida lobster medallions with classic Benedict – $18
Steak & Egg Quesadilla – served grilled with American cheese – $14
Salads
Sunset Salad – mixed greens, candied pecans, gorgonzola cheese, mango, red peppers, balsamic vinaigrette – $9
Caesar Salad – in a crispy Parmesan bowl – $8 (with blackened chicken $12, with steak or shrimp $14)
Oriental Chicken Salad – grilled chicken breast with mixed greens, oriental vegetables, peanuts, and crispy wontons – $12
Warm Herb Crusted Goat Cheese – with baby greens, pistachios, and mango vinaigrette – $11
Hot Off The Press
Cuban Mix – an island classic, pressed and served on Cuban bread – $10
Roast Pork Panini – with mango BBQ sauce, smoked gouda cheese, vidalia onion jam – $12
Turkey Press – Swiss cheese, sauteed mushrooms & onions, ten-thousand island dressing – $11
Cajun Chicken Club Wrap – fried and lightly spiced chicken, lettuce, tomato, bacon, and honey mustard dressing – $11
Philly Steak Wrap – with provolone cheese, mayo, onions, mushrooms, and peppers – $12
Sandwiches and more
Baja Fish Tacos – grilled Mahi with fresh salsa, avocado and sour cream – $12
Roof Top's Big Fat Burger – 8 oz. choice, grilled and served with all of the fixings – $10
Fish Sandwich – fresh local Mahi-Mahi, grilled, blackened or fried – $12
Key West Lobster Roll – sweet lobster mixed with mayo, mango, fresh red pepper on a toasted roll – $14
Chicken Sandwich – teriyaki chicken breast with grilled pineapple on ciabatta bread – $9
Pasta Basillico – tomatoes, garlic, and olive oil over linguini with parmesan cheese – $10 (w/chicken $14, w/shrimp $16)
Dinner Menu
Appetizers
Key West Conch Chowder – $7
Blue Crab Bisque – $12
Crispy Pork Spring Rolls – fire-roasted corn, red peppers, black beans, and papaya chutney – $8
Teriyaki Grilled Jumbo Diver Scallops – with golden pineapple on sugar cane skewers – $11
Tree House Shrimp Cocktail – Key West Pinks with classic cocktail sauce and creole mustard sauce – $14
Chicken Satay – guava glazed, served with jicama salsa and macadamia sauce – $8
Smoked Duck Wontons – sweet and sour mango dipping sauce and wasabi drizzle – $9
Lobster Raviolis – with wild mushrooms, Swiss chard, and sherry cream – $14
Island Shrimp and Crab Cake – The Roof Top's signature appetizer! With citrus beurre blanc and tomato oil – $16
Tuna Tartare – with sweet Asian pear, white soy, and sesame tuille – $14
Salads
Hearts of Romaine – crispy Parmesan bowl, classic Caesar dressing – $8
Herb Dusted Goat Cheese – Chef Brendan's 2006 award winning recipe! With pistachios, baby greens, and mango vinaigrette – $14
Roof Top's Sunset Salad – mixed field greens with fresh mango, candied pecans, gorgonzola cheese, and an aged balsamic reduction – $10
Duck Confit Salad – crispy Bibb lettuce, Asian pear, walnuts, creamy cider vinaigrette – $12
Entrees
Blackened Mahi & Jumbo Shrimp – with coconut jasmine rice, vanilla beurre blanc, and papaya salsa – $32
Pasta Basilico – fresh basil, plum tomatoes, garlic, and olive oil over linguini with parmesan – $18 (with chicken $22 – with shrimp $24)
Fresh Florida Lobster Tail – pan roasted and served with chive mashed potatoes and basil corn cream – $Market
Grilled Really Big Shrimp – served with risotto carbonara and white truffle oil drizzle – $28
Grilled Pork Tenderloin – with curry beurre blanc and sweet potato mash – $22
Tuscan Snapper – crusted with Parmesan and topped with an heirloom tomato and pine nut relish – $26
Free Range Chicken – with white bean sage puree, roasted pepper cream, and Swiss chard – $20
Key West Seafood Pasta – sauteed shrimp, scallops, and lobster with bowtie pasta in a slightly spicy red sauce – $29
Flame Grilled 8 oz. Prime Filet Mignon – grilled portobello mushroom, bacon bourbon demi glace and stilton mash – $Market
Sesame Crusted Yellow Fin Tuna – with Asian vegetable-lobster stir fried rice, wasabi and oyster sauce – $29
New Zealand Rack of Lamb – with grilled eggplant, goat chesses, and cauliflower roulade, fig demi glace – $31
Grilled Skirt Steak – green chimichuri, black beans, yellow rice and red peppers – $28