Award-winning chefs create New-American tapas in a Victorian house on Duval Street.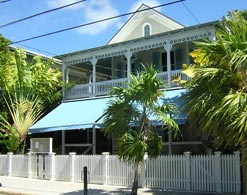 This restaurant was an instant success with it's offerings of delicious tapas (small appetizers) and inventive entrees. The talented chefs have even gotten a few nods from the James Beard Foundation.
Outdoor seating overlooks Duval Street & the casual yet sophisticated ambiance feels quintessentially Key West.
Upstairs offers hip, easily-missed bar.
Location: 915 Duval Street.
Hours: Open every day, 6pm- 11pm.
Phone: (305) 296-0669
915 Menu
snacks & bites
Spanish Olives orange, chili, herbs 5
Devils on Horseback bacon wrapped dates, roasted garlic, soy citrus sauce 8
Fried calamari lemon aioli 8
Crab Cakes celery root remoulade 12
Artisan Cheese Plate with Marcona almonds, dried cherries & Florida Keys honeycomb 16
starters
Soup of the day 10
Korobuta Pork Belly grilled escarole, soft-boiled egg and mustard hollandaise 14
Orange Chipotle Braised Pork braised pork, flour tortilla, avocado salsa, lime crème fraiche 12
Tuna Dome Sashimi Tuna, Crab, soy sake glaze, lemon miso, avocado 16
Pork & Pistachio Terrine pickled onions, whole grain mustard & crostini 12
Butcher Block Serrano ham, chorizo, Genoa salami, Duck Rillettes & crostini 14
Beef Carpaccio arugula, truffle oil, Parmesan Reggiano 14
Beet Salad roasted beets, Bucheron goat cheese, walnuts and field greens12
Caesar Salad whole baby romaine, Parmesan Reggiano, anchovy garlic dressing 10
Baby Bibb lettuce Frisée, Pomegranate, oranges, Fennel, Balsamic vinaigrette10
entrees
Black Angus Filet Green peppercorn sauce, crispy fries, watercress salad 36
Soul Mama Soup Key West grouper & shrimp, PEI mussels, clams, Thai green curry broth 32
Crispy Whole Yellowtail Snapper Napa cabbage, Basmati rice, Thai chili sauce 26
Pan Roasted Grouper homemade chorizo, spinach, Kalamata olives, sundried tomatoes 32
Pan Seared Tuna eggplant puree, tomato confit, broccoli pesto 30
Liberty Duck Confit creamy garlic lentils, braised chicory, pancetta 24
Organic Chicken Breast mushroom leek bread pudding, Brussel sprouts, rosemary jus 28
sides – 5
Glazed baby carrots
Cone of Fries
Roasted squash, honey & chili
Truffled Mac & Cheese
recommended wines
Atmosphere Rosé Provence France 2011 35btl 9gl
Well structured with luscious fruit, a classic Provence rosé
Chateau Haut-Surget Pomerol Bordeaux 2010 50btl 14gl
Fantastic oppurtunity to taste a true pomerol. Blueberry & mineral aromas with dark ripe fruit