Key West's oldest restaurant still serves excellent island cuisine and cocktails.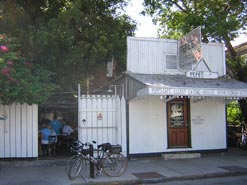 Pepe's Cafe, established in 1909 is the oldest restaurant in Key West.
If you are looking for a relaxed laid back restaurant and bar, this is the place for you.
Great food is served breakfast, lunch and dinner. Simple, but generous, presentations are to be enjoyed in their funky patio garden or inside in the air-conditioned dining room.
They squeeze all of their own juices for the cocktails and the baked oysters are original and excellent.
Sunday is bar-b-que night.
Location: 806 Caroline Street
Hours: Open every day, 7:30am – 10:00pm
Phone: (305) 294-7192