Delicious small-plate tapas restaurant, hidden away in Bahama Village.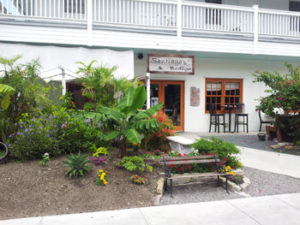 There is something so enjoyable about tapas-style dining – the way it brings people together to share small dishes of expertly assembled cuisine. It is one of our favorite ways to dine in Key West.
Plus, if something wasn't your favorite, minutes later another small dish will arrive and dazzle your taste buds. It really is the opposite of traditional dining, where you bet on one entree to satisfy your culinary experience.
Santiago's Bodega, located in Bahama Village, Key West, is an exceptional example of how to do tapas right.
The atmosphere is laid back, cool, and hip. Its hidden-away location makes you feel like you have been let in on a secret. Diners can choose indoor or outdoor tables.
The food is delicious and expertly prepared, with a wide choice of small plates, both hot and cold tapas, sure to delight any palette. Excellent wine list and sangria is also available.
Location: 207 Petronia Street
Phone: 305-296-7691
Hours: 11am – 10pm, every day
Santiago's Bodega Menu
Soups
Mushroom – Portobello and crimini with fresh herbs, cream, and stock – $7
Spicy Shrimp Bisque – A creamy blend of gulf shrimp and spices – $7
French Onion – A rich beef broth topped with crostini and gruyere – $7
Spicy Lentil – Curry, portobello mushrooms, jalapenos, and cilantro – $7
Salads
Avocado and Pear – Mixed greens tossed in a creamy parmesan dressing, topped with toasted pine nuts – $12
Greek – Iceberg, kalamatas, feta, red onions, tomatoes, cucumbers, and pepperoncinis in a lemon caper vinaigrette – $11
Spinach – Tossed with red onions, candied pecans, strawberries, bacon, and poppy seed dressing – $11
Spring Mix – With duck confit, dried cranberries, walnuts, and red onions tossed with a citrus-ginger vinaigrette – $11
The Wedge – Iceberg with blue cheese dressing, bacon and tomato slices – $9
Cold Tapas
Beef Carpaccio – Shaved tenderloin, capers, parmesan crumble, smoked sea salt, truffle oil, and cilantro – $13
Green Beans – French style, with gruyere cheese and prosciutto tossed in lemon-caper vinaigrette – $9
Shrimp – With a ginger-lemon glaze and fresh cilantro – $9
Cheese Plate – Ask server about daily assortment – $13
Smoked Salmon Carpaccio – With crostini, creme fraiche, capers, and minced onions – $12
Tomato and Basil Bruschetta – With olive tapenade on crostini – $7
Yellowfin Tuna Ceviche – Marinated in spicy citrus juice and served with fresh avocado, mango, and cilantro – $14
The Trio – Traditional hummus, roasted red pepper hummus, and back olive tapenade served with pita bread – $10
Chilled Asparagus – With a lemon-tarragon dipping sauce – $9
Bocconcini di Mozzarella – marinated and mixed with roasted red peppers, kalamata olives, garlic, and fresh basil – $8
Pate – Ask server for weekly selection – $12
Hot Tapas
Shrimp and Chorizo – Skewered and pan-grilled with minced garlic – $10
Dates – stuffed with goat cheese and wrapped in prosciutto – $10
Bacon and Basic Wrapped Mushrooms – with basil aioli – $8
Lamb Chops – pecan, and mustard encrusted – $11
Saganaki – Haloumi cheese sprinkled with oregano and flambeed with brandy, served with pita bread – $12
Roman Meatballs – with a nest of angel hair pasta – $9
Pinchos Morunos – Spicy marinated skewers of pork tenderloin with apple-mango chutney – $9
Beef Tenderloin – seared and topped with blue cheese butter – $14
Croquettas – Cayenne spiced and pan-fried patties of potatoes with ground prosciutto, provolone cheese and scallion cream – $8.50
Camembert Wedge – Topped with sauteed garlic, onions, almonds, apricots, and red bell peppers with crostini – $8
Lamb Patties – House ground leg of lamb, fresh thyme, sherry, and lemon zest with a cucumber and feta salad – $10
Chicken Skewers – Marinated in olive oil, lemon zest, and rosemary and served with a lemon-tarragon sauce – $9
Spanakopita – Spinach, feta, and onion baked in phyllo pastry and drizzled with hollandaise sauce – $8.50
Patatas Bravas – Pan-fried potatoes in a spicy sauce – $7.50
Miniature Quessadillas – Pan-grilled with cheddar and jack cheeses, fruit salsa, fresh mango and cilantro – $7.50
Puff Pastry – Stuffed with chopped portobellos, onions, and fresh thyme with bearnaise sauce – $7
Seasoned Grouper – Filets encrusted with fennel seed, coriander, and lemon pepper – $11