Island flavors are featured in gourmet dishes – served indoors and al fresco.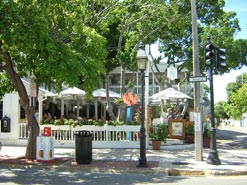 For many "foodies" visiting Key West, Mangoes is just what they are looking for…great food and a great atmosphere. The restaurant is laid out with an outdoor patio, inside dining room, tropical garden, upstairs dining rooms, and a balcony over-looking Duval Street
Mangoes Restaurant is known for "Floribbean" Cuisine, a wonderful mix of the Caribbean, local seafood and a touch of the Mediterranean.
Now under new ownership, the restaurant has been completely renovated and its menu renewed where local flavors and produce (not just mangoes!) are included. Lunch features fresh and colofrul salads, fresh fish tacos, local shrimp dishes, and hearty burgers. Dinners offer an abundance of gourmet fresh seafood and steaks.
Nice outdoor bar, as well.
Location: 700 Duval Street
Hours: Open every day 11 am – 10:00 pm. Sunday brunch served 11 am – 3 pm.
Phone: (305) 294-8002
Mangoes Menu
Lunch – Starters & Soups
Conch Sampler – Conch Fritters with Key Lime Caper Aioli, Conch Salad, Conch Chowder $15
Key West Pink Shrimp Cocktail – Key Lime Cocktail Sauce $16
Mango Tuna Poke – Tuna, Jicama Papaya Salad, Avocado, Grilled Pineapple, Spicy Mayo, Sushi Rice $16
Mini Filet Tacos– Tamarind Glazed Filet, Cucumber, Pickled Radish, Jalapeno, Tomato, Onion $15
Salsa Trio – Black Bean Hummus, Heirloom Tomato Salsa, and Tomatillo Avocado Chutney served with Plantain and Malanga Chip $10
Macadamia Coconut Crab Cakes – Jalapeno Aioli, Artisan Greens, Soursop Vinaigrette $16
Summertime Gazpacho Bowl $10, Cup $6
Caribbean Conch Chowder Bowl $11, Cup $7
Key West Pink Shrimp Bisque Bowl $12, Cup $8
Lunch – Salads
Caribbean Cobb Salad – Artisan Greens, Rum Glazed Bacon, Egg, Roasted Corn, Black Beans, Heirloom Tomato, Cilantro Lime Queso Fresco and Key Lime Vinaigrette $12 (Large) $8 ( Small)
El Corazon – Romaine Hearts, Marinated Heart of Palm, Manchego Cheese, Herb Croutons, and Sour Orange Buttermilk Dressing $10 (Large) $6 (Small)
Rainbow Salad – Kale, Napa Cabbage, Brussel Sprouts, Avocado, Radish, Pepitas, Fresh Berries and Mango Vinaigrette $12 (Large) $8 (Small)
Add Fish $10 / Add Shrimp $10 / Add Chicken $6 / Add Steak $8
Lunch – Flatbreads & Sandwiches
Shrimp Flatbread – Shrimp, Culantro Creole Sauce, Queso Fresco, Avocado, Scallions and Jalapeno Aioli $13
Chicken Flatbread – Manchego Alfredo, Jerk Chicken, Arugula, Rum Glazed Bacon and Roasted Tomatoes $12
Vegetarian Flatbread – Roasted Calabaza Squash, Gruyere Cheese, Caramelized Onion, Leeks, Tamarind Balsamic Glaze $10
Local Catch Tacos – Fresh Local Catch, Pineapple Coleslaw, Cilantro Lime Queso Fresco, Tomatillo Avocado Chutney on Corn Tortillas $17 – Choice of: Mangoes Signature Blackening Spice, Grilled or Fried
Fried Shrimp Sandwich – Shredded Lettuce, Heirloom Tomato, Marinated Onions, and Caribbean Bird Pepper Sauce on Cuban Bread $15
Rasta wrap – Jerk Chicken, Sweet Plantains, Artisan Greens, Heirloom Tomato, Red Onion and Mango Aioli $14
Cuban Sandwich – Mojo Pork, Fire Smoked Ham, Gruyere Cheese, Bird Pepper Pickles and Mojo Aioli on Cuban Bread $14
La Raquel – Applewood Smoked Turkey, Asadero Cheese, Pineapple Coleslaw, and Mango Dijon Aioli on Cuban Bread $14
Buracho Burger– 8oz Certified Angus Beef Burger, Mojo Pork, Rum Glazed Bacon, Gruyere Cheese, Fried Egg and Guava Ketchup on a Brioche Bun $16
Gringo Burger– 8oz Certified Angus Beef Burger with Cheese, Lettuce, Tomato and Onion on a Brioche Bun $14 – Cheese Choices are American, Swiss or Cheddar Add Gruyere, Smoked Blue Cheese, Manchego or Bacon for an additional $2
Frita Burger– Beef and Chorizo Patty, Key Lime Remoulade, Shoestring Potatoes on Cuban Bread $15
All Sandwiches and Burgers are served with Choice of: Yucca Fries, Hand Cut Fries, Side Salad or Pineapple Coleslaw
Dinner – Soups, Salads & Starters
Conch Sampler – Conch Fritters with Key Lime Caper Aioli, Conch Salad, Conch Chowder $15
Key West Pink Shrimp Cocktail – Key Lime Cocktail Sauce $16
Mango Tuna Poke – Tuna, Jicama Papaya Salad, Avocado, Grilled Pineapple, Spicy Mayo, Sushi Rice $16
Mini Filet Tacos– Tamarind Glazed Filet, Cucumber, Pickled Radish, Jalapeno, Tomato, Onion $15
Salsa Trio – Black Bean Hummus, Heirloom Tomato Salsa, and Tomatillo Avocado Chutney served with Plantain and Malanga Chips $10
Macadamia Coconut Crab Cakes – Jalapeno Aioli, Artisan Greens, Soursop Vinaigrette $16
Summertime Gazpacho Bowl /$10 Cup/ $6
Caribbean Conch Chowder Bowl/ $11 Cup/ $7
Key West Pink Shrimp Bisque Bowl/ 12 Cup/$8
Caribbean Cobb Salad – Artisan Greens, Rum Glazed Bacon, Egg, Roasted Corn, Black Beans, Heirloom Tomato, Cilantro Lime Queso Fresco and Key Lime Vinaigrette $12 (Large) $8 ( Small)
El Corazon – Romaine Hearts, Marinated Heart of Palm, Manchego Cheese, Herb Croutons, and Sour Orange Buttermilk Dressing $10 (Large) $6 (Small)
Rainbow Salad – Kale, Napa Cabbage, Brussel Sprouts, Avocado, Radish, Pepitas, Fresh Berries and Mango Vinaigrette $12 (Large) $8 (Small)
Add Fish $10 / Add Shrimp $10 / Add Chicken $6 / Add Steak $8
Dinner – Entrée Selections
Seafood Paella – Saffron Valencia Rice, Lobster, Shrimp, Fish, Clams, Crisp Sugar Snap Peas and Roasted Tomato Relish $34
Bahamian Snapper – Pan Seared Local Snapper, Culantro Creole Sauce, Pigeon Pea Rice and Braised Broccoli Greens $32
Seared Sea Scallops – Djon Djon Polenta Cake, Sautéed Spinach and Tomatoes, Coconut Buerre Blanc $34
Caribbean Shrimp Pasta – Certified Organic Rainbow Linguini, Sautéed Key West Pink Shrimp, Crab Meat, Manchego Alfredo, Asparagus and Oven Roasted Tomatoes $32
Jerk Tuna Steak– Mango Chow, Yucca Frites, Artisan Greens, Soursop Vinaigrette- $30
Grouper Oscar – Seared Black Grouper, Crab Meat, Passionfruit Buerre Blanc, Black Bean Quinoa Cake, Asparagus $36
Grilled 16oz N.Y Strip – Chorizo Manchego Mashed Potatoes, Arugula Salad and Charred Scallion House Butter $36
Caribbean Steak Frites – 10oz Grilled Churrasco Steak, Chimichurri, Herb Yucca Frites, Arugula Salad $30
8oz Filet Mignon- Rum Peppercorn Sauce, Roasted Fingerling Potatoes, Grilled Asparagus and Wild Mushrooms $40
Add 6oz Florida Lobster to your entrée $25
14oz Bone in Pork Chop– Calabaza Squash Puree, Braised Cabbage with Pineapple and Bacon, Papaya Chutney $26
Cuban Mojo Chicken– Grilled Chicken Breast, Moros, Rum Glazed Plantains, Fresh Muddled Mojo $24
Black Bean Quinoa Cake– Heirloom Tomato Spinach Salad, Papaya Chutney $22
Sunday Brunch
Macadamia Coconut Crab Eggs Benedict with Mango Hollandaise $16
Raspberry Mascarpone Brioche French toast with Berry Compote $12
Buttermilk Biscuits and Chorizo Sausage Gravy $13
Spinach Ham and Manchego Quiche $13
Key West Shrimp and Grits with Culantro Creole Sauce $16
Sunday Mimosa Special $5
Side Dishes
Breakfast Potatoes $3
Fresh Fruit Bowl $4.50
Side of Bacon $4
Side of Chorizo Sausage $4
Side of Ham $4