The finest food, view, and scene – all perfect.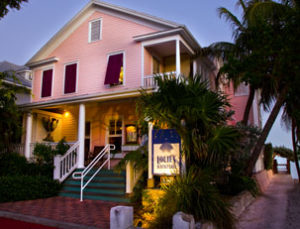 Overlooking the Atlantic Ocean in an historic wooden two-story building, sits one of Key West's finest and most praised restaurants: Louie's Backyard.
Really, no discussion of fine dining in Key West is complete without mention of this local favorite.
Louie's, as locals often call it, is located directly on the Atlantic Ocean – facing south to a gorgeous view of the water.
The cuisine is gourmet Caribbean American, combining fresh seafood (and cuts of meat) with vibrant, savory, and/or sublime ingredients – and this restaurant is not afraid to experiment. Rest assured the award winning executive chef, Doug Shook, has put together some of the most inventive, delicious, and memorable dishes on the island. A recommended signature dish: Shrimp and Grits – a modern spin on the depression era Grits and Grunts, this time sauteed with slab bacon and a buttery cheese sauce. YUM.
Upstairs is Louie's latest experiment – a tapas bar named Louie's Upper Deck. Serving small appetizers, it is an exceptional place to watch the sunset, have a cocktail, and enjoy a perfectly made drink.
And for those just looking for the perfect place to enjoy a cocktail by the water, head over to their waterside bar, The "Afterdeck", which serves strong drinks to a cast of regulars and visitors.
Hours: Open every day, 11:30am – 1am
Location: 700 Waddell Street (next to Dog Beach)
Phone: (305) 294-1061 (Reservations are highly recommended)
Louie's Backyard Dinner Menu
Starters
Bahamaian Conch Chowder with Bird Pepper Hot Sauce – $10
Cracked Conch with Hot Pepper Jelly and Wasabi Cream – $14.50
Florida Lobster Braised in Truffle Butter with Spinach and Prosciutto – $20
Salmon Tartare with Avocado, Chipolte and Fried Plantains – $15
Seared Tuna "Cake" with Orange-Sweet Chile Sauce and Wakame Salad – $15
Rock Shrimp Empanadas with Tomatillo Sauce and Mango-Chayote Relish – $15
Grilled Bacon-Wrapped Duck Livers with Grilled polenta and Balsamic Onions – $13
Salads
Salad of Young Greens with Shaved Gouda and Chive Vaigrette – $14
Salad of Boston Lettuce and Watercress with maytag Blue Cheese, Apples, and Spipced Pecans – $15
Heirloom Tomatoes with Arugula, Watermelon and Ricotta Salata – $14
Romaine Lettuce with Crispy Pork Belly and Parmesan-Pepper Dressing – $16
Entrees
Tonights Fresh Catch – $Market Price
Jerk-Rubbed king Salmon with Quinoa and Roasted Grapes – $38
Sweet-Soy Glazed Grilled Tuna with Lime-Hoisin Sauce and Grilled Bamboo Rice – $38
Sauteed Key West Pink Shrimp with Bacon, Mushrooms, and Stoneground Grits – $36.50
Grilled Coriander and Pepper Rubbed Swordfish with Cucumber, Citrus, and Thai Fried Rice – $37
Grilled Double Lamb Chops with Port Wine Reduction and Bacon Mashed Potatoes – $40
Roasted Quail Stuffed with Apples and Foie Gras, Cider Reduction, and pumpkin Spaetzle – $36
Grilled NY Steak with Potato Puree and Warm Wild Mushroom Salad – $39
Grilled Tamarind-Glazed Berkshire Pork Chip with Roasted Applesauce – $33
Prosciutto-Stuffed Range Chicken Breast with Herb Oil and Soft Polenta – $30