Small, modern bistro in a new location on Eaton Street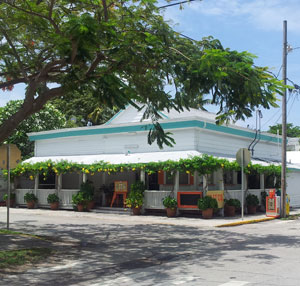 The Flaming Buoy Filet Co. is a welcome addition to the Key West restaurant landscape.
The ambiance is of a modern bistro – a sort of laid back, minimalist decor – while the food attempts to be a bit more inventive and daring, with dishes like Lobster Mac & Cheese (a specialty), tropical curry, and a fresh catch in banana sauce.
Recent mention in the New York Times has kept the place busy.
Indoor and outdoor dining is available.
Location: 424 Eaton Street
Hours: Open every day, 6:00pm – 9:30pm
Phone: (305) 295-7970
Flaming Buoy Filet Co. Menu
Starters
Grilled Marinated Key West Pink Shrimp – with spicy lime chutney – $12
Tuna & Watermelon Ceviche – served with tortilla chips – $11
Black Bean Soup – topped with sour cream, cheddar cheese, diced red onion & cilantro and served with tortilla chips – $9
Salads
Whole Leaf Caesar Salad – small $7, large $11
Spinach Salad – with hard-boiled egg, red onion, Parmesan cheese & a warm bacon & lemon vinaigrette dressing – small $7, large $11
Iceberg Lettuce Wedge – with blue cheese crumbles & balsamic vinaigrette dressing – small $7, large $11
add Chicken or Tofu to the above salads – $16
add Fresh Catch or Key West Pink Shrimp to the above salads – $23
Caprese Salad – mozzarella, cherry tomatoes, yellow teardrop tomatoes, basil & a blood orange infused balsamic reduction – $9
Entrees
(tofu can be substituted in most entrees. vegetarian, began, gluten-free and dairy free options available)
Fresh Catch Pan-Seared with Banana Salsa – with mashed potatoes, grilled corn-on-the-cob, a savory broccoli cake & vegetables – $26
Fresh Catch Grilled with Lime Butter Sauce – with mashed potatoes, grilled corn-on-the-cob, a savory broccoli cake & vegetables – $26
Tropical Curry with Bananas & Pineapple over Brown Rice – with chicken or tofu $18, with Fresh Catch or Key West pink shrimp $26
Seafood marinara folded in a Gremolatta Tossed Penne Pasta – Key West pink shrimp & Fresh Catch – $24
The Filet Co. Three-Way – a unique ground beef chili with dark chocolate & spices over spaghetti with onions, cheddar cheese & sour cream – $18
Bacon Wrapped Scallops – with maple syrup mashed sweet potatoes – $28
New York Strip Steak with Blue Cheese Butter – served with spicy onion rings – $29
Filet Mignon – with sauteed spinach, mashed potatoes & vegetables – $29
Sides
Savory Broccoli Cakes – 4
Mashed Potatoes – $4
Maple Syrup Mashed Sweet Potatoes – $5
Sauteed Spinach – $4
Grilled Corn-On-The-Cob – $4
Spicy Onion Rings – $6
French Fries – $4
Dessert
Chocolate Chocolate Chip Waffles – with chocolate sauce & Flamingo Crossing Tahitian vanilla ice cream – $9
Banana Bread French Toast – with pure maple syrup & Flamingo Crossing Tahitian vanilla ice cream – $9
Tropical Stir Fry – served over Flamingo Crossing Tahitian vanilla ice cream – $8
Spicy Chocolate Quesadilla – white and dark chocolate melted between two flour tortillas and drizzled with a spicy, pepper-infused chocolate sauce, served with a side of Flamingo Crossing tahitian vanilla ice cream – $9