Cuban restaurant located on Mallory Square serving traditional cuisine.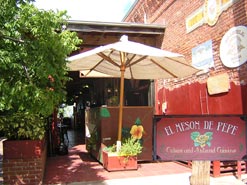 The cuisine of Cuba quickly became a part of Key West's food heritage when Cuba families began to settle on the island in the 1860's. The food served in Key West homes and restaurants was excellent, but lacked the spice and zesty flavorings the Cubans brought with them. Non Cubans on the island began including Cuban recipes in their daily menus, happy to find new tastes and flavors on their dinner tables. The highly seasoned but not too spicy Cuban food was welcoming change.
The special aromas, so much a part of old Key West and other Cuban communities are still here. The smell of the fragrant tobacco of fresh Cuban cigars pervades the air, mingling with that of pungent garlic, onions, Spanish olive oils and other mouth watering scents from the kitchen of El Meson de Pepe's, a restaurant serving Cuban specialties on the outdoor verandah and the "garden" cistern area.
Accompanied by chunks of fresh lime, or marinated in the juice of a sour orange, seafood is served in a variety of ways – the favorite being the traditional saffron flavored "paella".
Location: 410 Wall Street (on Mallory Square)
Hours: Open every day, 11am – 10pm
Phone: (305) 295-2620