Chain restaurant on Duval Street featuring typical American fare and loud music.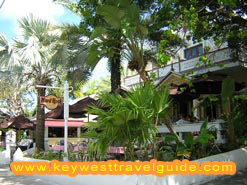 What can we say…the original of the themed restaurants. It's here, so we thought it deserves mention.
The southernmost Hard Rock Cafe in the country, this well known cafe is located in a historic Victorian Gingerbread house and is filled with rock 'n roll memorabilia.
A full menu of classic American cuisine and local favorites is served daily for lunch and dinner.
The cafe features a large second floor main room complete with a full bar and balcony, as well as two smaller dining rooms. Loud music is usually playing.
Location: 313 Duval Street.
Hours: Sunday – Thursday 10am-11pm, Friday & Saturday 10am-12am.