Casual, dockside restaurant and bar serving a better-than-average Conch fritter.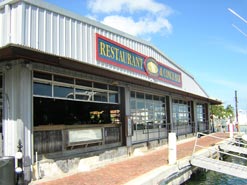 Open air restaurant offering dockside dining in the Historic Seaport. Also has a small "Conch Baby Farm" in coordination with the Mote Marine Laboratory.
Excellent appetizers, especially some of Key West's best conch fritters (they really taste like conch!). Specializes in local fish dishes with a Carribean influence.
Bar offers happy hour specials and is popular with locals and boaters.
Location: 631 Greene Street
Hours: Open every day, 11:30am – 12:00am
Phone: (305) 294-4403
Conch Republic Seafood Company Menu
Appetizers
Callaloo and Artichoke Dip – Warm three cheese dip blended with artichoke hearts and savory island greens. Served with island crackers – $7.99
Conch Fritters – Traditional island style fritters, served with Key Lime mustard – 8.99
Crab Cakes – Caribbean style cakes with blue crabmeat and dressed with a passion fruit remoulade sauce – $7.99
Chicken Tenders – 1/2 lb. of boneless chicken tenderloin. Available buffalo style, jerked, BBQ, and ju ju slathered – $7.99
Smoked Fish Dip – A blend of smoky fish, fresh herbs and spices. Served with Cuban crackers – $7.99
Specialty Starters
Stuffed Mushrooms Martinique – Stuffed with blue crab, topped with herbs & cheese broiled in garlic butter finished with a citrus beurre blanc – $10.99
Cracked Conch – Tempura battered, and lightly flash fried with orange horseradish marmalade – $12.99
Baked Oysters Callaloo – Braised Callaloo and asiago cheese atop freshly shucked oysters, baked and drizzled with roasted garlic aoili – $11.99
Fried Calamari – Fresh calamari, dusted with seasoned flour and flash fried, served with white barbecue sauce and pickled peppers and romaine lettuce – $10.99
Stuffed Shrimp – Key West Pink shrimp stuffed with lump crab meat and wrapped with apple wood bacon, finished with mango salsa, and a sweet chili glaze – $12.99
Tuna Tataki – Sesame crusted rare tuna served with crispy wontons, Key Lime ponzu sauce, seaweed salad, and wasabi vinaigrette – $12.99
Almond Brie – Almond crusted wedge of baked brie, served atop of a bed of spinach, with strawberries, tropical fruit, tomatoes, and a side of mango poppy seed vinaigrette – $10.99
From the Raw Bar
Raw or Steamed Oysters – Served with cocktail sauce – 1/2 dozen $6.75 – 1 dozen $12.99
Raw or Steamed Clams – Served with cocktail sauce – 1/2 dozen $6.75 – 1 dozen $12.99
Key West Pink Peel & Eat Shrimp – Served with drawn butter, cocktail sauce – 1/2 pound $11.99 – 1 pound $21.99
Soups & Salads
Conch Chowder – Bahamian style red chowder with ground conch, fresh hers and potatoes – cup $4.99 – bowl $6.99
House Salad – A perfect blend of baby greens, tomatoes and cucumbers, accompanied with a homemade balsamic vinaigrette, sprinkled with croutons and fresh mozzarella cheese – $7.99 (with Blackened Tuna $Market, with Grilled Shrimp $10.99, with chilled chicken $9.99)
Caesar Salad – Crisp hearts of romaine tossed in a classic Caesar dressing. Topped with homemade croutons – $7.99 (with Blackened Tuna $Market, with Grilled Shrimp $10.99, with chilled chicken $9.99)
Sandwiches
Catch of the Day Sandwich – Freshest fish available, prepared daily. Served fully dressed with fries and pickles. Available pan seared, fried, or blackened – $8.99
Conch Republic Burger – 1/2 lb. of seasoned beef, grilled to order. Served fully dressed with fries and pickles – $6.99
Grilled Chicken Sandwich – Boneless chicken breast served fully dressed with french fries and pickles, choice of buffalo style, blackened, BBQ, or ju ju slathered – $7.99 (add Swiss, American, or Cheddar cheeses, grilled onions, mushrooms, or bacon for $0.75 each)
Entrees
Key West Pink Shrimps – Available grilled or fried with your choice of buffalo sauce, jerk spiced, BBQ, or ju ju slather. Served with island rice and the chef's choice of vegetables – $17.99
Key West Scallops – Fresh pan seared scallops. Served with a marinated tomato salad, and citrus beurre blanc. Finished with island rice and chef's choice of vegetables – $24.99
Crab Cakes – Blue crab cakes served with passion fruit remoulade. Served with island rice and braised callalo greens – $18.99
Pan Seared Grouper Fillet – Topped with tropical fruit habenero chutney. Served with island rice and braised callalo greens – $22.99
Grilled Dolphin – Boasted with island jerk barbeque sauce served with island rice and braised callaloo greens – $19.99
Seared Tuna Steak – Seared yellow fin tuna, choice of seven spice or blackened with a Key Lime ponzu sauce, wasabi vinaigrette and pickled ginger. Served with island rice and the chef's choice of vegetables – $24.99
Island Spiced Half Chicken – Marinated in our secret blend of island spices, oven baked & coated with fresh banana chutney. Served with smashed potatoes and the chef's choice of vegetables – $17.99
Double Bone Pork Chop – Double bone pork chop rubbed with jerked barbeque blaze with a side of guava marmalade and mango salsa. Served with smashed potatoes and chef's choice of vegetable – $19.99
10 oz. Lobster Tail – 10 oz. lobster tail, lightly seasoned and butter roasted with a side of vanilla bean butter for dipping. Served with island rice and chef's choice of vegetables – $Market
Pasta
Antilles – Penne pasta, artichokes, and spinach tossed in a Thai peanut sauce, infused with a blend of red curry, and Caribbean spices. Topped with coconut dusted catch of the day – $21.99
St. Kitts – Crab stuffed ravioli tossed with Pink shrimp, spinach and sun-dried tomatoes, finished with a lemon garlic scampi butter – $24.99
Cayo Hueso Linguini Pasta – Linguini pasta tossed with a 10 oz. lobster tail, fesh herbs, tomatoes, roasted portabello mushrooms and topped with a lobster and sherry cream sauce – $Market
Classics from the Grill
New York Strip – 14 ounces of our most flavorful beef served with smashed potatoes and chef's choice of vegetables – $32.99
Filet Mignon – 9 oz. center cut of the most tender beef, served with smashed potatoes and chef's choice of vegetables – $31.99
Have Surf & Turf! – Add shrimp of 10 oz. lobster tail – $Market