Outdoor restaurant and bakery overlooking Duval Street serves and excellent breakfast…and more.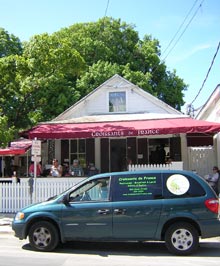 Overlooking Duval Street is the delicious restaurant and bakery.
Celebrating twenty years in Key West is this unique, open-air restaurant.
Serving breakfast, lunch, and dinner in their secluded garden deck.
Scrumptious baked goods prepared daily. Enjoy cafe au lait or expresso and a pastry with breakfast. Or stop by for dinner and enjoy an exquisite meal.
Walk-up bakery with take-out. Custom made cakes are well known on the island (the strawberry shortcake is a 10!).
Location: 816 Duval Street
Hours: Open every day, 7:30am – 10pm
Phone: Phone:(305) 294-2624
Croissants de France Menu
Breakfast Classics
Americanos – Open faced Butter Croissant topped with 3 Scrambled Eggs, lightly dusted with Paprika and Scallions, served with a side of our scrumptious Whole Grain Mustard Sauce and Potatoes
Your choice of Plain, Bacon, Sausage or Ham, Smoked Salmon or Ham, Cheddar, Peppers, Onions
Royal French Toast – Sourdough French Toast with 2 Scrambled Eggs & Apple Wood Smoked Bacon
Cinnamon Brioche French Toast
Fresh Bananas with Raspberry Sauce on a Cinnamon Brioche Toast
Cayo Hueso Breakfast – Two scrambled or poached Eggs, Potatoes and Toast with your choice of Apple Wood smoked Bacon, Ham or Country Sausage (substitution of Turkey Sausage or Andouille available)
Brioche – Two poached Eggs with Mustard Sauce nestled in a sweet buttery Egg Bread, topped with Paprika and Scallions.
Try it plain, with Swiss and Spinach or Atlantic smoked Salmon
Le Bistro Breakfast Press – Fresh scrambled Eggs, sharp Cheddar Cheese and Tomato with Ham or Apple Wood Smoked Bacon on Ciabatta Bread. Served with Potatoes
Breakfast Burrito – Scrambled Eggs, Cheddar, Sausage, Onion, Pepper, Tomato with Guacamole, Pico de Gallo and Sour Cream
Nova Platter – Smoked Salmon with an assortment of Capers, Red Onions, Red Tomatoes and Cream Cheese with Baguette
Continental Breakfast – Fresh squeezed Florida Orange Juice, selection of Croissant and your choice of Café au Lait, Chocolate, Cappuccino, Mocha and Herbal or English Tea
Bagel Deluxe – Smoked Salmon, Cream Cheese, Onion and Capers on a Bagel served with fresh Fruit
Brie Cheese Delight – Soft French Cheese with crisp French Bread and fresh Strawberries
Patrick's Parfait – Mixed Berries with plain Yogurt and Granola
Fruit Bowl – Assortment of Fruits with Butter Croissant
Benedicts
All our Benedicts are served atop a Brioche with two Farm Fresh Poached Eggs and Hollandaise Sauce
Classic – With Black Forest Ham – a traditional favorite
Seafood – Lightly sautéed scallops, Pink Shrimp and Asparagus with Swiss
Popeye – With fresh Spinach, Tomatoes, roasted Red Peppers and Mushroom
Salmon – Smoked Salmon and wilted Spinach – topped with Capers and Scallion
Cajun – Blackened Shrimp, smoked Andouille Sausage and Red Pepper
Omelettes
Ham & Cheddar
Black Forest Ham and Cheddar
Spinach & Brie
Fresh Spinach and melted Brie
Vegetarian Egg Whites Omelette
Spinach, Mushroom, Red Pepper, Onion, Feta
Bacon, Tomato & Swiss
Apple Wood smoked Bacon, Red Tomato and Alpine Swiss
Crêpes
Josephine – Grilled Bananas, toasted Almonds, Cane Sugar and a light Butter Rum Sauce
La Decadente – Nutella, Peanut Butter, Banana and Honey
Oh Mama – With Mango, Pineapple, Banana and Coconut
Yogi Berry – Blueberries, Strawberries, plain Yogurt and Granola topped with Honey
Key Lime-Coconut – With Key Lime Cream, fresh Strawberries and toasted Coconut shavings
Caribe – Plain with Butter, with Lemon or with fresh Strawberries and Jam
Nutella – Imported Hazelnut and Chocolate spread, add fresh Bananas or Strawberries
Choc-A-Berry – Chocolate Mousse, Raspberries, Strawberries, Almonds and Chocolate Sauce
Mixed Berries – With a scrumptious blend of fresh Berries
Razzle Berry – Raspberry, Lingonberry, Blueberry, Brie Cheese topped with Whipped Cream and Pecans
Pancakes – Banana Toffee, Buttermilk or Blueberry
Croissants
Butter Croissant
Pain au Chocolat
Apple Cinnamon
Spinach and Feta
Ham and Swiss
Turkey and Swiss
Raspberry
Almond or Chocolate Almond
Pear or Apricot Almond
Coconut Cream Cheese with Raspberries
Apricot and Pear Couques
Baked Goods
Plain
Cinnamon Nut Roll or Pain aux Raisins
Kouign Aman
our Brittany specialty!
Apple, Key Lime, Nutella, Raspberry
Muffins – ask for our "Flavor of the Day"
Guava , Guava Cheese or Cream Cheese Pastries
Bagel and Cream Cheese
Bagel with Egg and Cheddar
Bagel with Egg, Cheese and a choice of Bacon, Sausage and Ham
Paninis and Sandwiches