Authentic modern Southern low-country cuisine served in Bahama Village.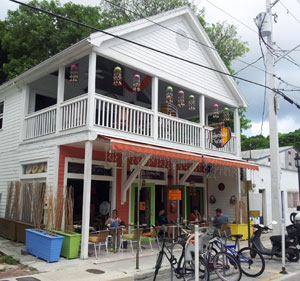 While many people heading down Petronia Street in Bahama Village are going to Blue Heaven, there are also couple of excellent restaurants a bit further down the street that are well worth checking out.
One of those hidden gems is Firefly, which serves southern "comfort" cuisine in a charming, laid back atmosphere.
Here, you will find a comfortable dining room in an historic wood-framed Key West building. Friendly and attentive staff serves up the delicious food.
Indoor and outdoor seating available.
Phone: 305-849-0104
Hours: Open every day for Breakfast/Brunch 10am-3pm;
Dinner is served 6pm – 10pm.
Address: 223 Petronia Street
Firefly Brunch Menu
Brunch Starters
Fresh-Baked Buttermilk Biscuit – house made jam $5.00
House-Made Pimento Cheese – fresh benne wafers $6.00
Deviled Eggs – southern-style with house b&b pickles $6.00
Fried Okra – spicy remoulade $5.00
Pork Rinds – jalapeno agave hot sauce $8.00
Mini Grilled Cheese – tomato soup dipping sauce $9.00
Skillet Mac & Cheese – $8.00
Peppered Beef Jerky – jalapeño agave hot sauce $8.00
Boiled Peanuts – a southern tradition $6.00
Duck Wings – house barbecue sauce $10.00
Fresh Baked Buttermilk Biscuits
Sausage Biscuit – scrambled egg, house-made ipa mustard, cheddar cheese $10.00
Biscuits & Gravy – house made sausage gravy $13.00
Bacon, Egg & Cheese Biscuit – house bacon, scrambled egg, american cheese $11.00
Spicy Chicken Biscuit – fried chicken breast, ghost pepper cheese, spicy sauce $13.00
Breakfast Favorites
Cast Iron Shrimp & Grits – anson mills grits, sautéed shrimp, andouille sausage $15.00
Chicken & Waffles – fried chicken breast, pecan waffle, maple brown butter $14.00
Yogurt & Granola – house granola with pecans, benne seeds, sunflower seeds, greek yogurt, honey & fruit $13.00
Eggs Creole – two eggs any style over a spicy tomato-based sauce, with Texas toast and sour cream $10.00
Steak & Fingerling Hash – 4-ounce sirloin, roasted fingerling potatoes, scrambled egg & gruyere cheese $15.00
Sandwiches
served with garlic herb fries or marinated cucumber salad
Southern Fried Chicken Sandwich – honey mustard bbq, b&b pickles $15.00
Blt – house bacon, baby kale, tomato, spicy remoulade $12.00
Bacon Cheeseburger – 7 oz beef patty with bacon, smoked cheddar cheese, with tomato, baby greens, & roasted garlic aioli $15.00
Pulled Pork – house-smoked Georgia style bbq, texas toast on the side $13.00
Fried Green Tomato Sandwich – with baby kale, red pepper relish and scotch bonnet aioli $12.00
Salads
Southern Cobb – fried chicken, brown butter charred tomatoes, hard-boiled egg, bacon, bleu cheese & baby kale with creamy cucumber peppercorn dressing $15.00
Shrimp & Strawberry Salad – strawberries, goat cheese, pecans, marinated shrimp, strawberry champagne vinaigrette $15.00
Firefly Dinner Menu
Small Plates
Fresh-Baked Buttermilk Biscuits – with house-made jam 8.00
House-Made Pimento Cheese – house-made benne wafers $7.00
Pork Rinds – jalapeno agave hot sauce $8.00
Fried Green Tomatoes – scotch bonnet aioli, kohlrabi & brussels sprout slaw in a hot bacon vinaigrette $12.00
Deviled Eggs – southern style with house b&b pickles $6.00
Pork Belly Brussels Sprouts – with smoked gouda & crispy pork belly $7.00
Petite Shrimp & Grits – anson mills grits, smoked cheddar & smoky tomato butter $10.00
Duck Wings – house barbecue or buffalo sauce $10.00
Bacon-Crab Beignets – with smoked gouda fondue & baby arugula $12.00
Skillet Mac & Cheese – with biscuit crumbles $8.00
Buffalo Pig Ear – crispy strips of pork tossed in buffalo sauce with carrots & bleu cheese $8.00
Peppered Beef Jerky – jalapeño agave hot sauce $8.00
Boiled Peanuts – a southern tradition $6.00
Salads
Roasted Cauliflower Wedge Salad – blue cheese crumbles, bacon, tomatoes, pecans, bleu cheese dressing $12.00
Baby Green Salad – garden vegetables, smoked gouda, hard-boiled egg and bleu cheese vinaigrette $12.00
Baby Kale Salad – with caramelized onions, goat cheese croutons & creamy pecan dressing (+add crispy pig ear
$5.00) $12.00
Entrees
Tri-Tip Steak – shiitake bordelaise, heirloom baby tomatoes & savory hash brown $31.00
Roasted Half Chicken – with roasted baby carrots and herb fingerling potatoes $25.00
Braised Bison Short Rib – with anson mills rice grit risotto cake, buttery succotash & brown ale demi-glace $34.00
Pan-Seared Pork Belly – with house-smoked pulled pork, served with baked sea island red peas and orange fennel slaw $28.00
Fried Chicken – with mashed potatoes, brown gravy & ham-hock collard greens $25.00
Shrimp & Grits – anson mills grits, andouille sausage, charred tomatoes, onion & peppers, beurre monte $28.00
Bacon-Wrapped Meatloaf – with mashed potatoes, demi-glace and roasted brussels sprouts $26.00
Low-Country Gumbo – spicy tomato-based stew with shrimp, crab, & andouille sausage $28.00
Vegetarian – charred celery root, sea island red peas, sautéed turnip greens, pickled baby heirloom tomatoes $23.00
Catch of the Day – chef's daily creation $MKT