Consistent, inventive, and homemade – always satisfying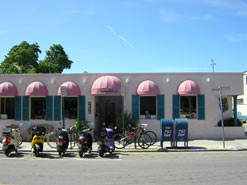 To really experience Key West you have to experience Camille's! It's a funky restaurant that has been around for over 20 years.
A combination of a Soho Cafe and "a place where everyone knows your name." The local's here love the place, always a good sign.
It's inexpensive gourmet….done the RIGHT way. And they are children friendly!
Location: 1202 Simonton Street
Hours: Open every day, 8am – 10pm.
Phone: (305) 296-4811
Camille's Restaurant Menu
Note: This is a sample of their ever changing menu.
Award Winning Breakfast
Special Omelette – Lump crab or lobster meat, applewood smoked bacon, onion, asparagus, sundried tomatoes, herbs, and brie – $MARKET
Camille's Benedicts – Traditional with Canadian bacon – or – Norwegian with smoked salmon or crab cake or veggie bennie. All served over an English muffin and topped with their famous hollandaise sauce with a side of home fries – $Prices Vary
Banana Batter Buttermilk Pancakes – With toasted walnuts – $7.50
French Toast Special – Godiva white chocolate sauce and fresh strawberries – $8.50
Special Waffle – with bourbon pecan maple sauce – $5.25
Organic Yellow Corn Pancakes – with fresh blueberries and pecans – $7.95
Corned Beef Hash, Two Eggs, Home Fries, Toast and Coffee – $7.25
Scrambled Eggs Supreme – Three eggs scrambled with diced tomatoes, scallions, and fresh herbs, topped with melted white cheddar cheese served with choice of toast and chioce of home fries, grits, or tomato slices – $7.95
Norwegian Smoked Salmon Platter – Smoked Norwegian Salmon, choice of water bagel, Bermuda onion, capers, tomato slices, cream cheese and sliced seasonal fruit – $12.50
Lunch from Scratch
Camille's Famous Chicken Salad Sandwich – $7.25
Mandy's Favorite Grilled Avocado, Tomato, Bacon, & Cheese – $7.95
Mile High Corned Beef – Special with Swiss cheese, Russian dressing, and homemade cole slaw on rye – $7.95
Tender Grilled Chicken Breast – with sauteed baby spinach, roasted red peppers topped with melted brie – $8.95
Local Mahi Mahi – Fresh grilled, topped with black bean salsa and pepper jack cheese rolled in a tortilla, with hand cut fries – $Market Price
Mary's Salad – Fresh spinach topped with tomatoes, carrots, onions, cucumbers, feta, and grilled chicken, with house balsamic vinaigrette – $8.95
Special Caesar – Fresh romaine lettuce, topped with smoked salmon, home made croutons, mixed with their famous Caesar dressing – $11.95
Sliced Turkey Breast – Crisp bacon, avocado, tomato, lettuce, cranberry mayo on seven grain bread – $8.95
Appetizers
Stone Crab Claws – Fresh local with Key Lime Dijon dipping sauce – $Market Price
Fresh Pear Salad – Topped with walnuts and Gorgonzola cheese over exotic greens topped with our tomato-basil vinaigrette – $7.95
"Lick Your Lips" Artichoke Dip – Warm artichoke heart-capers-roasted-peppers-spinach dip. Served with warm pita bread – $7.95
Sauteed Escargot – In garlic-mushroom pernod cream sauce in phyllo pastry cup – $11.95
Fresh Local Calamari – Lightly fried with mango-passion fruit aioli – $7.95
Red, White, Blue Salad – Fresh Beefsteak Tomatoes smothered in Maytag blue cheese dressing – $8.95
Key West Pink Shrimp Cocktail – Baked and glazed with honey, soy, and ginger over chipotle cocktail sauce and topped with sesame seeds and herbs – $8.99
Fresh Yellowfin Tuna Tartare – Cubed with avocado, tossed in spicy Thai chili sauce, served in phyllo dough cup, garnished with red onions and fresh herbs – $8.99
Dinner Specials
Grilled Black Angus Filet Mignon – stuffed with roasted garlic topped with sun dried tomato bacon truffle oil pesto – $25.95
Black Angus New York Strip Steak au Poivre – pressed in tri-color peppercorns, sauteed with mushrooms, shallots, green peppercorns, cognac and cream served with potatoes and veggies – $22.95
Key West Shrimp and Lobster Scampi – loaded with garlic, diced tomato's Chardonnay, parsley, sherry, lemon butter over linguine – $21.95
Wilted Spinach Salad – with warm bacon dressing, topped with grilled lamb chops, marinated artichoke hears and mushrooms – $19.95
Fresh Yellowtail Snapper – in a macadamia nut crust, pan sauteed with avocado, mangoes, tomatoes, spiced rum butter and fresh herbs, served with fun rice and a medley of fresh sauteed veggies – $23.95
Hand Banged Veal – pan sauteed with mushrooms, diced tomato, asparagus in Marsala wine with melted Asiago and fresh Mozzarella – $17.95
Oven Roasted Pork Loin atop gorgonzola cream sauce served with potatoes and veggies – $19.95
Paradise Pasta – Lobster ravioli with sundried tomato Vodka sauce – $19.95
Jumbo Wild Scallops – Lightly marinated in olive oil, basic, garlic, and grilled with passion – $24.95
Wild Salmon – Grilled with love over potato crust, topped with creamy basil pesto and served with veggies – $21.99