Consistently one of the most delicious and funky restaurants in Key West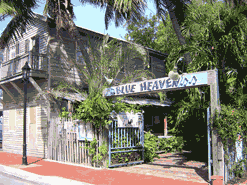 The islands most quintessentially "Key West" restaurant has to be Blue Heaven. Like everything in Key West, it's got some history. The building once housed a bordello and later Hemingway refereed boxing matches there.
Located in the Bahamian neighborhood (Bahama Village), this restaurant is an absolute favorite with locals and visitors serving fine American cuisine.
During the day a few chicken and roosters roam the outdoor dining garden. By nightfall, they have moved to the trees to roost for the night while the cats come out to play.
The food is outstanding, the atmosphere funky and lively, and the experience should be memorable. Live music is gently offered by local musicians as diners enjoy the breezes caught in the shade sails.
Breakfast, lunch, and dinner.
No reservations accepted (except for very large groups).
Location: 729 Thomas Street
Breakfast Menu
RICHARD'S VERY GOOD PANCAKES
(MADE FROM SCRATCH) ORDER OF THREE
Plain • Banana • Pecan • Pineapple
– pure maple syrup available –
BENEDICTS
– served with poached eggs, english muffin with lime Hollandaise –
Vegetable Benedict • Ham Benedict
Sausage Benedict • Bacon Benedict • Beef Tenderloin Benedict
HOMEMADE GRANOLA
(made in our kitchen with organic oats)
available with milk, soy milk, fruit, and organic low-fat vanilla yogurt
FRUIT CUP
FRUIT PLATE & HOMEMADE BANANA BREAD
FRESH FRUIT SMOOTHIE
made with apple juice, strawberries and bananas
OMELETTES SERVED WITH BLUE HEAVEN BAKERY TOAST
Suanne's Favorite
(mushroom, cheese and onion)
Cheese Omelette
(with Vermont white sharp cheddar)
Chef's Delight
SHRIMP AND GRITS
Five sautéed Key West shrimp served over grits
with Vermont white cheddar cheese, scallions
and bakery fresh toast
ROOSTER SPECIAL
Two eggs, any style, and grits or seasoned potatoes,
and bacon or country sausage,
with toast, homemade pancakes or Betty's Banana Bread
BREAKFAST TORTILLA
Scrambled eggs with onion, peppers,
herbs and cheese on flour tortilla topped with sour cream and salsa
BREAKFAST SANDWICHES
(On bakery fresh bun)
Egg • Egg and Cheese • Egg and Bacon or Sausage
Egg, Cheese and Bacon or Sausage
À LA CARTE
Pancake • Bacon • Egg
Fruit or Pecan Cake • Country Sausage • Hollandaise Sauce
Betty's Banana Bread • Toast (freshly baked) • Salsa
Grits • Toasted Bun • Side Yogurt
Lobster bites • Potatoes
DRINKS
Good Coffee
Unfiltered Apple Juice • Hot Tea
Cappuccino • Tomato • Green Tea
Lakewood Cranberry • Mimosa w/fresh OJ • Fresh Squeezed OJ
Bloody Mary • Fresh Grapefruit
Lunch Menu
VEGETARIAN BLACK BEAN SOUP
(Garnished with sour cream & cheese)
SEASONAL SOUP
GARDEN SALAD
(Greens tossed in orange vinaigrette with tomatoes, red onions,
feta cheese and Kalamata Olives (with pits))
CAESAR SALAD
(Romaine with homemade croutons,
Pecorino Romano cheese and Caesar dressing)
– Top with jerk chicken strips, skillet seared fish, shrimp –
FRUIT PLATE
with Cottage cheese
JAMAICAN JERK CHICKEN SANDWICH
(Strips of boneless breast tenderized in a 12-herb marinade,
served on a bakery fresh bun with lettuce and tomato)
– cheese may be added –
JERK CHICKEN PLATE
(Comes with brown rice, black beans, vegetables and corn bread)
SHRIMP MELT
(Sautéed Key West pink shrimp served on a bakery fresh bun
topped with Vermont white cheddar cheese)
LOCALLY CAUGHT FISH
(Sandwich with freshly made tartar sauce on bakery fresh bun)
(Plate with brown rice, black beans, vegetable, corn bread and sauce du jour)
NATURAL BEEF HAMBURGER
(Shaped here, with lettuce, onion, tomato and mayonnaise)
– cheddar cheese may be added –
GRILLED CHEESE SANDWICH
(Vermont white cheddar with sliced tomato. Served with daily garnish)
– available with avocado and sprouts –
LUNCHEON TORTILLAS
(Black beans and brown rice, melted cheese, sour cream,
cilantro salsa and avocado on top of a flour tortilla)
– available with sautéed tofu or jerk chicken –
VEGETABLE PLATE
(Brown rice, black beans, fresh vegetables,
red onion marmalade and corn bread)
SIDE ORDERS
sour cream • cheese • 1/2 avocado • salsa • corn bread • rice • black beans
DESSERTS
Banana Heaven • Key Lime Pie • Chocolate Torte
Homemade Ice-Cream and Fruit
Dinner Menu
APPETIZERS
CARROT AND CURRY SOUP
Garnished with mango chutney
SEASONAL SOUP
VEGETARIAN BLACK BEAN SOUP
With sour cream and cheese
SPLENDID SALAD
Romaine, fresh vegetables, and orange cider vinaigrette
BABY GREENS
With twice baked miso eggplant, goat cheese, and our house vinaigrette
CARIBBEAN BBQ SHRIMP
Seared with jerk seasonings, deglazed with beer, and
served with freshly baked corn bread muffins
ENTRÉES
– served with fresh vegetable and corn bread –
CARIBBEAN BBQ SHRIMP
Seared with garlic and jerk seasonings,
deglazed with Red Stripe beer and served with brown rice and black beans
PORK TENDERLOIN
Pan seared and served with sweet potato,
mango chutney and curry butter sauce
JAMAICAN JERK CHICKEN
"Jerked" in Caribbean spices and served with brown rice and black beans
BEEF TENDERLOIN
An eight-ounce center cut Angus filet with Cabernet demi-glace
VEGETABLE PLATE
Brown rice, black beans, grilled plantains, fresh vegetables and red onion marmalade
VEGETABLE STIR-FRY
FRESH SEAFOOD SPECIALS
Seared Sea Scallops Provençale
Sauteed Yellowtail Snapper with Citrus Beurre Blanc Sauce
(Lobster & Stonecrab when in season)
SIDES
Green Vegetables • Herbed Red Potatoes • Plaintains
Fresh Corn • Wilted Spinach • Rice & beans
DESSERTS
BANANA HEAVEN
With Betty's banana bread, bananas flamed with rum
and homemade Vanilla ice cream
BELGIAN CHOCOLATE TORTE
KEY LIME PIE
GOOD COFFEE
Cappuccino • Espresso