A terrific French bistro in Old Town Key West on Upper Duval Street.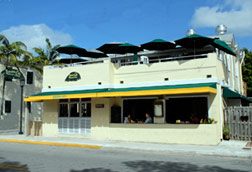 This French-rooted restaurant makes it's home on Upper Duval Street, an area know for art galleries, upscale shops, and creative restaurants.
Offers indoor and outdoor dining in a casual atmosphere, serving breakfast, lunch, and dinner.
Specializing in classic French dishes, crepes, yummy egg dishes, and baked goods.
Excellent and extensive wine list.
Address: 1215 Duval Street.
Phone: 305-294-7227
Banana Cafe Dining Menu
A basket of Bread will be served with each table
If you desire more bread a small charge of $ 3.00 will be apply
A service charge of 20% may be added to your check at restaurant's discretion
No separate check, please.
Appetizers
Onion Soup, toasted bread, Gruyère cheese au gratin 8
Traditional Burgundy Escargot, garlic-butter sauce 9
Lobster ravioli, poached garlic in Marsala wine cream sauce 10
Tartar of Yellowfin Tuna, wasabi cream, tobiko caviar, soy-lime vinaigrette 13
Puff Pastry Pie of Gorgonzola cheese, smoked ham, sweet garlic, spinach and cherry tomato… 15mn prep time 10
Cheese plate: Gorgonzola, Saint-André, Brie, aged Manchego, with accompaniment 14
Seared Duck Breast, foie gras, caramelize apple, cognac orange sauce 14
Charcuterie plate with duck mousse, country pâté, Lyon sausage, grain mustard, gherkins 15 Add Foie Gras 6
Tartlet of Ratatouille, caramelized onions and melted herb goat cheese 9
Salads
Roasted Red Beet salad, Gorgonzola cheese, baby greens, candied walnuts, smoked corn dressing 11
Marinated Sirloin Steak, seasoned potato, oven-roasted tomato, haricot vert, balsamic dressing 12
Jumbo lump Blue Crab, arugula and shaved fennel, roasted tomatillo vinaigrette, avocado, truffle oil 12
Salad Nicoise, tuna, tomato, egg, haricot vert, sweet peppers, olives, anchovies and house dressing 12
La Mer salad, mix greens, scallops, shrimps, smoked salmon, red apples, lime vinaigrette 14
Melted French Goat Cheese over grilled asparagus, sweet pepper dressing 10
Baby Greens, house vinaigrette 7
Entrées
Local Snapper, Parisian gnocchi, roasted garlic, caper-citrus beurre blanc 24
Fresh Mahi, braised tomato, goat-cheese potato roulade, asparagus and olive tapenade spread 22
Jumbo Scallops, roasted garlic, potato croquette, cherry tomato, sweet pea coulis and red-wine butter sauce 25
Local fresh Catch Shrimp, Scallops, served in a Crêpe with a lobster Thermidor sauce 23
Mussels Brittany style mussels in light white wine-fresh herbs-cream sauce, pommes frites 21
Marinated Roast Chicken, herbed butter, mushroom jus, pommes frites 20
Seared Duck breast and caramelized apples in a Crêpe, cognac orange sauce 24 Add Foie Gras 29
Parisian bistro style Ribeye Steak, wild mushroom and green peppercorn sauce, pomme frites 24
Poached Grouper over a red and yellow beet salad with Banyuls vinaigrette and sweet corn dressing 27
Pesto encrusted Lamb chops, potato roulade, braised cabbage and sautéed spinach. Mint-truffle oil dressing 32
Olive oil poached Yellowfin Tuna, tomato, potato croquette, asparagus, rouille sauce and eggplant chips 26
Pork Chop stuffed with spinach and goat cheese over zucchini, onion and tomato. Port wine beurre rouge 23
Special for the Week
Tuesday: Beef Bourguignon… timeless marinated beef stew in red wine sauce from Central France 23
Wednesday: Chicken Basquaise… from the Basque country of the Pyrenees Mountains that border Spain 23
Thursday: Rôti of Pork au lait… a rare treat of roast pork cooked in milk from the Lorraine region 23
Friday: Bouillabaisse… our take of the most famous Seafood dish from Marseille 28
Saturday: Steak au poivre… aged beef, cracked pepper, luscious cream, Cognac… unchanged since 1790! 28
Banana Cafe Dining Menu
Interested in pairing your delicious meal with an appropriate wine? The Banana Cafe offers this menu of wine.
White by the Glass
Primaterra Pinot Grigio, Veneto, Italy 7.00
Tariquet Sauvignon Blanc, Côte de Gascogne 9.00
Château Mezain Blanc, Bordeaux 8.00
Kraft Vouvray, Loire Valley 10.00
Mommesin Chardonnay, Vin de Pays 8.00
Bex Riesling, Germany 8.00
Bouchard Mâcon-Village, Burgundy 8.00
Champagne & Sparkling
Perrier Jouet Belle Époque Brut, Champagne 190.00
G.H. Mums Cordon Rouge Brut, Champagne 75.00
Schramsberg Blanc de Blanc, North Coast 69.00
Grandial Brut, Loire Valley, France 25.00
French Whites
Château Ragotiere Muscadet, Loire Valley 24.00
Kraft Vouvray Sec Lauriers, Loire Valley 32.00
Gaudry Pouilly Fumé, Loire Valley 31.00
Vincent Delaporte Sancerre, Loire Valley 36.00
Bouchard Mâcon-Village, Burgundy 22.00
Domaine Manciat Mâcon Charnay, Burgundy 29.00
Domaine Xavier Monnot Chardonnay, Burgundy 40.00
Domaine Ambroise Blanc, Burgundy 46.00
Mommesin Pouilly-Fuissé, Burgundy 43.00
Domaine Denis Pommier Chablis, Burgundy 54.00
Domaine Ehrhart Pinot Gris, Alsace 32.00
Château Mezain Blanc, Bordeaux 21.00
Tariquet Sauvignon Blanc, Côte de Gascogne 19.00 Mommesin Chardonnay, Vin de Pays 20.00
Worldly Whites
Pine Ridge Chenin Blanc/Viognier, California 24.00
Primaterra Pinot Grigio, Veneto, Italy 22.00
Lange Pinot Gris, Willamette Valley 27.00
Groth Sauvignon Blanc, Napa Valley 37.00
Hess Chardonnay, Monterey 25.00
Independent Producers Chardonnay, Washington 26.00
Sonoma Cutrer Chardonnay, Russian River 37.00
Bex Riesling, Germany 21.00
Red By the Glass
Mark West Pinot Noir, California 8.00
Gournier Merlot, Costières de Nîmes 7.00
Avalon Cabernet Sauvignon, California 8.00
Château Fonfroide, Bordeaux 8.50
Perrin Réserve, Côte du Rhône 7.50
Apothic Zinfandel Blend, California 8.00
Kaiken Malbec, Mendoza, Argentina 9.00
French Reds
Bouchard Pinot Noir, Burgundy 29.00
Mommesin Pinot Noir, Burgundy 31.00
Domaine Ambroise Rouge, Burgundy 37.00
Mommesin Pommard, Burgundy 99.00
Château Fonfroide, Bordeaux 24.00
Château Les Graves de Barrau, Bordeaux 28.00
Château Pontet-Chappaz, Margaux 57.00
Château Mauvinon, Saint-Emilion 52.00
Louis Bernard, Châteauneuf du Pape 58.00
Mas du Goudareau, Côte du Rhône 27.00
Perrin Réserve, Côte du Rhône 22.00
Bernard Baudry "Les Granges," Chinon 34.00
Gournier Merlot, Costières de Nîmes 23.00
Jaboulet Syrah Drôme, Vin de Pays 35.00
St Eugénie Rouge Réserve, Corbières 30.00
Worldly Reds
Murphy Goode Pinot Noir, Sonoma 26.00
Mark West Pinot Noir, California 25.00
Kaiken Malbec Mendoza, Argentina 25.00
Jekel Merlot, Monterey 26.00
Avalon Cabernet Sauvignon, California 22.00
Apothic Zinfandel Blend, California 30.00
After Thoughts
Dow's 10 Year Tawny Port, by the Glass 11.00
Dow's 20 Year Tawny Port, by the Glass 14.00
Château Roumice-Lacoste, Sauterne 375ml 29.00