Key West's best Japanese sushi, where the food is as inventive as the hip decor.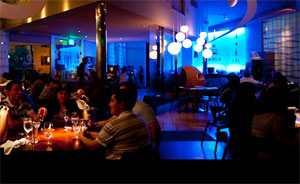 Step into this wonderful, newly redesigned restaurant and you have entered Japanese cuisine perfection. Inside, the serene and welcoming atmosphere calms and delights visitors.
Courteous and efficient staff serve Key West's best sushi and Japanese cuisine. Ambrosia's expertly created sushi, tempura, and teriyaki are served as beautiful, delicious art – that you savor with both your eyes and palate.
Good sushi uses the freshest fish. Great sushi elevates the practice to artwork. Ambrosia succeeds as a great sushi/Japanese restaurant with some of the most impressive and inventive creations on their menu.
Between the incredible food, soothing atmosphere, & skilled wait staff, Ambrosia is one of Key West's finest restaurants.
Wine, Beer, and Sake available.
Reservations are recommended.
Phone: 305-293-0304
Location: 1401 Simonton Street (in the Santa Maria Suites Resort lobby)