Casual seafood restaurant at the Key West Seaport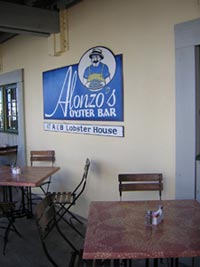 This first floor restaurant is part of the A & B Lobster House…the casual (and more affordable) version.
Great location on the docks of A & B Marina along the Historic Seaport Harborwalk. Enjoy the views of the boats in the Key West Bight.
Fresh & scrumptious shrimp, oysters, conch, as well as salads, fish sandwiches, and entrees. Options for the landlubber too.
Indoor and outdoor tables serving lunch and dinner.
Location: 700 Front Street
Hours: Open 11am-10pm Monday-Thursday, 11am-11pm Friday & Saturday, and noon-10pm Sunday.
Phone: (305) 294-5880
Alonzo's Oyster Bar Menu
Appetizers – served during lunch and dinner
Oysters
• Spinach Parmesan Oysters – large Gulf oysters, baked with parmesan cheese, spinach, bacon, and Pernod – $9.95
• Key Lime Garlic Oysters – large Gulf oysters baked with Key Lime butter, garlic, and parmesan cheese – $9.95
• Alonzo's Combo – two Spinach Parmesan Oysters and four Andouille Sausage Clams Casino – $10.95
Clams (fresh Middleneck clams)
• On the Half Shell – 1/2 dozen $7.95, dozen $12.95
• Steamed in Garlic Sherry Broth – dozen $13.95, bucket $16.95
• Andouille Sausage Clams Casino – Middleneck clams baked with Andouille sausage and panko break crumbs – $9.95
Peel & Eat Shrimp
• Chilled Spiced Shrimp – 1/2 pound $13.00, pound $23.00
• Steamed Beer Shrimp – 1/2 pound $ 13.95, pound $24.00
• BBQ Shrimp – 1/2 pound $13.95, pound $24.00
Starters from the Kitchen
• Alonzo's Sampler – four Conch fritters, four Buffalo Shrimp, four Fish Fingers, and onion rings – $16.95
• Conch Fritters – served with island spiced horseradish cocktail sauce – $6.95
• Southern Fried Fish Fingers – seasoned and served with tarter sauce – $8.50
• Buffalo Shrimp – tossed in hot pepper sauce with bleu cheese dressing – $12.50
• Smoked Fish Dip – served with assorted crackers – $6.50
• Flash Fried Calamari – Parmesan dusted fresh squid with Diablo and Key Lime aioli sauces – $8.50
• Onion Rings – golden brown house special – $5.95
• Bahamian Conch Ceviche – shaved Conch, marinated with garlic, citrus, and island peppers – $10.95
• Roasted Mussels Diablo – simmered in a spicy Diablo sauce – $9.95
• White Clam Chili – tender clams, white beans, and potatoes – cup $3.25, bowl $3.95
• Conch Chowder – thick and red, loaded with Conch and spices – cup $3.25, bowl $3.95
Sides
• Granny Apple Coleslaw – $1.50
• House Fries – $1.75
• Yellow Rice & Peas – $1.95
• Steamed Julienned Vegetables – $2.50
• Sweet Corm Mashed Potatoes – $2.95
• Corn on the Cob – $3.50
• Red Bliss Potatoes – $2.35
• Crispy Potato Cake – $2.95
Lunch Menu
Salads
• Alonzo's House Salad – mixed field greens, plum tomatoes, cucumber, onion, and sherry vinaigrette – $4.95
• Dixie Oyster Spinach Salad – Crispy fried oysters, bacon, egg, mango, baby spinach and passion fruit vinaigrette – $11.50
• Fresh Mozzarella Salad – arugula, tomatoes, fresh basil, drizzled with sundried tomato vinaigrette – $9.95
• Mango Lobster Salad – Caribbean lobster mean tossed in a curry mango dressing, served over a chopped salad of plum tomatoes, cucumber, onion, and topped with crispy wontons – $14.75
• Caesar Salad – crisp romaine lettuce and parmesan croutons (with grilled chicken $8.95, with grilled tuna $12.95, with grilled shrimp $14.95)
• Alonzo's Shrimp Salad – Key West Pink shrimp tossed with Key Lime mayonnaise and served with roasted vegetables on a bed of field greens – $12.95
• Tenderloin Cobb Salad – beef tenderloin tips, tomatoes, avocado bleu cheese, bacon and red onion diced and served over chopped mixed greens with papaya cilantro dressing – $13.75
Sandwiches
• Southern Fried Fish Sandwich – served with homemade tartar sauce, coleslaw and french fries – $9.95
• Open-Faced BLT – local dolphin (fish), grilled with sundried tomato pesto and served with homemade tartar sauce, french fries, and coleslaw – $11.95
• Alonzo Burger – or cheeseburger, served with coleslaw and french fries – $7.95
• Crispy Lobster Sandwich – dressed with Creole remoulade and served with banana peppers on a kaiser roll with coleslaw and french fries – $14.95
• Cajun Grouper Sandwich – Cajun spiced and pan-roasted grouper, topped with Key Lime aioli, served on a kaiser roll with lettuce, tomato, onion and french fries – $12.95
• Grilled Chicken Breast – served with roasted red peppers and jack cheese, coleslaw and french fries – $8.95
Fresh Fish & Seafood
• Grilled Dolphin – served with sweet corn mashed potatoes, julienned vegetables and sundried tomato pesto – $10.95
• Coconut Fried Grouper – served with crispy potato cake, julienned vegetables and Key Lime mustard sauce – $12.95
• Sesame Seared Tuna – served with smoked calamari, seaweed napoleon, pickled ginger and wasabi vinaigrette – $13.95
• Fried Oysters – served with coleslaw and french fries – $12.95
• Fried Shrimp and Chips – served with french fries and coleslaw – $12.95
• Fried Fish and Chips – beer battered grouper deep fried to a golden brown, served with tartar sauce, french fries and coleslaw – $12.95
• Pan Sauteed Snapper – seared Yellowtail snapper dusted in Alonzo's spices, topped with a lobster sauce, and served with steamed julienned vegetables, rice and peas – $12.95
• Grilled Shrimp & Mashers – served with sweet corn mashed potatoes and barbecued guava sauce – $12.95
• Florida Lobster Tail – seven-ounce lobster tail, served with sweet corn mashed potatoes and julienned vegetables – $27.50
• Pan Fried Lobster Cake – served with sweet corn mashed potatoes, mango creole sauce and roasted corn salsa – $12.95
• Classic New England Lobster Bake – steamed Maine lobster, served with corn on the cob and red bliss potatoes – $Market
Dinner Menu
Salads
• Alonzo's House Salad – mixed field greens, plum tomatoes, cucumber, onion, and sherry vinaigrette – $4.95
• Dixie Oyster Spinach Salad – Crispy fried oysters, bacon, egg, mango, baby spinach and passion fruit vinaigrette – $11.50
• Fresh Mozzarella Salad – arugula, tomatoes, fresh basil, drizzled with sundried tomato vinaigrette – $9.95
• Caesar Salad – crisp romaine lettuce and parmesan croutons (with grilled chicken $8.95, with grilled tuna $12.95, with grilled shrimp $14.95)
• Alonzo's Shrimp Salad – Key West Pink shrimp tossed with Key Lime mayonnaise and served with roasted vegetables on a bed of field greens – $12.95
Sandwiches
• Alonzo Burger – or cheeseburger, served with coleslaw and french fries – $7.95
• Cajun Grouper Sandwich – Cajun spiced and pan-roasted grouper, topped with Key Lime aioli, served on a kaiser roll with lettuce, tomato, onion and french fries – $12.95
• Crispy Lobster Sandwich – dressed with Creole remoulade and served with banana peppers on a kaiser roll with coleslaw and french fries – $14.95
Fresh Fish & Seafood
• Grilled Dolphin – served with sweet corn mashed potatoes, julienned vegetables and sundried tomato pesto – $18.50
• Coconut Fried Grouper – served with crispy potato cake, julienned vegetables and Key Lime mustard sauce – $21.50
• Sesame Seared Tuna – served with smoked calamari, seaweed napoleon, pickled ginger and wasabi vinaigrette – $22.50
• Fried Oysters – served with coleslaw and french fries – $17.50
• Crispy Fried Shrimp Dinner – served with french fries, coleslaw and corn on the cob – $18.50
• Fried Fish and Chips – beer battered grouper deep fried to a golden brown, served with tartar sauce, french fries and coleslaw – $16.95
• Pan Sauteed Snapper – seared Yellowtail snapper dusted in Alonzo's spices, topped with a lobster sauce, and served with steamed julienned vegetables, rice and peas – $23.95
• Grilled Key West Shrimp & Mashers – served with sweet corn mashed potatoes and barbecued guava sauce – $18.50
• Florida Lobster Tail – seven-ounce lobster tail, served with sweet corn mashed potatoes and julienned vegetables – $27.50
• Pan Fried Lobster Cake – served with sweet corn mashed potatoes, mango creole sauce and roasted corn salsa – $18.50
• Alonzo's Fried Seafood Platter – deep-fried local fish, shrimp, oysters, and conch fritters, served with french fries and coleslaw – $19.95
• Classic New England Lobster Bake – steamed Maine lobster, served with corn on the cob and red bliss potatoes – $Market
For Steak Lovers
• Ten ounce Black Angus Steak – topped with a green peppercorn sauce and served with steamed julienned vegetables and sweet corn mashed potatoes – $22.95