Casual dockside restaurant with a focus on bar-b-que.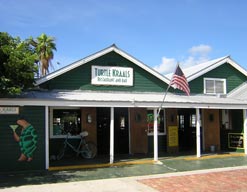 Once the home to a turtle canning factory, this restaurant offers fresh seafood with a southwestern accent.
Casual lunch or dinner dockside at this Historic Seaport eatery. Also has a lively bar where local captains and tourists rub elbows and trade tales.
Upstairs Tower Bar offers raw-bar food and a great view of the Seaport.
Location: 1 Lands End Village (at the end of Margaret Street)
Hours: Open Monday-Saturday 11am-10pm, Sunday 12:00pm-10pm
Phone: (305) 294-2640
Turtle Kraals Menu
Starters
Bucket of Bones – A generous sampling of Turtle Kraals' traditional "dry" spareribs rubbed with a special blend of spices and slowly cooked in a wood-smoked BBQ pit – $10.95
Mesquite Grilled Oysters on the Half Shell – Grilled with drawn butter, parmesan cheese and topped with fresh cilantro – 1/2 dozen $9.95, 1 dozen $14.95
Key West Conch Ceviche – A ceviche style preparation of marinated Key West Conch, cilantro, red onion, tomato, avocado in Key Lime juice – $10.95
Peel and Eat Shrimp – Key West Pinks cooked, chilled, and ready to peel and eat – 1/2 lb. $12.95, 1 lb. $22.95
Lobster Rolls – Succulent warm lobster rolled in an egg roll wrapper and deep fried, served with jalapeno chutney – $10.95
Flash Fried Calamari – Parmesan dusted, served with tangy chipotle sauce BBQ sauce – $6.95
Mesquite Grilled Chicken Wings – Ten jumbo wings, grilled over an open mesquite fire and basted with your choice of hot, mild, garlic herb, BBQ, or jerk sauce – $8.95
Deep Dish Nacho – A skillet of melted cheese and refried beans served with spicy pico de gallo, sour cream and guacamole and warm tortilla chips – $8.95
Three Onion, Crab, and Cheese Dip – Served with crackers – $10.95
Wood-Smoked Fish Dip – Served with banana peppers and crackers – $9.95
Basket of Tortilla Chips and Salsa – $3.95
– with Guacamole or spicy cheese sauce – $5.95
Soups and Salads
Chicken and Tortilla Soup – A rich chicken broth with smoked chicken, roasted corn, diced onion, tomato, jalapeno, crispy tortilla strips, and cilantro, topped with avocado slices and cheese – $4.95
Mesquite Grilled Shrimp and Spinach Salad – Fresh shrimp on a bed of baby spinach, with bacon, tomatoes, eggs, and pickled onions – $16.95
T.K. Signature Salad – Fresh greens topped with your choice of slow-smoked beef frisket, BBQ pork, "pulled" chicken, or mesquite grilled shrimp along with cheese, hard boiled egg, veggies, pickled red onion, black olives and croutons – $12.95
T.K. House Salad – Mixed greens, vegetables, cheese, egg and bacon – $6.95
Sandwiches
All sandwiches are served with french fries and cole slaw.
Cabo Fish Sandwich – Fresh fish of the day, grilled or fried and served on a roll with spicy tartar sauce – $12.95
BBQ "Pulled" Chicken Sandwich – Chicken slowly wood-smoked and hand pulled from the bone, drizzled with our Voodoo BBQ Sauce – $10.95
BBQ Pork Sandwich – Specialty BBQ pork, wood-smoked until watering tender, chopped and piled high on a roll – $10.95
T.K. Burger – A tender juicy half pound of 100% fresh ground chuck, mesquite grilled to your preference, topped with lettuce, tomato, and grilled onions – $9.95. Add cheese $1.00, add bacon $1.00.
BBQ Beef Brisket Sandwich – Seasoned and slowly wood-smoked for twelve hours so it melts in your mouth, drizzled with a citrus chipotle BBQ sauce – $10.95
The Carolina "PIGGIE" – Authentic "Carolina Style" pork, mixed with peppered vinegar BBQ sauce, topped with spicy slaw – $10.95
Mesquite Grilled Chicken Club – Mesquite grilled chicken breast served on a roll with bacon, pepper jack cheese, lettuce, tomato and Voodoo BBQ sauce – $10.95
Baja Fish Taco – Soft flour tortillas filled with fresh blackened fish, diced tomato, grilled onions and cilantro served with sour cream, black beans, and rice – $12.95
Turtle Kraals Classics
Durango Skirt Steak – A marinated skirt steak, grilled over a mesquite fire, served over Spanish rice with a cup of tortilla soup, a cheese enchilada, black beans, guacamole, sizzling onions, and pico de gallo – $19.95
Mesquite Grilled Sizzling Shrimp – Jumbo shrimp marinated in southwest spices and grilled over a mesquite fire, served over sizzling onions with a cup of tortilla soup, a cheese enchilada, Spanish rice, black beans, guacamole, and pico de gallo – $19.95
Mesquite Grilled Chicken – A chicken breast marinated and grilled over a mesquite fire, served over sizzling onions with a cup of tortilla soup, a cheese enchilada, Spanish rice, black beans, guacamole, and pico de gallo – $16.95
Crispy Fried Shrimp – Five jumbo shrimp lightly breaded and fried to a golden brown, served with tarter sauce, coleslaw, and french fries – $14.95
Enchiladas – Two tortillas rolled with your choice of filling, topped with ancho chili or tomatillo sauce and cheese, baked to perfection and served with Spanish rice and black beans. Seafood $14.95, Chicken $11.95, Steak $12.95, Cheese $9.95
Mesquite Grilled Fresh Fish of the Day – The freshest catch straight from their own fish market – grilled to your preference, served with steamed vegetables and Spanish rice (fried or blackened on request)
Fresh Off The Smoker
About the Pit Master – Sean Finegan
Originally from Alabama, Sean has perfected the art of "Southern-Style" authentic real pit barbeque. He is known throughout the country for his originality and creativity in developing the perfect blend of wood, smoke, spice, and sauce.
About the Barbeque
It's not mystery the Turtle Kraals' barbecue is so moist, tender, and flavorful. First, the ribs, pork butts, beef brisket, and chicken are slow-smoked over smoldering wood for up to 14 hours. The heat and sauce penetrate deep in to every layer of meat, turning it a pinkish color while enriching every juicy mouthful with rich, smokey flavor. All BBQ entrees are served with BBQ baked beans, french fries, coleslaw, and cornbread.
Traditional "Dry" Spareribs – The choice of the true rib connoisseur…tender spareribs carefully seasoned with our award winning rib rub and slow-smoked until perfectly tender – $16.95
"Knife & Fork" Baby Back Ribs – Fall-off-the-bone Baby Backs, that are basted with original BBQ sauce – full rack $19.95, half rack $14.95
BBQ Ribs & Chicken Combo – A tender half chicken, grilled to perfection over a mesquite fire along side a generous portion of "dry" Spareribs or baby Back Ribs.
BBQ Beef Brisket Platter – Expertly seasoned and slowly wood-smoked for 14 hours or until it absolutely melts in your mouth – $14.95
BBQ Pork Platter – Slowly wood-smoked until mouth watering tender, then chopped and stacked high – $13.95
The "Carolina Piggie" Platter – Authentic "North Carolina Style" chopped pork mixed with our peppered vinegar sauce and topped with spicy slaw – $13.95
"Backyard Style" BBQ Chicken Platter – Tender half chicken seared over a smoldering wood fire making it incredibly tender, then basted with Original BBQ sauce – $13.95