Gourmet, dockside fine-dining seafood restaurant in Key West
This island restaurant has been serving up gourmet seafood for decades at it's harbor-front location.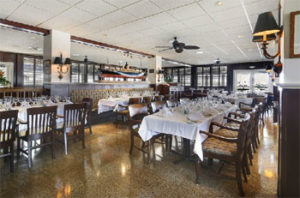 The fine dining restaurant is on the second floor above the more casual restaurant Alonzo's.
From the dining room, the view of the Key West Bight and Historic Seaport is a treat. Enjoy lobster, fresh local fish, and other Key West delicacies. They also offer some excellent choices for those not in the mood for seafood.
Outdoor dining is available on the wrap-around porches.
Reservations suggested.
Hours: Open every day, 6pm-10pm
Location: 700 Front Street
Phone: 305-294-5880
A & B Lobster House Menu
Appetizers
Maine Lobster Escargot – Medallions of lobster sauteed with helix escargot & wild mushrooms in herbed lemon garlic butter & served in puff pastry – $16.50
Oysters Rockefeller – Fresh plump oysters baked with spinach, bacon & Pernod topped with hollandaise sauce – $10.95
Roasted Mussels Provencal – Fresh farm raised Mediterranean mussels pan roasted with garlic, tomato, white wine & parsley & served with toasted crostinis – $9.75
Berlin's Jumbo Lump Crab Cake – Pan seared and served with a mango goat cheese salad & a key lime aioli – $14.95
Escargot Saute – Served in puff pastry, with garlic, wild mushrooms, & a creamy cognac demi glace – $10.50
Baked Crab & Artichoke Gratin – Jumbo lump crabmeat baked in artichoke hearts with hollandaise sauce & chipotle vinaigrette – $12.50
Shrimp Cocktail Martini – Jumbo Key West Pink shrimp, served chilled with horseradish cocktail sauce & lemon – $14.50
Farm Raised "Island Princess" Baby Conch – Sauteed & served in a rum butter sauce, with candied leeks & a Caribbean fruit compote – $12.75
Pan Seared Jumbo Scallops – Served on a bed of roasted pineapple, carpaccio with a Bahamian peanut sauce – $14.75
Berlin's Daily Caviar Service – Served iced with traditional garnish – Market $
Classic Stews, Pan Roasts, and Bisques
Stews and pan roasts are prepared the traditional way by slow-roasting oysters, clams, mussels, and lobsters then adding them to a broth of fresh herbs and vegetable with a touch of cream and sherry.
Oyster Stew – Fresh shucked oysters & oyster mushrooms prepared with sherry & cream – $8.75
Oyster Pan Roast – Fresh shucked oysters, leeks, chili sauce & paprika – $9.75
Lobster Pan Roast – Lobster medallions, andoiulle sausage & garlic in a saffron broth – $12.75
Lobster Bisque – Laced with cognac & Maine lobster medallions & garnished with caviar – $8.75
New England Clam Chowder – Fresh clams, celery, potatoes, bacon & cream – $6.75
Salads
A & B House Salad – Mixed baby greens, red onions & tomatoes, tossed in a sherry vinaigrette – $6.50
Classic Caesar Salad – Romaine hearts, tossed in our Caesar dressing with Mediterranean anchovies, served in a crispy asiago coronet – $7.95
Endive Salad – Belgian endive & baby greens in a pear vinaigrette with red wine poached pears, hazelnuts & gorgonzola – $8.95
Fresh Mozzarella & Tomato Salad – Vine-ripened red & yellow tomatoes with fresh buffalo mozzarella drizzled with balsamic vinaigrette, garnished with fresh basil & cracked pepper – $8.95
Summer Salad – Baby greens tossed with herbed goat cheese, fresh mango, berries and spicy pecans in a raspberry champagne vinaigrette – $9.95
House Specialties
Meats
Sunset Surf & Turf – Six ounce filet mignon & a six ounce lobster tail – $42.50
Berlin's Surf & Turf – Ten ounce filet mignon & a ten ounce lobster tail – $62.50
Grilled Pork Chops – Served with a galette of garlic mashed potatoes, wild mushrooms, roasted tomato confit & caramelized shallot demi glace – $23.50
Chicken Palermo – Stuffed with prosciutto & fontina cheese, seasoned & grilled. Served with wilted spinach, toasted Israeli cous cous & a basil parmesan broth – $24.95
Black Angus Strip Steak – Served with gorgonzola potato gratin & roasted cremini mushroom caps with a bearnaise sauce – $34.50
Filet Mignon Bearnaise – Served with gorgonzola potato gratin & a bearnaise sauce – 6 oz. $28.50 – 10oz. $34.50
Steak Au Poivre – Black angus N.Y. strip steak, pepper-seared & served with gorgonzola potato gratin – $34.50
Pastas
Key West Shrimp Pasta – Sauteed with asparagus tips, sundried tomatoes & buffalo mozzarella in a fresh lemon basic butter sauce – $29.50
Wild Mushroom Fettuccini – Cremini, oyster, and shiitake mushrooms sauteed in extra virgin olive oil with garlic, shallots & asparagus tips, finished with herbed goat cheese – $23.75
Fresh Seafood
Mahi Mahi – Fresh dolphin (fish) seasoned & grilled with a sundried tomato pesto. Served with a Mediterranean white bean ragout, kalamata olives, toasted pine nuts & feta salsa – $28.75
Grouper Oscar – A napoleon of pan seared grouper & a jumbo lump crab cake served with asparagus spears & topped with a citrus hollandaise – $32.50
Brazil Nut Snapper – Lightly crusted in a brazil nut flour & served with a mango ginger beurre blanc – $28.75
Sesame Seared Yellowfin Tuna – Black & white sesame encrusted tuna steak, served with wasabi vinaigrette – $29.50
Tuna Au Poivre – Pepper seared tuna steak with a cognac cream sauce – $29.50
Seared Key West Jumbo Shrimp – Served with roasted tomato confit, purple peruvian potato mash & topped with a crisp watercress salad – $28.75
Sauteed Jumbo Scallops – Served with braised shiitake mushrooms, asparagus & lemon garlic butter sauce – $28.75
Crab Cakes – Jumbo lump crab cakes, pan-seared served with coconut pecan rice & a key lime aioli – $32.50
Bouillabaisse – Jumbo shrimp, clams, mussels & fresh local catch, simmered in a saffron & fennel broth with sourdough crouton & saffron aioli – $32.50
Lobster Bake – Served with sweet corn & red bliss potatoes – Market $
Broiled Florida Lobster Tail – Served with coconut pecan rice & baby vegetables – 6 oz. $25.50 – 10 oz. $32.50