Fine, Italian cuisine in an upscale dining room.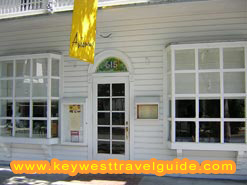 Known for it's homemade pasta and fine dining (even though they call it Key West casual) is Antonia's on Duval Street.
Each morning passersby watch the pasta maker hanging the days fresh fettuccine, linguine, and macaronis in the front window of the restaurant.
By nightfall, the inviting dining room serves some of the islands best regional Italian cuisine. And it's not just pasta. Perfectly prepared fish, chicken, veal, and beef dishes are well worth a try.
Extensive wine lists and attentive wait staff add to the enjoyment.
Private room available for parties.
Location: 615 Duval Street
Hours: Open every day, 6pm – 11pm
Phone: (305) 294-6565
Antonia's Restaurant Menu
ANTIPASTI
Bruschetta Toscana – Baked ciabatta bread topped with marinated ripe red and yellow tomatoes 9
Carpaccio – Thinly sliced beef tenderloin with arugula Peccorino cheese, balsamic gastrique 14
Caprese – Homemade mozzarella cheese, tomatoes, basil and extra virgin olive oil 11
Souffle' al Caprino – Warm goat cheese soufflé served with pan-seared asparagus, baby green beans, carrots, Belgian endive and roasted tomato vinaigrette 12
Calamari in Brodetto – Grilled and sliced baby squid with spicy tomato sauce, garlic, a touch of red pepper, olive oil and parsley 11
Antipasto Italiano – A variety of Italian cured meats, imported cheeses, pickled vegetables and olives 14
PASTA
Fettuccine alla Checca – Homemade fettuccine, homemade mozzarella cheese, fresh tomato, olive oil and basil 19
Gnocchi del Giorno – Homemade potato gnocchi with your choice of sauce: Gorgonzola cream, meat ragu, or pesto 21
Linguine ai Gamberi – Homemade linguine, Key West Shrimp, fresh tomato, olive oil, garlic and a touch of red pepper 26
Fettuccine al Profumo di Tartufo – Homemade fettuccine, asparagus, Shiitake and button mushrooms, truffle oil and slivered Parmesan cheese 20
Linguine alle Vongole – Homemade linguine, littleneck clams, olive oil, garlic and atouch of red pepper, choice of white wine or fresh tomato sauce 23
Lasagne Verdi Pasticciate – Layers of homemade spinach pasta with tomato meat sauce, béchamel and cheese, au gratin 19
PESCE
Dentice del Giorno – Yellowtail snapper served with potato puree fresh vegetable and a choice of sauces: fresh roma tomato and black olive, or meuniere with pine nuts or caper, anchovy and cream 30
Pesce alla Griglia – Grilled fish of the day served over baby arugula salad with marinated red and yellow tomatoes, fresh salsa verde and potato puree (MARKET)
Zuppa di Pesce – Lobster, littleneck clams, shrimp, scallops, squid and fish sautéed and simmered in a spicy tomato sauce, served with toasted bread 30
Filetto di Dentice alla Mediterranea – Yellowtail snapper pan-seared and braised with watercress, Belgian endive, radicchio, arugula, fennel, baby artichokes, and white wine with potato puree 29
CARNE
Petto di Pollo alla Valdaostana – Breast of chicken stuffed with Prosciutto, Fontina cheese and asparagus, panseared and served with a Marsala wine and veal glace reduction, roasted potato and vegetables 26
Piccatina di Vitello – Veal medallions sautéed in white wine, lemon and butter, served with potato puree and vegetables 29
Ossobuco di Agnello – Lamb shank braised with vegetables and red wine, served over potato puree with gremolata (garlic, grated lemon peel and parsley) 34
Costolette di Agnello – Rack of lamb chops pan-sautéed served with a sauce of balsamic vinegar, dates, shallots, veal glace and feta cheese: with roasted potatoes and fresh vegetables 35
Filetto di Suisi – Center-cut filet mignon grilled and topped with a composed butter of herbs and goat cheese with Prosciutto, served over arugula with a port wine sauce and caramelized pears 34
INSALATE
Insalata Mista – Organic mixed baby lettuce, arugula, red radicchio and tomatoes, with balsamic vinaigrette 8
Insalata d'Autunno – Organic arugula, smoked Prosciutto, toasted walnuts, grapes and shaved pecorino Romano cheese with a caramelized pear balsamic vinaigrette 12
Antonia's Caesar – Salad Romaine hearts with a mustard and garlic vinaigrette, petite croutons, shaved parmesan cheese and cured white anchovies 10