Fine dining restaurant on Duval Street in historic building.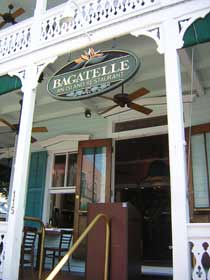 Located on Duval Street, the Bagatelle Restaurant serves tropical seafood with southern charm.
The two story restaurant is in an historic Key West building that was originally located ten blocks away! Moved to its present location in the 1980s, the restaurant has remained popular.
Indoor and outdoor dining also available for parties and events.
Hours: Open every day, 9am – 4pm and 5pm – 10pm
Location: 115 Duval Street
Phone: 305-296-6609
Bagatelle Menu
Appetizers
Bagatelle Seafood Chowder – Shrimp, fish, & conch in a delicate sherry cream chowder – $5 Cup, $7 Bowl
Conch Ceviche – Lime juice, cilantro, habanero pepper, mixed bell pepper & red onion – $15
Tuna Tataki – Pepper crusted rare tuna loin, sesame soy sauce, pickled ginger & sesame seeds – $12
Mussels Bagatelle – Prince Edward Island mussels in black pepper white sauce – $15
Peel & Eat Shrimp – Key West Pinks dusted with Old Bay – $18/Half pound, $34/Pound
Avocado & Portabella Egg Roll – Grilled marinated portobello mushroom with goat cheese, avocado with roasted red pepper cilantro coulis – $13
Seafood Puff Pastry – Lobster, shrimp, sea scallops, crawfish & mushrooms served on a tomato basil butter – $14
Sticky Shrimp – Flash fried jumbo shrimp witih sweet chili mango sauce – $12/Half Order, $22/Full Order
Beef Carpaccio – Shaved beef tenderloin, baby arugula, mango caper relish, white truffle oil & shaved parmesan – $14
Salads
Ceasar Salad – Romaine lettuce, Spanish white anchovies, garlic croutons, romano cheese & classic dressing – $9
Green Salad – Baby greens, carrots, cucumbers, tomatoes, sprouts & choice of dressing – $9
Hearts of Palm Salad – With avocado, cucumber, plum tomatoes & balsamic vinaigrette – $11
Avocado Fan Salad – Avocado, Bleu Cheese crumbles, bacon bits & balsamic vinaigrette – $12
Raspberry Walnut & Gorgonzola Salad – Candied walnuts, apples, pears, gorgonzola cheese & raspberry vinaigrette – $12
Entrees
Pecan Dolphin – Pan seared with pecan butter, roasted sweet pecans & Meuniere sauce – $28
Seared Tuna – Sesame seed crusted tuna with wakame seaweed salad, oven dried shiitake mushrooms & udon noodles with spiced peanut sauce – $31
Shrimp & Scallop Linguine – Sea scallops & Key West Pinks in garlic basic oil with romano cheese – $28
Florida Lobster Tail – 9oz. tail basted with garlic butter or tempura battered Florida lobster in honey butter – $35
Jamaican Sweet Curry Chicken – Sweet curry banana, papaya & coconut rum sauce – $25
Filet Mignon – Grilled and served with Bearnaise sauce, grilled tomato & fried basil – $37
Veal Cutlet – Herb breaded veal cutlet with sun dried tomato mascarpone fondue & garnished with blue crab salad – $36
Roast Pork Chops – Fig & caramelized onion chutney, gorgonzola cheese & red wine demi – $28
Crispy Duck Confit – Double leg confit with pomegranate jus & foie gras essence – $33
Surf & Turf – 9 oz. Florida lobster tail and half pund stone crab claws – $53
Surt & Turf – 1/2 honey-fried Florida lobster tail & 5 oz. filet mignon – $36
Grande Surf & Turf – 9 oz. Florida lobster tail and 10 oz. filet mignon – $70