Highly-rated fine dining restaurant in Old Town.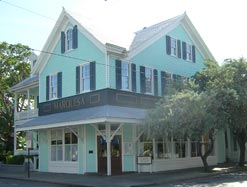 Adjoining the hotel on the corner of Simonton and Fleming Streets, Café Marquesa offers "Contemporary American Cuisine." Specialties include grilled meats and fresh, local seafood, complemented by inventive appetizers and salads as well as fresh baked breads and desserts made daily.
The 50-seat restaurant has a theatre-kitchen set behind a trompe l'oeil wall of a kitchen scene. The walls are painted yellow-gold, set off by large mahogany-framed mirrors, giving diners a view of the entire restaurant. Specialties include Seared Brioche Dusted Yellowfin Tuna, Goat Cheese & Pistachio Crusted Rack of Lamb and Grilled Marinated Key West Shrimp.
Location: 600 Fleming Street.
Phone: (305) 292-1244
Hours: Open every day, 6pm – 10pm
Cafe Marquesa Menu
Starters
Mushroom Bisque with Parmesan Crisp 10
Organic Romaine Hearts with Croutons, Grana Padano Cheese,
Anchovy & Eggless Caesar Dressing 8
Baby Greens Salad with Gorgonzola Dressing,
Pomegranate, Poached Pear & Maple Glazed Walnuts 12
Smoked Salmon with Blue Corn Cakes, Crème Fraiche & Trout Roe 14
Arugula Salad with Heirloom Tomatoes, Prosciutto,
Artisan Balsamic & Truffle Cheese 15
Duck Slider with Foie Gras Aioli, Zucchini Pickles & Van Gogh Cheese 13
Jonah Crab Claws with Jicama Slaw & Mustard Sauce 17
Seafood Potstickers with Kimchee & Spicy Peanut Sauce 10
Tea Smoked Quail with Micro Greens, Blood Orange Vinaigrette & Quail Egg 14
Blue Cheese Gnocchi with Duck Confit & Foie Gras 14
Tuna Tartar with Wasabi Tobiko & Wakame Salad 12
Entrées
Coconut, Ginger & Sesame Crusted Mahi Mahi with Udon Noodles, Stir Fry Vegetables & Mango~Miso Sauce 30
Phyllo Wrapped Black Grouper with Pear & Cheese Pasta Purses, Golden Chanterelle Broth & Baby Vegetables 34
Florida Lobster Tail & Grilled Key West Pink Shrimp with Baby Bok Choy, Thai Butter Sauce & Jasmine Rice 35
Porcini Dusted Diver Sea Scallops with Truffle Butter, Saffron Risotto & Swiss Chard 37
Vegetarian Feast of Israeli Couscous, Pear & Cheese Pasta Purses, Broccolini, Caponata, Oven Roasted Tomato Pesto 23
Grilled Neiman Farm Pork Loin with Jack Daniels Mushroom Sauce, Bacon, Rainbow Cauliflower & Aztec Rice 31
Roasted Duck Breast with Chicken & Apple Sausage, Fingerling Potatoes, Baby Vegetables & Mandarin Cranberry Sauce 34
Grilled Black Angus Filet Mignon with Blue Cheese Crust, Asparagus, Brandy Peppercorn Sauce & Purple Peruvian Mashed Potato 43
Roast Rack of Australian Lamb with Goat Cheese Crust, Port~Fig Sauce, Israeli Couscous & Broccolini 39