Fine dining steak and seafood overlooking the Historic Seaport.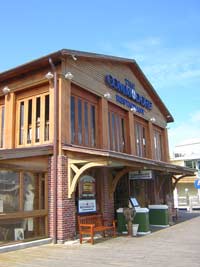 This gourmet restaurant leans a bit more towards being a steakhouse, but offers plenty for those looking for seafood.
With a nice, wood paneled dining room on the second floor, the restaurant has a birds-eye view of the Historic Seaport.
Fresh lobster & stone crabs (when in season), local seafood, prime rib and filet mignon are among the fine entrees offered.
Location: 220 Margaret St
Hours: Open every day, 5:30pm – 10:30pm
Phone: (305) 294-9191
Commodore Menu
Appetizers
ASPARAGUS PARMESAN
Fresh poached asparagus topped with Parmesan cheese and baked
CRABMEAT AND AVOCADO COCKTAIL
Fresh Avocado with lump Crabmeat and seasoning
JUMBO SHRIMP COCKTAIL
Jumbo Shrimp seasoned and served chilled with classic cocktail sauce
ARTICHOKES HEARTS WITH CRABMEAT
Artichoke bottoms with lump crabmeat and topped with Bearnaise
CARPACCIO OF BEEF
Raw Filet Mignon thinly sliced, served with capers, Parmesan cheese and Olive oil
LOBSTER COCKTAIL
Maine Lobster Tail sliced and served chilled with cocktail sauce and lemon butter
TUNA TATAKI
Sushi grade Yellowfin tuna seared rare & served with mesclun greens and a sesame soy dressing
LOBSTER CAKE
Maine Lobster with Blue Crab meat and fresh herbs finished with frisee and roasted red pepper vinaigrette
Salads
CAESAR SALAD
Fresh romaine lettuce, bread croutons, creamy vinaigrette and parmesan cheese
SPINACH SALAD WITH BACON
Fresh spinach with a red wine vinaigrette
BLEU CHEESE AND BACON SALAD
Mixed greens with tomato and onions topped with crumbled bleu cheese and bacon
GARDEN SALAD
Mixed greens, onions, mushrooms with vinaigrette
TOMATO AND SWEET ONIONS SALAD
Slices of vine ripened tomatoes served with marinated onions
Seafood
Entrees priced $22.95 – $37.95
All seafood is served with red roasted potatoes
JUMBO SHRIMP SCAMPI
Sautéed Jumbo Shrimp with garlic, white wine and butter
BROILED FILET OF SALMON HOLLANDAISE
Boneless filet, broiled and served with Hollandaise
YELLOWTAIL SNAPPER "CAYO HUESO"
Sauteed Yellowtail in a Lemon Tomato butter with avocado and Key West Shrimp
PAN SEARED GROUPER
Seared with fresh Lobster finished in the oven in a Lobster cream sauce
SESAME CRUSTED YELLOWFIN TUNA
Served with Wasabi mashed potatoes, caper and pimento beurre blanc
SAUTEED MAHI MAHI
Sauteed Dolphin with mushrooms, tomatoes, capers and lemon in a white wine sauce
COMMODORE SEAFOOD MEDLEY
Fresh Maine Lobster, Shrimp, Scallops, Mussels in a light garlic sauce and a Julienne of vegetables.
FRESH FLORIDA LOBSTER TAIL (Market)
10 oz Fresh Florida tail served with our own special butter sauce.
CLASSIC SURF AND TURF (Market)
8 oz Filet Mignon and 10 oz Lobster Tail with drawn butter and sauce Béarnaise
TIPS AND SCAMPI
Sauteed Tenderloin Tips in a Marsala sauce served with Shrimp Scampi
MAINE LOBSTER CAKES
Fresh lobster with lump crab and herbs, oven baked, served with beurre blanc
Steaks
Entrees priced $22.95 – $37.95
All steaks are served with baked potatoes
PRIME RIB ROAST
Roasted in our special ovens served au jus with creamy horseradish
FILET MIGNON BÉARNAISE
Center cut Filet of beef Tenderloin, trimmed of all fat and broiled to your order
BONE-IN RIB EYE STEAK
18 oz Cowboy cut, broiled, and finished with a parsley butter
NEW YORK STEAK CHINATOWN
Marinated N.Y. Strip Steak served sliced with a Teriyaki Glaze
NEW YORK STRIP STEAK
N.Y. Steak seared to seal the juices, broiled and served with your choice of sauce Bearnaise, Roquerfort or Au Poivre
DELMONICO STEAK
A pound of Prime boneless Rib Eye Steak served with shallot and herb butter
BREAST OF CHICKEN WITH GARLIC AND HERBS
Roasted Breast of Chicken with a garlic and fresh herbs sauce
Sides
MASHED POTATOES
SHOESTRING POTATOES
ASPARAGUS HOLLANDAISE
SAUTEED MUSHROOMS
Desserts
KEY LIME PIE
Classic Key Lime Pie with whipped cream
CHOCOLATE MOUSSE
Belgian chocolate swirled with fresh raspberry
CREME BRULEE
Classic vanilla custard
APPLE COBBLER A LA MODE
Sauteed apples with cinnamon and brown sugar baked and served with vanilla ice cream
CHOCOLATE SIN
Finished with bourbon chocolate glaze and crème Anglaise
COFFEE DRINKS
IRISH COFFEE
Jameson whiskey, Baileys & Crème de menthe
KEY LIME PIE
Classic Key Lime Pie with whipped cream
CHOCOLATE MOUSSE
Belgian chocolate swirled with fresh raspberry
CREME BRULEE
Classic vanilla custard
APPLE COBBLER A LA MODE
Sauteed apples with cinnamon and brown sugar baked and served with vanilla ice cream
CHOCOLATE SIN
Finished with bourbon chocolate glaze and crème Anglaise
Coffee Drinks
IRISH COFFEE
Jameson whiskey, Baileys & Crème de menthe
ITALIAN COFFEE
Amaretto di Saronno & Tia Maria
JAMAICAN COFFEE
Tia Maria, Bacardi Select Rum & Dark Crème de Cacao
KEY WEST COFFEE
Bacardi Select Rum & Baileys Irish Cream
MEXICAN COFFEE
Sauza Commemorativo Tequila & Kahlua
FRENCH COFFEE
Vs Cognac and Chocolate Liquor
Wine List
CHAMPAGNE
"La Grande Dame" Veuve Cliquot
"Cuvee Dom Perignon" Moet et Chandon
Rose Brut, Laurent Perrier
"Yellow Label" Veuve Cliquot
Perrier Jouet Grand Brut
Blanc de Blancs, Domaine Ste. Michelle
CHARDONNAY
Cakebread, Napa Valley
Mondavi, Napa Valley
Kendall Jackson, Vintner's Reserve, California
La Crema, Sonoma
Chateau St. Jean, Robert Young, Sonoma
Francis Coppola, Diamond Collection, Monterey
Sonoma-Cutrer, Russian River
Stags Leap, Napa Valley
CHAMPAGNE
"La Grande Dame" Veuve Cliquot
"Cuvee Dom Perignon" Moet et Chandon
Rose Brut, Laurent Perrier
"Yellow Label" Veuve Cliquot
Perrier Jouet Grand Brut
Blanc de Blancs, Domaine Ste. Michelle
CHARDONNAY
Cakebread, Napa Valley
Mondavi, Napa Valley
Kendall Jackson, Vintner's Reserve, California
La Crema, Sonoma
Chateau St. Jean, Robert Young, Sonoma
Francis Coppola, Diamond Collection, Monterey
Sonoma-Cutrer, Russian River
Stags Leap, Napa Valley v
SAUVIGNON BLANC / FUME BLANC
Horse Heaven, Chateau St Michelle, Columbia Valley
Groth, Sauvignon Blanc, Napa Valley
Longboat, Marlborough, New Zealand
Cakebread, Napa Valley
Delta, Marlborough, New Zealand
Mondavi, Fume Blanc, Napa Valley
OTHER INTERESTING WHITE WINES
Fournier,Belles Vignes, Sancerre, France
Paco & Lola, Albarinos, Rias Baixas,
Louis Latour, Pouilly Fuisse, France
Conundrum, Rutherford
Chateau St Michelle, Riesling, Washington State
Santa Margherita, Pinot Grigio, Italy
La Crema, Nine Barrels, Russian River Chardonnay
CABERNET
Stags Leap, Napa Valley
Sterling, Vintner's Collection, Cental Coast
Caymus, Napa Valley
Mondavi, Napa Valley
Grgich Hills, Napa Valley
Kendall Jackson, Vintner's Reserve, Sonoma/Napa
Jordan, Alexander Valley
Mt Veeder Winery, Napa Valley
Francis Coppola, Claret, Diamond, California
Rodney Strong, Alexander Crown, Alexander Valley
Stonestreet, Alexander Valley
MERLOT
Stags Leap, Napa Valley
Clos Du Bois, Alexander Valley Reserve
Sterling, Vintner's Collection, Central Coast
Geyser Peak, Alexander Valley
Kendall Jackson, Vintner's Reserve
Arrowood, Sonoma Country
PINOT NOIR
Hartford Court, Land's Edge Vineyard, Sonoma Coast
Cambria, Julias, Santa Maria Valley
Byron, Nielson Vineyard, Santa Maria Valley
La Crema, Sonoma Coast
Alma Rosa, Santa Rita Hills, Santa Barbara
Iron Horse Estate, Russian River Valley
Wild Horse, Central Coast
ZINFANDEL / SYRAH
EdMeades, Zinfandel, Mendocino County
Clos Lachance, Syrah, Central Coast
Hartford, Zinfandel, Russian River Valley
Clos Du bois, North Coast, Geyserville, California
OTHER INTERESTING WINES
Domaine du Vieux Lazaret, Chateauneuf du Pape
Brunello di Montalcino, Coldi Sole, Tuscany, Italy
Ruffino, Chianti Classico, Reserve, Ducale Gold, Italy
Santi, Amarone della Valpolicella, Illasi, Italy
Tre Donne, Barbera D'Alba, Neive, Italy
Decero, Malbec, Mendoza, Argentina
COMMODORE SPECIAL SELECTION
Silver Oak, Alexander Valley
Heitz Cellars, Martha's Vineyard, Napa Valley
Opus One, Mondavi-Rothschild, Napa Valley
Geyser Peak, Reserve Alexander, Alexander Valley
La Crema, Nine Barrel, Pinot Noir, Russian River Valley
RED WINES BY THE GLASS
Cabernet Sauvignon, Beringer "Founders' Estate"
Merlot, Penfolds, Rawson's Retreat, Australia
Pinot Noir, Greg Norman Estate, Santa Barbara County
Shiraz , Wyndham Estate, Bin 555, Australia
WHITE WINES BY THE GLASS
Chardonnay, Chateau St Michelle, Columbia Valley
Sauvignon Blanc, Brancott, New Zealand
Pinot Grigio, Cavit Delle Venezie, Italy
White Zinfandel, Beringer, California
Mumm Cuvee Napa Brut