An elegant oceanfront restaurant serving gourmet Caribbean-fusion cuisine.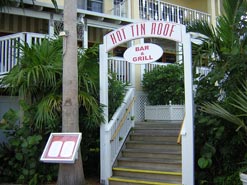 One of the island's more inventive and exciting restaurants.
The Hot Tin Roof features a relaxed elegance with dramatic water and sunset views. Its menu is highlighted with a mix of seafood and land-fare prepared in a unique culinary style dubbed as "conch-fusion."
The restaurant's 3,000 square feet of dining features indoor seating for 60 and an outdoor deck overlooking Key West Harbor, accommodating up to 40 people.
Location: 0 Duval Street
Hours: Open every day, 7:30am – 11:30am and 5:00pm – 10:00 pm
Phone: (305) 296-7701
Hot Tin Roof Menu
Appetizers
Chicken and Vegatable Spring Rolls: served with sweet chili dipping sauce – $7
Steamers and Chorizo: fresh clams and Spanish chorizo sauteed with tomatoes, cilantro, garlic. Finished with white wine and sweet butter – $13
Lobster and Roasted Corn Quesadilla: roasted sweet corn, red onion, & jalepeno aioli dipping sauce – $11
Lump Crab Cake and Plantain Fried Oysters: served with avocado puree – $13
Tataki Tuna: pepper encrusted Ahi tuna, ponzu sauce, wakame seaweed salad & pickled ginger – $11
Smoked Choch Chowder: Caribbean style – $7
Conch Fusion
Island of Seafood: split lobster tail, jumbo prawn, oyster, mussels, clams, stone crab claw, & Key Lime dipping sauce – $33
Southernmost Bento: changes daily – ask server – $21
Lobster Ceviche: grilled, papaya salad, passion fruit mojo – $11
Tuna Tartare: blend of Wasabi, soy, sesame, & mango – $9
Conch and Crab Ceviche: green olive & cristpy tortilla salad – $9
Salads
Boston Bibb Wedge: sun dried cherry vinaigrette, horseradish chedder, & crisp pancetta – $7
Hearts of Romaine: Caesar dressing & plantain croutons – $7
Arugula and Pear: Point Reyes bleu cheese & white Balsamic vinaigrette – $9
Spring Mix: mango, papaya, run soaked red onions & passion fruit vinaigrette – $7
Entrees
Hot Tin Paella: baked saffron rice with lobster tail, shrimp, clams, mussels, chicken & chorizo. Garnished with spring onions & zesty flatbread – $32
Florida Grouper: bacon-artichoke mash, rainbow Swiss chard, pinot grigio sauce topped with fried capers – $28
Chardonnay Sea Salt Flat Iron Steak: mushroom leek whipped potatos, port wine pan sauce – $30
Honey Thyme Charred Duck Breast: roasted sweet potatos, caramelized Vidalia onion jus – $28
Yellow Tail Snapper: pan seared with herb goat cheese polenta & roasted tomato broth – $26
Florida Lobster: preperation changes daily – ask server – Market Price
Grilled Shallot Filet Mignon: vanilla Cabernet demi & smoked onion butter, porcini mushroon potato cake – $38
Braised Beef Short Rib: slow cooked in red mole, served over Poblano mash – $30
Sides
Herb Goat Cheese Polenta – $6
Roasted Garlic Mashed – $6
Buttered Asparagus – $8
Sauteed Mixed Mushrooms – $8
Porcini Mushroon Potato Cake – $7