Upper Duval Street favorite with eclectic characters and relaxed island vibe.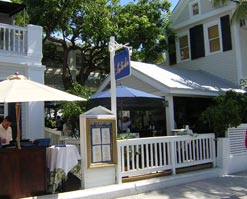 Set in a beautiful and historic property on upper Duval Street is La Te Da.
Here you will find a bar, restaurant, and hotel where Jose Marti once resided.
La Te Da serves breakfast, lunch, and dinner, and everything is scrumptious.
Fresh seafood and island flavors feature prominently in the well-thought menu. Colorful local characters make a meal here an often lively experience.
Location: 1125 Duval Street
Hours: Open every day, 8:30am – 11:00pm
Phone: (305) 296-6706
La Te Da Restaurant Menu
Breakfast/Brunch – Served from 8:30 AM till 1:00 PM
BAKERY
Basket of Mini Buttery Croissants 7.95
served with preserves and whipped Sweet Butter
European Breakfast 9.95
Imported and domestic Cheeses with warm Buttery Croissants and French Baguette
FRESH FRUIT
Tropical Fruit au Natural 9.50
Fresh Sliced seasonal Tropical Fruits and Berries
Berries and Fruit Cocktail 8.75
Parfait of Tropical Fruits and Berries in a Martini glass topped with Vanilla Yogurt
add granola .25
EGGS, OMELETS AND MORE
* The All American 9.50
Three fresh Eggs prepared your way with Home Fries
Your choice of Ham, Applewood Smoked Bacon or Sausage and Toast
* Eggs La Te Da 8.75
Soft Scrambled Eggs topped with Sour Cream and fresh Chives
Caramelized Black Pepper Bacon
* Omelet of the Day 9.75
Served with fresh Fruit garnish, Home Fries and Toast
Lura's Favorite Sausage Gravy and Biscuits 8
True country Sage Sausage Gravy on a warm Buttermilk Biscuit
Challah French Toast 9.25
Rich Buttery Egg Bread dipped in Vanilla Egg Custard and grilled
Topped with powdered Sugar and served with Maple Syrup
Side of Caramelized Black Pepper Bacon, Applewood Smoked Bacon or Sausage 4.50
Side of Home Fries or Blackstone Tomatoes 4
Extra Egg, Toasted Bagel, Toasted English Muffin or Regular Toast 2
BENEDICTS AND MORE
The Classic Benedict 11.50
Poached Eggs on an English Muffin with Canadian Bacon topped with Hollandaise
Eggs Blackstone 12.75
Poached Eggs on crispy breaded Tomato and English Muffin
Topped with Hollandaise, Applewood Smoked Bacon Crumbles and Scallions
Eggs Baltimore 15.75
Poached Eggs on Lump Crab Cakes and English Muffin topped with Hollandaise
Smoked Salmon Benedict 16.75
Poached Eggs on Smoked Salmon and English Muffin topped with Hollandaise
Menage a Trois 17.75
A combination of any three Benedicts from above
Smoked Salmon Presentation 17.50
Diced Red Onion, Capers, sliced Tomato, Kalamata Olives and Cucumber
Basket of Mini Bagels, toasted Baguette and Cream Cheese
* Egg whites available upon request 1.50
Lunch – Served from 11:30 am to 3:00 PM
STARTERS
French Onion Soup 9
With Crostini and Melted Fontina, Gruyere and Parmesan Cheese
Spicy Pink Vodka Conch Bisque 10
Chilled Gazpacho Soup with Cajun Crunchies 9
Jumbo Shrimp Cocktail 15
Mango Cocktail Sauce and European Cocktail Sauce
Green Chili and Hearts of Palm con Queso 8
Crispy Tortilla Chips and Wonton Chips
SALADS
Jumbo Lump Crab, Shrimp and Avocado Salad 18.75
Crab Salad with Dijonnaise Dressing, Shrimp, Avocado and Vine Ripened Tomatoes
Island Passion Salad 10
Mixed Greens, Goat Cheese, Mango, Berries and Toasted Almonds
Tossed with Passion Fruit Vinaigrette
Classic Caesar Salad 9
with Garlic Herb Croutons and Shaved Parmesan Cheese
The La Te Da Wedge 9
Wedge of Iceberg, lettuce with a duet of Stilton Blue Cheese and Mango Thousand Island Dressing,
Vine Ripened Tomatoes and Applewood Smoked Bacon
Add to Salads, Grilled or Blackened Shrimp 7.00, Chicken 5.00 or Steak 10.00
SANDWICHES and MORE
Tropical Blackened Yellowtail Rueben 14.75
Coleslaw, melted Swiss Cheese, Mango Thousand Island Dressing on Grilled Rye Bread
and Potato Salad
Le Sandwich au Poisson 11.75
Sauteed Snapper with House Made Remoulade served on a French Roll with
Lettuce, Tomato and Shoe String Fries
Triple French Dip 11.75
Shaved Prime Rib of Beef, Boursin Cheese and Arugula served on French baguette
Au Jus and Shoe String Fries
Hamburger La Te Da 9.95
Our hand made Burger grilled and served on French Roll with Shoe String Fries
Add Fontina, Cheddar or Blue cheese 2
CarAmelized Pepper or Applewood Smoked Bacon 2.50
Grilled Breast of Chicken Sandwich 10.75
On French Roll with Applewood Smoked Bacon, Cheddar cheese, Lettuce and Tomatoes
Saute'ed Catch of the Day $14.50
Chef's Sauce Selection with small House Salad
Spagatini di Pomodoro 10.95
Italian Plum Tomatoes, Extra Virgin Olive Oil, Garlic, Fresh Basil and Parmesan Cheese
Add Grilled Chicken 5 or Shrimp 7
Tropical Fruit au Natural 9.50
Fresh sliced seasonal Tropical Fruits and Berries
The Smoked Salmon Presentation 17.50
Diced Red Onion, Capers, sliced Tomato, Kalamata Olives and Cucumber
Basket of Mini Bagels, toasted baguette and Cream Cheese
Dinner – Served from 6:00 PM to 11:00 PM
STARTERS
French Onion Soup 9
With Crostini and melted Fontina, Gruyere and Parmesan Cheese
Spicy Pink Vodka Conch Bisque 10
Chilled Gazpacho Soup with Cajun Crunchies 9
Jumbo Shrimp Cocktail 15
Mango Cocktail Sauce and European Cocktail Sauce
Green Chili and Hearts of Palm Con Queso 9
Crispy Tortilla Chips and Wonton Chips
Spicy Tuna Tower 13
Spicy Tuna Tartar layered between Wonton Wafers, Tomato Ginger Jam and Cilantro Oil
Seahorses 14
Diver Scallops wrapped in Applewood Smoked Bacon drizzled with Lime Aioli
SALADS
Island Passion Salad 10
Mixed Greens, Goat Cheese, Mango, Berries and Toasted Almonds
Tossed with Passion Fruit Vinaigrette
Classic Caesar Salad 9
Garlic Herb Croutons and Shaved Parmesan Cheese
The La Te Da Wedge 10
Wedge of Iceberg Stilton Blue Cheese Dressong
Vine Ripened Tomatoes and Applewood Smoked Bacon
House Dinner Salad 9
Fresh Mixed Greens, Vine Ripened Tomatoes and Stilton Blue Cheese with Ravigote Vinaigrette
PASTA
Spagatini di Pomodoro 17
Italian Plum Tomatoes, Extra Virgin Olive Oil, Garlic and fresh basil
Mediterranean Spagatini 18
Roasted Red Peppers, Baby Artichokes, Grilled Eggplant, Extra Virgin Olive Oil and Parmesan Cheese
Add Grilled Chicked 5 Shrimp 7
Cheese Ravioli Pomodoro 19
Italian Plum Tomatoes, Extra Virgin Olive Oil, Garlic and Fresh Basil
Large Lobster Ravioli 26
Pink Vodka Sauce
MAIN COURSES
Le Meatloaf 17
Exotic Mushroom sauce
Mashed Potatoes and Chef's Selection of Vegetables
Sauteed Key West Yellowtail Snapper 28
Brown Butter and Capers
Kalamata Studded Mashed Potatoes and Chef's Selection Vegetables
Shrimp Scampi 27
Sauteed Shrimp tossed with Roasted Tomatoes and Lemon Garlic Butter Served over Basmati Rice
Tahitian Roasted Chicken 19
Boneless half Chicken scented with fresh Tahitian Vanilla Beans
exotic Mushroom topped Mashed Potatoes and Chef's Selection of vegetables
10 oz New York Strip Steak 27
Chef's Sauce Selection of the Day
Mashed Potatoes and Chef's Selection Vegetables
Crispy Lacquered Duck 28
Chef's Sauce Selection of the Day
Caramelized Onion Farro and Chef's Selection Vegetables
Red Wine Braised Pork Osso Bucco 25
Burgundy Demi-Glace
Mashed Potatoes and Chef's Selection Vegetables
Mango Barbeque Pork Chop 27
Mango Barbeque Glaze, Mashed Potatoes and Chef's Selection of Vegetables
DESSERTS
Tropical Fruit Shortcake with Passion Fruit Chantilly Cream 10
Key Lime Pie with Chocolate Ganache Bottom 8
La Tarte au Deux Chocolats 10
Crispy Chocolate and Peanut Butter Wafer Crust served in a pool of Creme Anglaise
Dessert du Jour Priced Daily