Boutique restaurant off Duval Street serving fresh Key West seafood with inventive recipes appealing to the modern "foodie" palate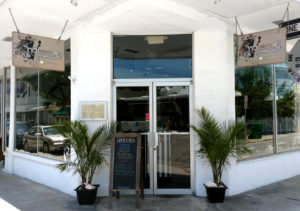 Thirsty Mermaid is a relatively new addition to Key West's food scene, and it is a welcomed addition. One could argue that there is a new wave of Key West chefs and restaurateurs in the island re-inventing and expanding Key West cuisine. Thirsty Mermaid is definitely a member of the new renaissance.
Located one block off Duval Street, the small restaurant will make you feel like you've discovered a hidden gem.
The decor is modern, graphic, and inviting, and the menu is a nicely curated selection of fresh seafood, local flavor, and a "foodie" sensibility.
Both times we visited we were more than impressed at the quality of the dishes and ingredients. Bountiful salads, a near-perfect snapper fish sandwich, and mouth-watering appetizers had the table nodding in agreement that Thirsty Mermaid deserves a place in the "Our Favorites" section of Key West Travel Guide. Congrats!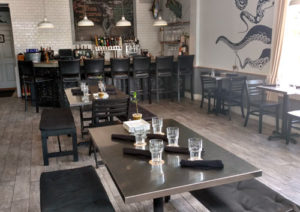 Location: 521 Fleming Street
Hours: Open every day, 11am – 11pm
Phone: (305) 204-4282
Thirsty Mermaid Menu
Raw Bar
Ceviche du Jour – $12
Markep Oysters – $Market Price
Jumbo Shrimp Cocktail – $15
1/2 Dozen Middleneck Clams – $8
Caviar Service – $Market Price
Mermaid Platter – 6 oysters, 6 clams, ceviche – $32
Mermaid Royale Platter – 12 oysters, 6 clams, shrimp cocktail, ceviche – $55
Appetizers
Clam Chowder – Maine lobster, corn, bacon – $8
Green Gazpacho – Blackened shrimp, creme fraiche – $7
Steamed Middleneck Clams – Leeks, garlic, thyme, smoked bacon – $12
Mac & Cheese Croquettes – Truffle aioli – $10
Fried Oysters – Chipolte remoulade – $11
Oysters Rockefeller – $12
Steamed PEI Mussels – Kaffir lime, cilantro, coconut milk, lemongrass – $12
Shrimp & Lobster Cakes – Fennel citrus salad, tarragon aioli – $16
Oven Roasted Chicken Wings – Chili pineapple glaze – $12
Yellowfin Tuna Carpaccio – Fried capers, red onioin, meyer lemon olive oil – $15
Hummus Platter – Grilled ciabatta – $9
Sauteed Bahamian Conch – Marinated artichoke salad – $14
Salads
Mixed Baby Greens – Cherry tomatoes, mango chipolte vinaigrette – $8
Mermaid Caesar – Sauteed shrimp, seared diver scallop, romaine, croutons – $17
Island Wedge – Iceberg lettuce, smoked bacon, cherry tomatoes, Maytag blue cheese dressing – $12
Crackling Calamari – Frisee, chili Key Lime miso vinaigrette – $12
Seared Yellowfin Tuna – Baby greens, Nappa cabbage, sesame ginger vinaigrette – $16
Sandwiches – Choice of Grandma Velma's potato salad or house-cut seasoned fries
Maine Lobster BLT – Dijon aioli – $18
Oyster Po Boy – Lettuce, tomato, onion, chipote remoulade – $12
Local Snapper – Lettuce, tomato, onion, lemon caper tartar sauce – $14
Poached Pear & Brie – Baby arugula, caramelized onions – $12
Grilled Cheese – Cheddar, Montery jack, brie, smoked bacon, tomato – $11
Grilled Skirt Steak – Baby arugula, caramelized onions, horseradish mayo – $16
Burgers – Certified Angus Beef, included choice of Grandma Velma's potato salad or house-cut seasoned fries
Italian – Crispy prosciutto, caramelized onions, sauteed mushrooms, arugula, sun-dried tomato ricotta spread – $16
Asian – Kimchi, sesame aioli – $13
Good Ol' Boy – Cheddar, smoked bacon, onion & tomato – $14
Main Courses
Grilled Certified Angus Skirt Steak – Chimichurri, house cut seasoned fries – $25
Yellowfin Tuna – Togarashi spiced, jasmine rice, wok-fried vegetables, lemon ginger aioli – $28
Pan Sauteed Local Yellowtail Snapper – Over hand-cut fettuccine, roasted cherry tomatoes, citrus chive butter – $25
Homemade Gnocchi – Spicy short rib ragu – $19
Seared Diver Scallops – Fingerling potatoes, sweet corn relish, Yuzu vinaigrette – $29