Casual restaurant & bar serving outstanding bbq, fresh fish, tasty sandwiches and burgers. Live music & friendly bar – popular with locals in Key West.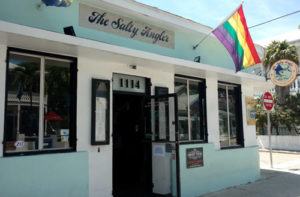 Located on the upper end of Duval Street, the Salty Angler has recently celebrated its two-year anniversary. Congratulations!
The kind and friendly chef/owners make an extra-effort so that delicious, satisfying dishes come out of the kitchen.
This newer restaurant and bar has quickly found a very dedicated local following thanks to a flavorful menu of smoked bar-b-que, fresh fish sandwiches, entrees, and a creative menu of burgers and sandwiches. Popular items include their original "Thunder Thighs", a hickory-smoked preparation of chicken thighs, the sliced brisket – particularly good as a sandwich or taco, and their pulled pork. Fish items on the menu are the freshest available and all come from locally caught fish.
And if you have been out fishing in Key West, the kitchen offers to "cook your catch." Bring the cleaned fish you caught and The Salty Angler will cook it for you, grilled or blackened, for $11 per pound.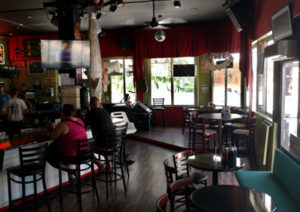 The bar itself is a friendly, laid-back atmosphere, with live music often performed, including regular shows by Key West's most talented Grateful Dead jam band, The Happy Dog (usually Thursday nights and not to be missed).
If you are looking to have an authentic Key West experience, pop in here and see what the locals are loving.
Free delivery is available.
Location: 1114 Duval Street
Hours: Open every day, 11am-11pm (or often later, if need be)
Phone: (305) 741-7071
The Salty Angler Menu
Starters
Thunder Thighs – Chicken thighs soaked for two days in spicy brine, then smoked over hickory wood – $8
Salsa Fresca – Served with fresh yellow-corn tortilla chips – $5 (add spicy queso dip $3)
Nachos – Chips smothered in spicy queso dip topped with Salsa Fresca and choice of pulled pork, brisket, pinto beans, or Thunder Thigh – $12
Taco – Flour tortilla topped with slaw, cheese, and choice of brisket, Thunder Thig, pinto beans, or pulled pork – $6
Local's Catch Taco – Locally caught fish blackened or grilled on flour tortilla with island slaw and cheese – $9
Quesadilla – Spicy queso sauce blended with shredded cheese between two flour tortillas with your choice of brisket, pulled pork, or Thunder Thigh, served with isalnd slaw and salsa on the side – $10 (cheese only $6)
The Salty Angler Fish Dip – Served with Ritz crackers or fresh corn tortilla chips – $12
Loaded Fries – Fries smothered in spicy queso dip and chopped bacon – $8
Pork & Spicy Queso Rolls – Pulled pork and spicy queso rolled up in flour tortillas – $7
Loaded Mac & Cheese – Choice of brisket, bacon, pulled pork mixed with gnocchi and spicy queso – $8
Mean Candy (AKA Burnt Ends) – Brisket point cubed and cooked down in Au Jus and Key Lime BBQ sauce until fall-apart tender – $11
Mexican Cheese Stix – Fresh Mexican grilling cheese fried golden brown and served with marinara sauce – $8
Sandwiches – Served between two slices of Brioche toast. Lettuce, tomato, onion by request
Local's Catch Fish Sandwich – Locally caught fish grilled or blackened – $17 (half $9)
Pulled Pork Sandwich – A generous portion of hickory smoked pork – $12 (half $7)
Brisket Sandwich – Slices of our hickory smoked brisket – $13 (half $7)
Chicken Sandwich – Hickory-smoked chicken – $12 (half $6)
The Triple Threat Sandwich – Brisket, pulled pork, and Thunder Thigh chicken – $17
Veggie Burger – Carrots, peas, broccoli and spinach in an original gluten-free veggie burger perfectly grilled – $12
BLT Sandwich – Applewood smoked bacon, romaine lettuce, and sliced tomato – $12 (half $6)
Pulled Pork Grilled Cheese – Pork with sliced cheese and spicy queso grilled together – $14
TLC Sandwich – Sliced tomato, romaine lettuce, and a slice of Mexican grilling cheese – $12
TSA Smokin' Better 1/2 – A half-sized sandwich made with our fish dip served on Brioche toast with fresh lettuce and tomato – $9
Burgers – Half-pound burger made with hand-ground blend of beef and pork. Served between two sliced of Brioche toast. Lettuce, tomato, onion by request
The Angler Burger – The basic burger ready for you to add the toppings of your choice – $10
Mom's Melt – Topped with American cheese then grilled and pressed – $12
The USA Burger – Topped with bacon and American cheese – $13
The Frinzi Burger – Topped with pulled pork and spicy queso and named after a great Florida musician and friend – $13
The JW Burger – Topped with grilled onions, grilled jalapenos and salsa. Sure to make you on Happy Dog – $13
The BBQ Burger – Topped with pulled pork, home made key lime bbq sauce, and caramelized onions – $13
The End of the Rainbow Burger – Topped with brisket burnt ends and Colby Jack cheese – $15
The South of the Border Burger – Topped with spicy queso, island slaw, and home made salsa – $14
The All The Way Burger – Topped with smoked brisket, pulled pork, caramelized onions, spicy queso, key lime bbq sauce and American cheese – $16
The Double Double Burger – Two half-pound patties and double American cheese – $20
Salads
House Salad – Romaine lettuce with carrots, onions, tomatoes, and shredded cheese – $8
The Angler Special – Blackened local catch served over house salad – $17
The Whole Farm – Thunder Thigh chicken, brisket, and pulled pork served over house salad – $19
The Land Lubber – Your choice: brisket, pulled pork, or chicken served over house salad – $13
Mains
The Local's Catch – Caught by one of Key West's many local fisherman and delivered to us daily. Served grilled or blackened – $21
Sliced Brisket Plate – Brine in a secret recipe brine and hand-rubbed using signature dry rub smoked low and slow using only hickory wood. Texas style brisket with great bark and a pronounced smoke ring – $17
Pulled Pork Plate – Pulled from whole Boston Butt with enough flavor and juice to need no added sauce – $15
Thunder Thigh Plate – Extra large portion of our famous Thunder Thighs – $14
Taco Trio Plate – One each of brisket, pulled pork, and Thunder Thigh taco (includes side of salsa only) – $19
The Ultimate Combo – A full portion of all three meats, cornbread and toast, served with two sides – $43
Sides
Side Salad – Fresh romaine lettuce topped with carrots, onions and tomatoes – $4
Smoked Corn on the Cob – It's corn. It's smoked. It's on the cobb and dipped in key lime bbq butter – $4
Jalapeno Cornbread – Gluten free cornbread spiced up just a bit with fresh copped jalapeno – $4
Pinto Beans – The actual beans, not the exploding car – $4
Boardwalk Style Fries – Basket of hand cut fries seasoned with dry rub mix – $5
Island Slaw – A key lime juice based cabbage slaw with a little heat – $3
"Mac" & Cheese – Gnocchi and spicy queso make for an amazing treat – $4
Tortilla chips – A basket of fried yellow corn chips – $2
Salsa – $3
Sour Cream – $1
Queso – $3
Dessert
Bourbon Bacon Praline Sundae – Vanilla bean ice cream with bacon-praline sauce and pecan-infused Bourbon – $7