Coffee and Cuban sandwich shop popular with locals looking for an affordable to-go meal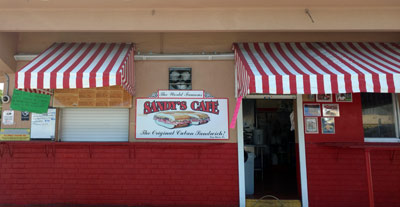 If you are looking for a low cost to-go meal, Sandy's Cafe is a convenient carry-out cafe popular with locals in Key West.
With its iconic red and white striped awnings, walk-up window service on White Street, and long line of working locals waiting for the inexpensive and satisfying sandwiches and coffee, Sandy's Cafe is, one could say, a Key West institution. Each morning Sandy's serves a steady stream of cops, city workers, tradesmen, and service industry folks – a testament to its consistency, affordability, and hearty servings.
Attached to M&M laundromat (for a long time, this cafe was known as M&M's) and decidedly humble, the cooks at Sandy's quickly prepare Cuban pressed sandwiches served on fresh Cuban bread and toasted in a panini press. Favorites include the breakfast sandwiches and the Cuban Mix – the unofficial sandwich of Key West and packed with sliced ham, pork, Swiss cheese, and pickles.
Cuban coffee is served. Strong espresso can be ordered in numerous sizes: the tiny and economical "bucci" is a bit bigger than a thimble's worth, a "colada" is four-times as much. Most popular is "cafe con leche," the Cuban version of the Italian latte: espresso with steamed milk.
Sandy's stays open late-night and is a popular place for an after-Duval Street snack. You're sure to meet a local.
Location: 1026 White Street
Hours: Sunday-Thursday 5am – 12am/midnight Friday, Saturday open 24 hours
Phone: 305-295-0159 (FREE DELIVERY
Sandy's Cafe Menu
Sandwiches
All sandwiches served on Cuban Bread. Also available on white or wheat.
Served with French fries or hash brown. Choice of cheese: American, Swiss, & Cheddar. Extra meat $3; extra lettuce, tomato or onion $.75; extra cheese $.50
Cuban Mix – Ham, pork, salami, Swiss cheese, lettuce, tomato, pickles, mustard, mayo – $8.99
Sandy's – Ham, pork, salami, bacon, turkey, American cheese, Swiss cheese, lettuce, tomato, pickles, mustard, mayo – $10.99
Fish, Grilled or Fried – Lettuce, tomato, mayo, onion, pickles, mustard, tartar sauce – $10.99
Pork – Shredded roast pork, onion, lettuce, tomato, pickles, mayo, mustard – $8.99
Steak – Chopped and grilled palomilla steak, lettuce, tomato, onion, pickles, mayo, mustard, choice of cheese – $8.99
Ham & Cheese – Grilled ham, lettuce, tomato, pickles, mustard, your choice of cheese – $7.99
Turkey – Grilled turkey, lettuce, tomato, pickles, mayo, mustard, your choice of cheese – $8.99
Buffalo Chicken Breast, Grilled or Fried – Lettuce, tomato, blue cheese, buffalo sauce – $8.99
Chicken Breast, Grilled or Fried – Lettuce, tomato, onion, pickle, mayo, mustard, your choice of cheese – $8.99
American Burger – Lettuce, tomato, pickles, mayo, mustard, red onion, your choice of cheese, served on white bun – $7.99
Cuban Burger – Hamburger on Cuban bread, lettuce, tomato, pickles, mayo, mustard, onions – $8.99
Midnight – Ham, pork, salami, Swiss cheese, lettuce, tomato, pickles, mustard, mayo, served on sweet roll – $7.99
Vegetarian – Lettuce, tomato, green pepper, mushrooms, pickles, mayo, mustard, your choice of cheese – $6.99
Tuna Salad – Lettuce, tomato, pickles, mayo, mustard, tuna salad – $7.99
Egg Salad – Lettuce, tomato, pickles, mayo, mustard, gourmet egg salad – $6.99
BLT – Bacon, lettuce, tomato, mayo – $7.99
Egg & Cheese – $6.99
Egg & Ham, Bacon, or Sausage – $7.99
Steak & Egg – $8.99
Plain or Sesame Bagel – $1.99 (with cream cheese $2.99)
Breakfast Platters
Western Omelet with Hash Brown & Bread – 3 eggs, cheese, ham, bacon, onions, green peppers, tomato – $8.99
All-American Omelet with Hash Brown & Bread – 3 eggs, cheese, ham, bacon – $8.59
Ham & Cheese Omelet with Hash Brown & Bread – 3 eggs, cheese, ham – $7.99
Chicken Fajita Omelet with Hash Brown & Bread – 3 eggs, chicken breast, cheddar cheese, onions, green peppers, sour cream, homemade salsa – $9.99
Steak Fajita Omelet with Hash Brown & Bread – 3 eggs, steak, cheddar cheese, onions, green peppers, sour cream, homemade salsa – $9.99
Breakfast Special Platter with Bread – 2 eggs, choice of bacon, sausage or ham, and choice of grits, fries, refried beans, hash brown – $7.99
Huevos a la Mexicana with 3 Corn Tortillas – 2 scrambled eggs, onions, jalapeno peppers, tomato, rice, refried – $8.99
Huevos Rancheros – 2 fried eggs, served on top of tortilla with homemade red sauce, cilantro, cheddar cheese, rice refried beans – $8.99
Huevos con Chorizo with 3 Corn Tortillas – 2 scrambled eggs, Mexican sausage, rice, refried beans – $8.99
Veggie Omelet with Hash Brown & Bread – Onions, green peppers, tomato, mushrooms, Swiss cheese – $7.99
Lunch & Dinner Platter
Served with yellow or white rice, black beans, plantains & bread, or French fries with a salad & bread
Extra meat $3; extra fillet $7; extra shrimp $1.50 each
Homemade Roast Pork – $11.99
Pork Chops – Two chops, grilled or fried – $12.99
Chicken Breast – Grilled or fried – $12.99
Picadillo – Ground beef Cuban style – $11.99
Palomilla Steak – Grilled or fried – $13.99
Hamburger Steak – With grilled onions & green peppers – $12.99
Fish Fillet – Grilled in garlic sauce or fried – $14.99
Shrimp – Eight shrimp grilled in garlic sauce or fried – $15.99
Specials of the Week
Served with rice, black beans, plantains & bread
Monday: Beef Stew – $8.99
Tuesday: Ropa Vieja – $9.99
Wednesday: Chicken Fricassee – $8.99
Thursday: BBQ Ribs – $9.99
Friday: Pepper Steak – $8.99
Local's Picks
Willy's Nachose – Chicken, steak, or Pastor pork, with jalapenos, tomato, onions, refried beans, guacamole, sour cream, cilantro, cheddar and nacho sauce – $13.99
Fish & Chips – 6 pieces served with fries – $8.99
Shrimp & Chips – 6 pieces served with fries – $8.99
Chicken Fingers & Chips – 6 pieces served with fries – $8.99
Tostones (6) – with homemade mojo – $3.99
Mexican Tacos – 3 tacos served with homemade salsa, guacamole & rice. Choice of tortilla: corn or flour
Steak or Chicken – Onions, green peppers, cilantro, cheddar cheese – $11.99
Mariachi – One steak, one chicken, and one pork taco, onions, green peppers, cilantro, cheddar cheese – $12.99
Pastor Pork & Mexican Spices, Onions, cilantro, cheddar cheese – $11.99
Alambre – Pastor pork, tomato, onions, green peppers, cilantro, cheddar cheese – $11.99
Fish or Shrimp – Onions, green peppers, cilantro, cheddar cheese – $13.99
Mexican Quesadillas – 12″ flour tortilla. Served with rice, sour cream on top & homemade tomatillo sauce on the side
Cheese – Grilled tortilla with cheddar cheese – $7.99
Ham – Cheddar cheese – $8.99
Steak or Chicken – Cheddar cheese – $10.99
Pastor Pork – Cheddar Cheese – $11.99
Fish or Shrimp – Onions, green peppers, cheddar cheese – $11.99
Mexican Burritos – 12″ flour tortilla. Served with rice, sour cream on top & homemade tomatillo sauce on the side
Steak or Chicken – Onions, green peppers, cheddar cheese, refried beans – $11.99
Pastor Pork – Onions, green peppers, cheddar cheese, refried beans – $11.99
Fish or Shrimp – Onions, green peppers, cheddar cheese, refried beans – $12.00
Vegetarian Burrito – Tomato, onions, green peppers, cheddar cheese, mushrooms, refried beans – $8.99
Mexican Sandwiches – Served with French fries
Steak or Chicken Fajita – Onions, green peppers, cheddar cheese, refried beans, guacamole – $9.99
Pastor Yucatan – Onions, green peppers, cheddar cheese, refried beans, guacamole – $9.99
Alambre Chihuahua – Pastor pork, tomato, onions, green peppers, refried beans, guacamole – $9.99
Fiesta Wraps – 12″ flour tortilla. Served with French fries or hash brown
Cuban Wrap – Ham, pork, salami, Swiss cheese, mayo, mustard, pickle, lettuce, tomato – $8.99
Chipolte Burger Wrap – Chipolte dressing, cheddar cheese, lettuce, tomato, pickle, red onion – $8.99
Roast Pork Wrap – Lettuce, tomato, onion, mayo – $8.99
Steak Wrap – Lettuce, tomato, onion, cheddar cheese, green pepper – $8.99
Fish Fillet Wrap – Grilled or Fried – Lettuce, tomato, onion, tarter sauce – $10.99
Shrimp Wrap – Grilled or Fried – Lettuce, tomato, onion, tarter sauce – $10.99
Chicken Wrap – Grilled or Fried – Lettuce, tomato, onion, mayo – $9.99
Buffalo Chicken Wrap – Grilled or Fried – Lettuce, tomato, buffalo sauce, blue cheese – $9.99
Sandy's Salads – Dressings: Homemade garlic, homemade chipolte, Italian, blue cheese, & ranch. Extra dressing $.99
Tossed Salad – Spring mix, tomato, red onions, cucumbers, green peppers – $6.99
Chef's Salad – Spring mix, tomato, red onions, cucumbers, green peppers, hard-boiled egg, shredded cheese, American cheese wrapped in ham and turkey – $9.99
Grilled Chicken Salad – Spring mix, tomato, red onions, cucumbers, green peppers – $10.99
Steak or Chicken Southwest Salad – Spring mix, corn, black beans, chopped red onion, chopped tomatoes, tortilla strips, cilantro, cheddar cheese, sour cream and southwest dressing – $10.99
Homemade Soups – All homemade. Served with Cuban bread
Chicken Noodle – 16-ounce, with cilantro – $7.99
Black Bean – 16-ounce, contains no meat – $6.99
White Bean – 16-ounce – $7.99
Breakfast Sweets – Served only from 6am to 11am
Pancakes – 3 buttermilk pancakes – $4.99
French Toast – 3 homestyle triangular slices – $4.99
Breakfast Wraps – 12″ flour tortilla. Served with French fries or hash brown
Sausage, Egg & Cheddar Cheese – $7.59
Bacon, Egg & Cheddar Cheese – $7.59
Ham, Egg & Cheddar Cheese – $7.59
Steak, Egg & Cheddar Cheese – $8.59
Turkey, Egg & Cheddar Cheese – $8.59
Sandy's Desserts
Homemade Key Lime Pie – $4.99
Homemade Rice Pudding – $4.29
Homemade Flan – $4.29
Homemade Bread Pudding – $2.99
Tiramisu – $4.99
Side Orders
Pan con Croqueta – Four ham croquettes on Cuban bread, American cheese, lettuce, tomato, mayo – $5.99
Cuban Bread with Butter – $.99
Cheese Toast – $1.99
Cheese Toast with Bacon, Ham, or Sausage – $3.99
Cuban Bread with Guava Cream Cheese – $2.99
Homemade Guacamole – 2oz $1.99, 4oz $3.99
French Fries – $2.99
Cheese Fries – $3.99
Sweet Plantains (8) – $3.99
Rice & Beans with Bread & Plantains – $6.99
Salsa, Guacamole & Chips – $6.99
Bacon – $3.99
Sausage – $3.99
Ham – $3.99
Grits (16oz) – $3.79
Grits (16oz) with American Cheese – $4.29
Homemade Habanero – $.99
Jalapenos (2oz) – $.99
Cheddar Cheese (2oz) – $.99
Hash Brown – $1.59
Ham Croquette – $.99
Pastries – Guava, cream cheese, or guava & cream cheese – $1.59
Pico de Gallo – 2oz $1.99, 4oz $2.99
Refried Bean – 8oz $3.99
Warm Croissant – $2
Drinks
Buchi (Espresso) – $.89
Colada – $2.99
1/2 Colada (Double Buchi) – $2.09
Cortadito – $2.59
Cafe Con Leche – small $2.09, medium $2.69, large $3.09
American Coffee – small $1.49, medium $1.79, large $1.99
Hot Tea – small $1.49, medium $1.79, large $1.99
Hot Chocolate – small $2.09, medium $2.69, large $3.09
Cold Soda – $1.09
Milk – $2.59
Chocolate Milk – $2.59
Orange Juice – $2.99
Apple Juice – $2.29
Water – $1.29
Gatorade – $2.59
Malta – $2.59