For a taste of outstanding Key West pizza and casual Italian cuisine, you'll first have to find the little alley off Duval Street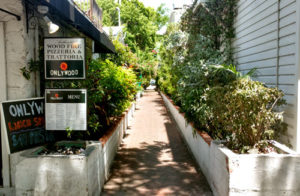 Believe it or not, there was a time, albeit long ago, when it was nearly impossible to find a great Key West version of three of life's most important things: pizza, bagels, and live music. Fortunately, great pizza and great music are abundant on the island (alas, you can still only get a "good" bagel). In the top tier of Key West pizza would have to be OnlyWood.
Tucked away on a hidden lane off Duval Street, this quaint and casual indoor/outdoor restaurant serves authentic Neapolitan pizza, cooked in an immense wood-fired brick oven imported from Italy, along with the highest quality Italian ingredients. House-made mozzarella cheese, a 1000-degree oven, and imported ingredients combine to make a thin-crusted, crunchy, delicious pie.
The high quality continues throughout the menu, with pasta, appetizers, and main courses that will have you convinced you are in Italy. As a result, OnlyWood is on the "Our Favorites" list of Key West Travel Guide.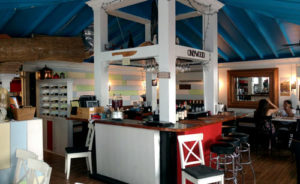 Location: 613½ Rear Duval Street
Hours: Open every day, 12pm – 10pm
Phone: (305) 735-4412 – FREE DELIVERY IN KEY WEST
OnlyWood Menu
Antipasti (Appetizers)
Bruschetta Onlywood – Toasted bread, marinated chopped fresh tomatoes, garlic and basil – $9
Polpette di Manzo – Homemade beef Meatballs with plum tomato sauce – $13.50
Cozze e Vongole – Sautéed Mussels and Manila Clams in a white wine, garlic and herbed tomato broth, light spicy
pepperoncini and toasted crostini – $16.50
Carpaccio di Manzo – Thinly sliced raw Filet Mignon with Arugola, shaved parmesan cheese and truffle oil – $15.50
Alette di Pollo all'Italiana – Alessandro-style chicken wings, wood-fire oven roasted – $10.50
Calamari Fritti – Flash fried calamari with a light spicy marinara sauce – $12.50
Prosciutto di Parma e Bufala – Prosciutto di Parma, roasted sweet bell peppers and imported Buffalo Mozzarella –
$16.50
Stuzzicarolo (for 2 people) – Classic Italian antipasto with imported cheeses and cold cuts served with toasted bread
– $19.50
Insalate (Salads) – add chicken or shrimp – $4.50
Alla Caprese – Homemade fresh mozzarella cheese with ripe vine tomatoes, extra virgin olive oil, and fresh basil –
$13
Estiva – Baby arugula, heart of palm, avocado, cherry tomatoes, and shaved parmesan cheese in a lemon dressing –
$12.50
Insalata di Cesare – Romaine lettuce tossed in Cesar dressing, croutons, and shaved Parmesan cheese – $12.50
Braccio di Ferro – Baby spinach, goat cheese, blueberries, strawberries, and toasted walnuts in a balsamic dressing –
$12.50
Mista con Pomodorini – Organic mixed greens salad with grape tomatoes and lemon dressing – $9.50
Pizza
Margherita – San Marzano tomato sauce with Parmigiano, homemade mozzarella cheese, and basil – $12.50
Marinara – San Marzano tomato sauce with garlic, oregano and extra virgin olive oil – $11.50
Acciughe – San Marzano tomato sauce with Buffalo mozzarella, anchovies, basil and Oregano – $14.50
4 Formaggi – White pizza with homemade mozzarella, gorgonzola cheese, Parmesan cheese and Ricotta cheese – $18.50
Hawaii – San Marzano tomato sauce with pineapple and parmacotto ham – $15.50
Salsiccia – San Marzano tomato sauce, homemade mozzarella, sweet Italian sausages and basil – $16.50
4 Stagioni Pazze – San Marzano tomato sauce with mozzarella, Ham, black olives, mushrooms and baby artichokes hearts
– $18.50
$18.50
Keste' – San Marzano tomato sauce with homemade mozzarella, topped with Prosciutto di Parma, arugula, and shaved
parmesan cheese – $19.50
Pepperoni – San Marzano tomato sauce, homemade mozzarella cheese pepperoni and basil – $15.50
Vegetariana – San Marzano tomato sauce, homemade mozzarella, eggplant, zucchini, mushrooms and basil – $17.50
Regina Margherita – San Marzano tomato sauce, buffalo mozzarella, cherry tomatoes and basil – $18.50
4 Maiali – San Marzano tomato sauce, homemade mozzarella, Prosciutto di Parma, pepperoni, sweet Italian sausages, ham
and basil – $18.50
Prosciutto di Parma – San Marzano tomato sauce, homemade mozzarella and prosciutto di Parma – $17.50
Funghi – San Marzano tomato sauce, homemade mozzarella and mixed mushrooms – $17.50
Calzone – Calzone-style pizza stuffed with tomato sauce, mozzarella, ham and basil – $18.50
Cotto – San Marzano tomato sauce, mozzarella and prosciutto cotto – $18.50
Cotto e Funghi – San Marzano tomato sauce, homaemade mozzarella, ham, mushrooms and basil – $18.50
Pizza Judy – San Marzano tomato sauce, mozzarella, zucchini, roasted peppers, spinach and basil – $17.50
Rustichella – San Marzano tomato sauce, mozzarella, gorgonzola cheese, sweet sausages, mixed mushrooms and basil –
$19.50
Pizza of the Day – Ask your server about the pizza of the day
Pasta
Gnocchi alla Checca – Homemade potato dumplings in a San Marzano tomato sauce with fresh mozzarella and basil –
$18.50
Spaghetti al fiocco di pomodoro e basilico – Spaghetti in a fresh plum tomato basil sauce – $18.50, $3 add meatballs
Fettuccine alla Bolognese – Fresh fettuccine in our homemade beef ragu – $17.50
Spaghetti alle Vongole – Spaghetti with Clams in a white wine and garlic sauce – $18.50
Gnocchi al pesto e Gamberetti – Homemade potato dumplings homemade pesto sauce with shrimp -$18.50
Lasagna – Homemade lasagna in a fresh beef ragu – $19.50
Spaghetti allo scoglio – Spaghetti with assorted shellfish and seafood in a light spicy tomato sauce – $19.50
Fettuccine Parma e Parmigiano – Fresh fettuccine in classic "Alfredo" sauce – $15.50
Bucatini all'amatriciana – Bucatini pasta, onion tomato ragu` with Pancetta and pecorino cheese – $17.50
Bucatini alla Carbonara – Bucatini in egg yolk, Parmesan cheese sauce, Pancetta and ground black pepper – $18.50
Penne alle verdure (Gluten free) – Gluten free Penne in tomato sauce with fresh vegetables and mozzarella cheese –
$17
I Secondi
Pollo Pizzaiola – Chicken breast in oregano marinara sauce, melted Mozzarella served with roasted potatoes and
sautéed string beans – $23.50
Tagliata di Manzo – Sliced oven roasted sirloin steak with fresh herbs, over arugula and parmesan cheese – $28.50
Brodetto di Pesce – Assorted seafood in a saffron-tomato based fish broth and crostini – $29.50
Meat or Fish of the Day – Ask server for daily dish – $Market Price
I Dolci (Dessert)
Tiramisù – Homemade with ladyfinger biscuits deepened in espresso coffee and brandy with Mascarpone cream and
chocolate powder – $8.75
White Chocolate Profitteroles – Puff Pastry filled with milk chocolate and topped with white chocolate sauce,
delicious – $8.75
Frutti di Bosco con Gelato – Fresh mixed berries served with Vanilla gelato – $8.75
Torta del Giorno – Please ask your server for our cake of the day – $8.75
Pizza Nutella – From the pizza oven, a pizza with Nutella spread – $12.00