Delicious, authentic thin-crust Italian pizza, panini sandwiches, fresh focaccia, and more make Duetto a favorite casual restaurant in Key West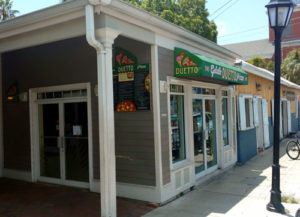 One of Key West's best pizza restaurants is Duetto Pizza & Gelato, a relative newcomer to the cuisine scene. Located downtown, just two blocks away from Sloppy Joe's and Duval Street, this is an excellent place to grab a bite.
Serving authentic Italian thin-crust pizza, freshly-baked focaccia sandwiches, pressed ciabatta sandwiches, panini, and daily housemade gelato, this small and casual pizzeria will have you returning again and again. Italian coffee drinks, fruit smoothies, and gelato milk shakes are each fantastic and worthy of a visit.
Duetto means "duet", and the magical combination of the two owners (one from Italy), results in outstanding food prepared using fresh, wholesome ingredients.
As one of our favorite pizza (and more!) options on the island, we are more than happy to add them to the Key West Travel Guide "Our Favorites" list.
Location: 540 Greene Street
Hours: Open every day, 11am – 10pm
Phone: (305) 848-4981 – FREE DELIVERY IN KEY WEST
Duetto Menu
Salads
Add chicken – half $2.99, full $3.99
Caesar – Romaine lettuce, toasted croutons, shredded Parmesan cheese, Caesar dressing – half $4.95, full $7.95
Greek – Romaine lettuce, scrambled feta cheese, red onion, banana peppers, vine ripe tomatoes, vinegar dressing – half $5.95, full $10.95
Garden – Romaine lettuce, vine-ripened tomatoes, red onion, cucumber, shredded Parmesan cheese, balsamic vinegar dressing – half $5.95, full $9.95
Caprese – Sliced tomates, fresh mozzarella cheese, basil, arugula, balsamic glaze – half $5.95, full $9.95
Gelato and Milk Shakes
15 fresh flavors made every day on premises with milk and natural ingredients, including:
Key Lime Pie, Coffee, Vanilla, Tiramisu, Pistachio, Chocolate, Min Chip, Chocolate Chip, Hazelnut, Coconut, Peanut Butter, Hazelnut & Chocolate, Banana, Mango, Strawberry
Cups & Cones $3.90 small, $4.90 medium, $5.90 large
Pint of Gelato To Go – 3 flavors, $12
Milkshakes – regular $4.95, large $5.95
Pizza
All pizzas are Italian style, thin crust, 16″ pies with 6 slices
The Classics
Plain Cheese Pie – Italian mozzarella cheese and Duetto's special pizza sauce – $16
Pepperoni – Italian mozzarella cheese, pepperoni and Duetto's special tomato sauce – $16
La Rossa (No Cheese) – Black olives, capers, and Duetto's special tomato sauce – $16
The Stuffed – Whole pie 8 slices
Ham & Cheese – Ham, rosemary, Italian Mozzarella and provolone cheese – $27 whole, $15 half
Salame – Salame, black olives, Italian mozzarella and provolone cheese – $27 whole, $15 half
Philly Cheese Steak – Steak, onions, mild green peppers, garlic, Italian mozzarella and provolone cheese – $27 whole, $15 half
Meat Lovers – Italian sausage, pepperoni, ham and meatballs, Italian Mozzarella and provolone cheese – $27 whole, $15 half
Veggie Lovers – Mushrooms, onions, peppers, black olives, basil, fresh tomatoes, zucchini, artichoke hearts, broccoli, Italian mozzarella, and provolone cheese – $27 whole, $15 half
Spinach Ricotta – Chopped spinach, Italian ricotta, Italian mozzarella and provolone cheese – $27 whole, $15 half
The Specials
La Margherita Classica – Fresh Italian Ovoline mozzarella, fresh basil and Duetto's tomato sauce – $20
Caprese – Fresh sliced tomatoes, basil, fresh Italian Ovoline mozzarella – $20
Capricciosa – Ham, mushrooms, black olives, artichoke hearts, Italian mozzarella cheese and Duetto's tomato sauce – $20
In Campagna (Vegetarian) – Mushrooms, onions, mild green peppers, black olives, fresh tomatoes, eggplant, broccoli, zucchini slices, fresh basil, artichoke hearts, Italian mozzarella cheese and Duetto's tomato sauce – $20
Italia – Tomatoes, chopped spinach, garlic, parmigiana, Gorgonzola, ricotta, Italian mozzarella cheese, oregano and Duetto's tomato sauce – $20
Con Carne (Meat Lovers) – Ham, pepperoni, meatball, sausage, Italian mozzarella cheese and Duetto's tomato sauce – $20
Con Pollo (Chicken) – Grilled chicken, onions, Italian mozzarella cheese and Duetto's tomato sauce – $20
Spicy Salame – Imported spicy salame, mushrooms, fresh tomato, Italian mozzarella cheese – $20
Parmigiana (Eggplant the Italian way) – Eggplant, parmigiana cheese, fresh basil, Italian mozzarella cheese and Duetto's tomato sauce – $20
Suprema Italian – Sausage, pepperoni, meatballs, mild green peppers, red onion, fresh tomatoes, mushrooms, black olives, Italian mozzarella cheese and Duetto's tomato sauce – $20
Polpette (Meatballs) – Meatballs, ricotta cheese, Italian mozzarella cheese and Duetto's tomato sauce – $20
Tricolore – Fresh diced tomatoes, fresh arugula, parmigiana & Italian mozzarella cheese – $20
The White Pizzas
Biancaneve (White) – Ricotta, parmigiano, spinach, garlic and Italian mozzarella cheese – $20
Lomarda (White only) – Gorgonzola, onions, walnuts, fresh Italian mozzarella cheese, topped with arugula – $20
Hawaiian (White or Red) – Ham, pineapple, Italian mozzarella cheese – $20
Mimosa (White or Red) – Ham, sweet corn, Italian mozzarella cheese – $20
Broccoli & Sausage (White or Red) – Broccoli, mild Italian sausage, garlic & Italian mozzarella cheese – $20
4 Formaggi (4 cheeses, White or Red) – Parmesan, gorgonzola, Swiss, and Italaian mozzarella cheese – $20
Toppings
Extra toppings $1.50 each
Meats: Ham, salame, pepperoni, meatballs, sausage, spicy salame, grilled chicken
Veggies: Black olives, zucchini, fresh tomatoes, onions, mushrooms, spinach, broccoli, artichoke hearts, eggplant, peppers
Cheeses: Swiss, ricotta, mozzarella
Finely Sliced Imported Italian Prosciutto – $4
Fresh Ovoline Mozzarella, Feta Cheese – $3
Pressed Ciabatta Panini & Wraps
Rostini – Roast beef, swiss cheese, mushroom, black olives, Italian oregano, baby spinach, Duetto's house spread, salt & pepper, extra virgin olive oil & balsamic vinegar – $9
Torino – Turkey, Swiss cheese, vine-ripened tomatoes, mushrooms, baby spinach, our special house spread, salt & pepper, extra virgin olive oil & balsamic vinegar – $9
San Remo – Fresh Italian mozzarella cheese, roasted red peppers, artichoke hearts, vine-ripened tomatoes, Duetto's special house spread, salt & pepper, extra virgin olive oil & balsamic vinegar – $9
Genova – Salame, Swiss cheese, black olives, baby spinach, Duetto's house spread, salt & peppers, extra virgin olive oil & balsamic vinegar – $9
Molise – Roasted eggplant, Swiss cheese, artichoke hearts, Italian basil, baby spinach, Duetto's house spread, salt & pepper, extra virgin olive oil & balsamic vinegar – $9
Parma – Finely sliced prosciutto, fresh Italian Ovoline mozzarella, Italian basil, extra virgin olive oil, salt & pepper – $9.50
Chicken Breast – Grilled chicken breast, Swiss cheese, vine-ripened tomatoes, baby spinach, Duetto's house spread, salt & pepper, extra virgin olive oil & balsamic vinegar – $9.50
San Marino – Mortadella (mild Italian salame), Swiss cheese, vine-ripened tomatoes, baby spinach, Duetto's house spread, salt & pepper, extra virgin olive oil & balsamic vinegar – $9
Smoothies
Real fruit sorbet and Duetto's signature yogurt shot. Duetto's real fruit sorbet is made with fruit and water. It is lactose and fat free.
$4.95 regular, $5.95 large
Flavors: Strawberry, Banana Strawberry, Mango, Key Lime Pie
Coffee
Regular – $1.50 medium, $2.00 large
Cappuccino – $3.25 medium, $3.75 large
Latte – $3.25 medium, $3.75 large
Caramel Cappuccino – $3.50 medium, $3.90 large
Moka – $3.50 medium, $3.90 large
Hot Tea – $2.00
Espresso – $1.75
Double Espresso – $2.50
Macciato – $2.00 medium, $3.00 (double)
Iced & Frozen Combinations
Iced Coffee – $2.00 medium, $2.50 large
Iced Cappuccino – $3.75 medium, $4.50 large
Iced Caramel Cappuccino – $3.75 medium, $4.50 large
Frozen Mocha – $4.50 medium, $5.50 large
Frozen Cappuccino – $4.50 medium, $5.50 large
Frozen Caramel Cappuccino – $4.50 medium, $5.50 large
Affogato (drowned) – Two scoops of gelato drowned under a hot shot of espresso – $5.95