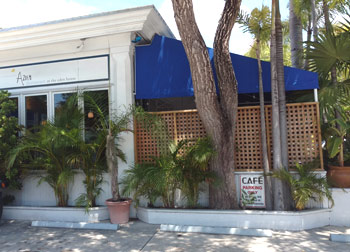 Modern Mediterranean cuisine, fresh high-quality ingredients, and a pleasant indoor and outdoor ambiance combine to make this inspiring restaurant a favorite of Key West Travel Guide. If you are a foodie, put this one on your list.
Located in a mostly residential section of the historic quarter of Key West, this small white-linen restaurant serves delicious food in a relaxed, yet elegant, setting.
Brunch, lunch, and dinner are all recommended. Tapas are perfect for a light snack; grilled octopus is a favorite. Raw bar "crudo" features the freshest seafood. Gnocchi are particularly good and pillow-like, and perfectly paired with braised beef and truffle drizzle. Bountiful salads and tasty sandwiches served on grilled ciabatta bread are among the delicious choices.
Location: 425 Grinnell Street
Hours: Open every day, 8am – 3pm for breakfast and lunch (Saturday and Sunday brunch service begins at 9am), 6pm-10pm for dinner
Phone: (305) 292-2987
AZUR Menu
Breakfast

European Style Breakfast

AZUR Continental Breakfast – Selection of baked goods, jams, jellies and fruit: croissant, muffins, small artisan breads, butter – $6.95
The Morning After – Fresh tropical fruits, Greek yogurt, and house-made granola – $8.95

Sweet Breakfast

Key Lime Pie Stuffed French Toast – An original, thick slices of TExas toast filled with real key lime pie and grilled in egg, topped with wild berry compote – $9.75
Portuguese Sweet Bread French Toast – Slices of brioche grilled in egg and topped with caramelized pears, honey cured ham, mascarpone and candied pecans – $10.95

Traditional Breakfast

Two Farm Fresh Eggs any style – served sunny side up, over, poached, boiled or scrambled, with choice of grilled honey ham, Italian fennel sausage, apple-wood-smoked bacon, or whole hog farm link sausage. Served with grilled ciabatta bread and Yukon gold home fries – $8.95

Fritatas – Three-egg omelette – with choice of the following filings, served with grilled ciabatta bread.

Spinach and Feta – $8.95
Brie and Mushroom with herbs de Provence – $8.95
Prosciutto di Parma, Fontina cheese, and caramelized onions – $9.75

Hearty Breakfast

Hash and Eggs – Shredded beef rib and Yukon gold potato hash topped with two poached eggs and truffle Hollandaise – $14.75
Carbonara Breakfast – Semolina pasta tossed with crispy pancetta, onions, mushrooms, cream and Parmesan cheese topped with two poached eggs – $13.95

Benedicts – all served with Yukon gold home fries, and grilled Roma tomato

Classic Benedict II – The Mediterranean evolution of the classic Benedict: poached eggs with fresh sauteed spinach on grilled ciabatta bread, honey-cured ham and Hollandaise – $13.95
Crab Cake Benedict – Poached eggs on light garlic flatbread with Full-of-Crab Crab Cakes, grilled beefsteak tomatoes, and lemon Hollandaise – $15.95
AZUR Benedict – Poached eggs on garlic flatbread with house-cured salmon, shallots and creme fraiche, Tobiko caviar Hollandaise – $16.50
Yellowtail Snapper Benedict – the freshest sauteed yellowtail snapper on grilled ciabatta bread with sauteed spinach and caper Hollandaise – $17.95

Lunch

Salads and Lunch Plates

Mediterranean Hummus Salad – with baba ghanoush, Israeli Salad, calamata olive and garlic flatbread – $12.95
Crispy Romaine Chicken Caesar – topped with ciabatta croutons, Parmesan-regianno and mustard vinaigrette, topped with rosemary and garlic grilled chicken breast – $13.95
Charred Octopus – marinated in crushed red pepper, lemon zest, Italian parsley, and olio verde – $13.95
Warm Goat Cheese Boucherondin – baby arugula, roasted walnuts, shallots and rosemary infused honey – $11.95
Marinated Artichokes – roasted red peppers and Manchego cheese – $9.50
Roasted Little Neck Clams and Choizo – Fresh little neck clams in garlic clam broth with imported Spanish chorizo – $13.25
Italian Buffalo Milk Mozzarella – with ripe beefsteak tomatoes, sea salt, basil and extra virgin olive oil – $12.95
Nicoise Salad – with oil-poached tuna, haricot verts, egg, calamata olives, grape tomatoes, gold potatoes and lemon vinaigrette – $14.95
Insalata Dentice – Arugula salad with applewood smoked bacon, roasted tomatoes, lump crab meat, and topped with fresh sauteed yellowtail snapper – $17.95

Sandwiches – served with choice of orzo salad or shoestring fries

Grilled Steak Ciabatta – hand-cut 6-ounce rib-eye steak with caramelized onions, manchego cheese, and salsa verde – $12.95
Super-Crispy Fish Sandwich – Pank-fried snapper filet on a ciabatta roll with key lime remoulade, lettuce, tomato and red onion – $13.95
Grilled Chicken Breast Sandwich – with apple wood smoked bacon, calamata olive and tomato spread and romaine lettuce – $12.25
Half-Pound Sirloin Beef Burger – with smoked paprika mayo, grilled red onion and house made sweet pickles – $13.50 (add cheese $1)
Caprese Ciabatta – with imported fresh buffalo Mozzarella, ripe beefsteak tomatoes, and fresh basil – $11.95
Crab Cake BLT – lump sauteed crab cake on a ciabatta roll with applewood smoked bacon, ripe beefsteak tomatoes, and salsa verde mayonnaise – $14.95

Breakfast in the Afternoon – For you late-risers

Hash and Eggs – Shredded beef rib and Yukon gold potato hash topped with two poached eggs and truffle Hollandaise – $14.75
Two Farm Fresh Eggs any style – served sunny-side up, over, poached, boiled or scrambled. With choice of grilled honey ham, Italian fennel sausage, applewood smoked bacon or link sausage. Served with grilled ciabatta bread and Yukon gold home fries – $8.95
The Morning After – Fresh tropical fruits, Greek yogurt, and house-made granola – $8.95
Brie and Mushroom Fritata – with herbs de Provence – $8.95

Dinner

Crudo (Raw)

Ahi Tuna – Lite soy, crushed red pepper, chives, olio verde – $15
Beef Carpaccio – Baby arugula, truffle salt, Parmesan reggiano – $15
Frutti di Mare – Marinated shrimp, scallops, octopus, Italian parsley, olio verde – $16
Cold Water Oysters – red wine mignonette – $15
Gravlax – Fennel potato cake, creme fraiche, capers, Tobiko caviar – $16

Gnocci and Cous-Cous

Braised Beef Rib Gnocchi – Petite vegetables, button mushrooms, pecornio-romano – $18
Toasted Gnocchi – Pine nuts, arugula, truffle – $18
Seafood Cous-Cous – Shrimp, scallops, chorizo, whitefish, fennel-saffron broth – $34
Beef Cous-Cous – Toasted almonds, gremolata, petite vegetable – $28

Appetizers

Pulpo – Charred confit octobpus, za'atar spice – $16
Key West Pink Shrimp – Garlic, lemon, Italian parsley – $16
Bacalao Croquetta – Harissa-mint aioli – $12

Salads

Goat Cheese – Cana de cabre, baby arugula, toasted walnuts, shallots, rosemary-infused honey – $15
Ripe Beefsteak Tomato – Gorgonzola, Nueske bacon lardons, Catalina vinaigrette – $15
Nicoise – Oil-poached tuna, potato carpaccio, French beans, grape tomatoes, Kalamata olives, fried egg, lemon aioli – $15
Romaine – Ciabatta croutons, mustard vinaigrette, Parmesan, white anchovy – $11

Entrees

Branzino – Rosemary, garlic, cured tomatoes, Kalamata olives, Yukon gold potatoes – $32
Angus Rib Eye Steak – 10-ounce certified Angus beef rib-eye steak, cured tomatoes, arugula, Kalamata olives – $33
Pan-Roasted Chicken – Pancetta wrapped, french beans, Dijon potato salad, truffle vinaigrette – $21
Lamb Shank – Curried chick peas, feta, baba ghanoush tzatziki – $23
Yellow Tail Snapper – Yukon gold potatoes, petite shrimp, lemon caper butter – $26

Sides

Sesame Fried Cauliflower – $6
Gnocchi with Butter and Cheese – $9
Roasted Potatoes – $6
French Beans – $6