Casual craft beer bar serving tacos, sandwiches, salads and more dockside in Garrison Bight.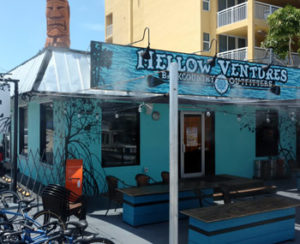 Sitting by the docks in Key West, enjoying a cold beer and a fresh fish taco, while watching the boats come and go. Doesn't that sound like a fine Key West experience? (It is)
Mellow Cafe and Gastropub, an off-the-beaten-path craft beer bar and eatery does a nice job of offering a casual bite in a typically Florida Keys relaxed place. When there, you might feel like you've discovered a hidden place easily missed by the masses.
The tacos, their specialty, are excellent and obviously make use of quality ingredients. And with the charter-boats nearby, there is little doubt the snapper is fresh. Salads are piled high with a garden of nutritious flavors.
Mellow Cafe also serves the best banh mi sandwich in Key West. Banh mi is a sandwich the resulted from French colonialism in Vietnam and is prepared with a crunchy roll (traditionally french baguette, but here on ciabatta), and filled with Indonesian flavors.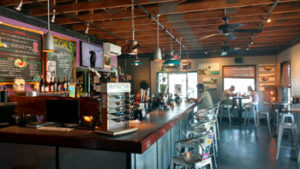 To pair with the tasty tacos, salads, and sandwiches is a bountiful selection of over 100 craft beers with a rotating cast of 11 on tap.
Happy hour offers generous drinks specials and a very inexpensive way to taste the menu (which is inexpensive as well).
Location: 1605 N. Roosevelt Blvd
Hours: Monday – Saturday, 11am-11pm; Sunday 12noon – 8pm. Happy hour is Monday-Friday, twice daily at 4-6pm and 9-11pm
Phone: (305) 745-3874 (FREE DELIVERY)
Mellow Cafe & Gastropub Menu
Munchies
Salsa – $7
Guacamole – $8
Avocado-Tomato Bruschetta – $9
Beer Cheese Nachos – $11
Ghost Pepper Hummus – $10
Ahi Tuna Poke -$12
Frito Pie – $7
Fresh Fruit – $7
Soups
Cucumber-Pineapple Gazpacho – $7
Beer Cheese Soup – $7
Soup Special – $8
Greens
Spinach – poached pears, goat cheese, red onion, crushed walnuts, papaya vinaigrette – $12
Kale – cherry tomato, crushed walnuts, shredded manchego, avocado vinaigrette – $13
Southwest – mixed greens, rice, black beans, pico de gallo, shredded cheddar, fritos, jalapeno vinaigrette – $11
Watermelon – mozzarella, cherry tomatoes, basil, balsamic glaze – $9
add ons: Avocado, Tofu, Beets, or Nut Pate – $2; Pork, Chicken, Beef, Duck – $3; Fish or Shrimp – $4
Sandwiches
Banh Mi – sweet chili sauce, pickled daikon and carrots, cucumber, jalapenos, cilantro, and pork, chicken or tofu – $13
Fish – fresh catch, romaine, red onion, salsa verde – $14
Hawaiian BBQ – tangy bbq sauce, slaw, pineapple, and pork, chicken or tofu – $12
Chicken & Apple – balsamic, goat cheese, spinach, walnuts – $13
Tacos
Make any taco a burrito or bowl for $2. Add avocado $2, cheese $1, jalapenos or sour cream $.50
Fresh Catch – spice-rubbed fish, slaw, pico de gallo, avocado, cilantro, fresh fruit – $14
Beef – pineapple hoisin braised beef, slaw, crushed peanuts, sriracha, cilantro – $13
Chicken – Spiced chicken, slaw, pickled daikon and carrots, peanut sauce, cilantro – $12
Pork – Havana-roasted pork, pineapple, slaw, salsa verde, queso fresco, cilantro – $12
Shrimp – sweet chili coconut shrimp, slaw, mango pico, salsa verde, cilantro – $14
Gringos – seasoned ground beef, romaine, pico de gallo, shredded cheddar – $11
Vegan – romaine leaf, nut pate, avocado, salsa, vegan cheese, cashew sour cream, jalapeno vinaigrette – $12
Tofu – teriyaki glazed tofu and mushrooms, slaw, cilantro, oranges – $11
Breakfast – scrambled eggs, avocado, pico de gallo, queso fresco, cilantro – $10 (add chorizo $3)
Beets and Goat Cheese – honey roasted ruby red beets, crispy kale, walnuts, goat cheese, cilantro – $12
Duck – tandori spiced duck confit, slaw, mango pico, salsa verde, cilantro – $14
Cook Your Chatch – prepared your way – $9
Smoothies
Always Sunny – pineapple, banana, mango, OJ, bee pollen – $8
Purple Shane – mixed berries, yogurt, coconut H2O – $7
The Snookah – coconut banana, chocolate chips, peanut butter, yogurt, almond milk – $9
The Mellow Venture – spinach, kale, strawberries, ginger, OJ – $8
Kaleidoscope – kale, strawberries, pineapple, lemon, coconut H2O – $8
Juices & Drinks
Orange Juice – $5
Watermelon Juice – $5
The Big Three – beets, carrots, apple – $7
The Green Monstah – kale, celery, spinach, cucumber, apple – $8
Haadoken – honeydew, strawberry, OJ – $8
Hibiscus Tea – unsweetened hibiscus, splash OJ, mint – $4
Unsweetened Iced Tea – $2
Aqua Fresca – water-infused with fresh mint and cucumber – $3
Iced Chai – vanilla chai, almond milk, ginger, agave – $6
Beverages
Coconut H2o – $4
Topo Chico Mineral Water – $3
Sky Water – $3
Martinelli's Apple Juice – $3
Virgil's Sodas – $4
Reed's Ginger Ale – $6
Coca-cola – $3
Gus Sodas – $4
Kombucha – $7
Coffee – Hot Or Iced
Coffee – $3
Espresso – $3
Latte – $4
Cappuccino – $4
Desserts
Key Lime Pie – house-made vegan recipe – $7
Dessert of the Day – $8
Happy Hour Specials
Monday – Friday, 4-6pm and 9-11pm
Bruschetta, Nachos, Gringos, Hummus, Caprese, Bahn Mi – $7 each
Draft beer – 2 for 1
Wine, Sangria, Mimosas – $5