Italian restaurant in Old Town neighborhood. Makes fresh pasta every day.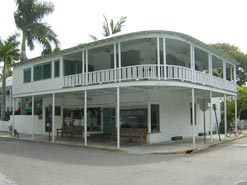 Mangia Mangia Pasta Cafe serves fresh, homemade pastas daily.
The pasta is excellent, handmade, and available in a variety of shapes. Fresh ingredients and a cozy style satisfy many.
This moderately priced Key West Italian restaurant has indoor and outdoor dining.
Hours: Open for dinner nightly 5:30 – 10:00
Location: 900 Southard Street
Phone: (305) 294-2469
Mangia Mangia Restaurant Menu
Soup, Salad, & Appetizers
Conch Minestrone – red chowder with kidney beans, fresh pasta, topped with grated Tomano Pecorino – $5.95/bowl
House Salad – fresh romaine & Boston lettuce, tomatoes, & red onions, tossed with special vinaigrette – $4.50 w/dinner (a la carte $5.95)(add any 3 of the following ingredients for an extra $2.00 – roasted red peppers, black olives, mushrooms, artichoke hearts, feta cheese, garbanzo beans, or fresh organic basic)
Herbal Foccacia – with extra virgin olive oil – $3.00
Carpaccia di Bue – paper-thin slices of beef loin, sashimi-style, dressed with fresh lemon juice and extra virgin olive oil, garnished with capers and shaved parmesan cheese – $8.95
Gratin of Grilled Asparagus – grilled-roasted asparagus and vine-ripened plum tomatoes brushed with extra virgin olive oil, garlic, and herbs, topped with gorgonzola then lightly browned – $7.95
Escargots on Grilled Garlic Crouton – sauteed in butter and olive oil with garlic, white wine, and fresh organic basil, served over a grilled garlic crouton – $7.95
Bruschetta – chopped fresh homemade mozzarella, basil & tomates marinated in extra virgin olive oil with garlic and onions. Served over grilled garlic Cuban bread – $5.95
New Zealand Mussels – green-lipped mussels infused with garlic, butter, chopped tomatoes, and white wine – $8.95
Broccoli Rabe – sauteed in olive oil, garlic, chopped tomatoes and a dash of red pepper flakes – $5.95
Fresh Homemade Pastas & Sauces
Pastas – Made fresh on premises with 100% Semolina and fresh eggs. Choose a pasta and pair it with on of the delicious, made-from-scratch sauces. All are served with Cuban garlic toast.
Marinara – $9.95
Meat Sauce – $12.95
Alfredo – $12.95
Pesto & Walnuts – $14.95
Seafood Sauces – with scallops, conch, and mahi-mahi – $15.50/tomato-based, $16.95/alfredo-based
add 3 shrimp – $3.50
add 5 shrimp – $6.00
add Chicken or Link Sausage – $5.00
Favorites from the Grill
Served with Fusilli (corkscrews), marinara & Cuban garlic toast. Grill entrees may be served on a large platter accompanied by the House Salad for those not wishing fresh pasta.
Grilled Fresh Atlantic Salmon – brushed with extra virgin olive oil, lemon juice, garlic, and pepper – $16.95
Mahi Mahi – brushed with extra virgin olive oil, lemon juice, garlic, and pepper – $16.95
Grilled Boneless Chicken Breast – brushed with extra virgin olive oil, lemon juice, garlic, and pepper – $14.95
Sicilian Bistecca – eight ounces of tender, flavorful filet, marinated with extra virgin olive oil, fresh garlic, herbs, topped off with rich, creamy, full-flavored, peppery Boursin cheese and grilled to perfection – $34.95
Seafood Specialties
Fettucine con Salome Affumicato – ribbon noodles tossed in a rich, buttery Alfredo sauce with imported Norwegian smoked salmon, fresh organic basil, and green peas – $18.95
Spinach Fettuccini Alfredo with Jumbo Lump Backfin Blue Crabmeat – spinach fettuccini mixed with delicious homemade Alfredo sauce, topped by Phillip's jumbo lump blue crab and sauteed in butter – $24.95
Bollito Misto di Mare – pappardelle, fresh scallops, shrimp, conch, salmon, mussels, and mahi-mahi flash-sauteed in extra virgin olive oil with garlic, shallots, pesto, thyme, white wine and finished in an herbaceous clam broth. Garnished with chopped tomatoes, green peas, and shaved Parmesan – $18.95
Fresh Sea Scallops – tender scallops sauteed in butter and garlic, tossed with spinach fettuccine and a fesh pesto and cream sauce, garnished with chopped walnuts – $16.95
New Zealand Mussels with Spaghettini – imported green-lipped mussels in a garlicky marinara sauce, topped with shaved Parmesan cheese – $15.95
Rigatoni with Jumbo Shrimp – sauteed in olive oil with prosciutto, garlic, black olives, shallots, fresh tomatoes, and red pepper flakes. Topped with a salad of radicchio, arugula and Belgian endive, followed with a dusting of Romano cheese – $16.95
House Specialties
Pollo al Quatro Formaggio – thin spaghetti, diced chicken breast in a rich cream sauce, enhanced with Parmesan, Romano, Fontanella, and Gordonzola cheeses and topped with walnuts – $15.95
Pollo con Funghi e Piselli – diced chicken breast and fesh mushrooms sauteed in extra virgin olive oil with garlic, shallots, green peas and served over thin spaghetti with marinara sauce – $14.95
Picadillo Pasta – a tribute to Key West's heritage takes black bean pasta shells and smothers them with a Cuban-inspired, lightly-spicy sauce combining meat, tomatoes, olives, cumin, capers, and spices – $14.95
Linguine con Vongole – fresh little neck clams steamed in a bath of white whine, garlic, parsley and a dash of red pepper flakes. Finished with butter and lemon zest – $14.95
Spaghettini Schmappellini – homemade spaghetti tossed with asparagus, basil, garlic, and tomatoes in a savory vegetable consomme. Finished with toasted pine nuts and shaved Parmesan cheese – $14.95
Fungi al Pomodori, Spinaci e Ceci – fresh mushrooms sauteed in olive oil with garlic, shallots, tomatoes, garbanzos, pesto, oregano and fresh spinach. Served over pappardelle and topped with crumbled feta cheese – $14.95
Mostaciolli with Broccoli Rabe – wild broccoli rabe flash-sauteed in olive oil with garlic, red pepper flakes, chopped tomatoes and grilled sausage and topped with shaved Parmesan cheese – $15.95