Authentic Japanese noodle bar, an excellent addition to the Key West dining scene.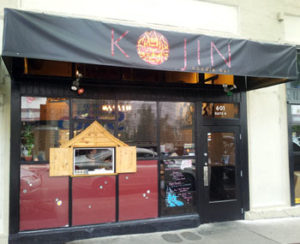 The first time we stepped inside Kojin, the new Japanese Noodle Bar located just off Duval Street, we were immediately impressed with the decor. The owners took great care to produce an authentic noodle bar akin to something you might find in Tokyo or New York City.
But the attention to detail didn't end there.
The small menu offers six dishes, each masterfully prepared and delicious. One first visit we had the Soft Shell Crab Tempura, served in an Asian broth with thick udon noodles. It became an immediate favorite and each bite made us more and more grateful for this new restaurant.
Side dishes are also popular, including the Steamed Buns filled with pork or tofu, the Ramen noodles, and the Chicken Dumplings. You really can't go wrong with any choice here.
Kojin also offers an impressive selection of Japanese beers, and hot or cold sake.
Location: 502 Southard Street
Phone: 305-293-2077
Hours: 11am – midnight, Monday through Saturday
Entrees
(half portions available)
#1 – House Ramen – Pork shoulder, pork belly, soft egg, nori, ramen noodle, and scallion – $17
#2 – Dragon Bowl – Chicken, chili ginger, lime, cabbage, cilantro, and rice noodle – $16
#3 – Miso Hot Pot – Spring vegetable, tofu, and soba noodle – $15
#4 – Pho – Beef tenderloin or tofu, basil, chilies, sprouts, cilantro, and rice noodle – $16
#5 – Soft Shell Crab Tempura – Crab, udon noodles, shitake, garlic, yuzu, cilantro, and sesame – $18
#6 – Curried Lamb – Lamb, ramen noodle, scallion, mint – $17
Sides
Soft Egg (add to any dish) – $1
Steamed Buns – Pork belly or tofu belly, hoiin, scallion, and pickled cucumber – $10
Salt and Pepper Prawn – $9
Chicken Dumpling – $8
Asparagus – Miso butter, soft egg – $9
Cold Soba – Baby octopus, bacon, chili, lime, mint, peanuts – $12
Ramen – Ginger scallion sauce, pickled veg – $8
Mochi Japanese Ice Cream – $6