Dockside, casual seafood dining at this Key West landmark.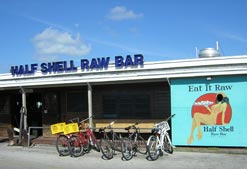 Key West's Half Shell Raw Bar, a.k.a. the Half Shell, is a Key West institution.
Roll up your sleeves at this very casual eatery. Guests are seated at picnic tables and benches, and order from the menus hanging throughout the restaurant.
The raw bar items are excellent, clams and oyster and such. The cooked food is just as good with fresh shrimp, stone crab, lobster, fish, and more served simply and straight-forward. Food is served in baskets & paper bowls and is reminiscent of a New England crab house.
Location: Historic Seaport (at the foot of Margaret Street).
Half Shell Raw Bar Restaurant Menu
From the Raw Bar
Gulf Oysters – 1/2 doz. MARKET PRICE, 1 doz. MARKET PRICE
Steamed – 1/2 doz. MARKET PRICE, 1 doz. MARKET PRICE
Garlic Oysters – 1/2 doz. $10.99
Bucket of Steamed Clams – 1.5 doz. $18.99
Raw Bar Sampler – 2 raw oysters, 2 raw Middleneck Clams & 1/4 lb. peel 'n eat shrimp – MARKET PRICE
Key West Peel 'n Eat Shrimp – MARKET PRICE
Key West Beer Steamed Shrimp -MARKET PRICE
Key West Beer Steamed Shrimp – MARKET PRICE
Stone Crab Claws (Seasonal Oct. 15 through May 15) – $Market Price
Starters
Conch Chowder – cup $4.99, bowl $6.99
Buffalo Wings – $11.99
Conch Fritters – $9.99
Conch Ceviche – $11.99
Buffalo Shrimp – $11.99
Calamari Rings – $8.99
Oysters Rockefeller, half-dozen – $11.99
Baskets
Fish & Chips – $14.99
Shrimp & Chips – $14.99
Oysters & Chips – $16.99
Chicken Fingers & Chips – $11.99
Salads
House Salad – Mixed greens, cucumbers, sprouts, cherry tomatoes topped with homemade croutons and served with a choice of dressings: Blue Cheese, Ranch, or House Vinaigrette – Small – $5.99
Jumbo Crab Cake Salad – Fresh cake loaded with blue crab and Old Bay seasoning served over our house salad – $17.99
Hummus with Grilled Pita – Chickpea and tahini spread served with Kalamata olives, Feta cheese, and grilled pita – $10.99
Lunch Plates
Fresh Tuna Salad – $12.99
Fried Fish – MARKET PRICE
1/2 Lb. Hamburger – $11.99
-add cheese – $0.50
Oyster Po Boy – $14.99
Grouper Po Boy – $13.95
Jumbo Crab Cake – $17.99
Entrees
Shrimp – Grilled (Skewered and grilled with garlic butter, white wine, and lemon juice) or Fried (Jumbo shrimp breaded and served with cocktail sauce – $18.99
Stuffed Shrimp – Jumbo shrimp stuffed with blend of crab meat and spices, broiled with garlic butter, white wine, and lemon juice – $24.99
Scallops – Broiled or Fried half pound of sea scallops served with tarter sauce – $21.99
Fried Oysters – 1/2 pound of select shucked oysters breaded, deep-fried and served with tarter sauce – $22.99
Seafood Combo – Broiled (Skewered Shrimp, scallops, and dolphin in a white wine, garlic butter and lemon juice) or Fried (Shrimp, scallops, and dolphin deep fried & served with cocktail sauce) – $24.99
Florida Lobster – Seasonal August through March – $Market Price
Sandwiches
Fresh Tuna Salad – Tuna salad swerved on Cuban bread with lettuce, tomato, and pickle – $12.99
Fried Fish – Fresh fish of the day served on Cuban bread with lettuce, tomato, and mayo – MARKET PRICE
1/2 Lb. Hamburger – Ground sirloin grilled and served on a Kaiser roll with lettuce, tomato, and pickle – $11.99
-add cheese $0.75
Oyster Po Boy – Fresh fried oysters served on Cuban bread and topped with lettuce, tomato, and mayo – $14.99
Shrimp Po Bo – Fresh Fried shrimp served on Cuban bread and topped with lettuce, tomato, and mayo – $15.99
Grouper Po Boy – Crispy fried grouper served on Cuban bread and topped with lettuce, tomato, and mayo – $17.99
Jumbo Crab Cake – Fresh cake loaded with blue crab and Old Bay seasoning baked and served on a Kaiser roll with tarter sauce – $17.99
Sides
Corn on the Cob – $3.00
Red Potatoes – $3.00
Rice Pilaf – $3.00
French Fries – $3.00
Cuban Bread – $3.00
Coleslaw – $3.00
Dill Potato Salad – $3.00
Prices, subject to change, were updated May 2019