Pressed sandwiches on Cuban bread and strong Cuban coffee at this local's favorite.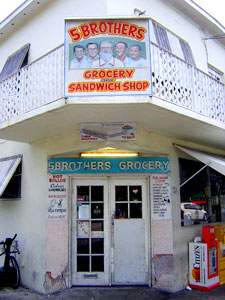 5 Brothers Grocery and Sandwich shop is located on a corner in Old Town Key West. There you will find a tiny store packed with products – many of which are used in the preparation of their homemade food. This is a friendly place where city workers, police, tradesmen, and Old Town residents mingle, grab a newspaper, and enjoy some of the most satisfying sandwiches.
Each morning the local crowd pours in for the best Cuban coffee and breakfast sandwiches. The cafe con leche (Cuban espresso with steamed milk) is strong and flavorful. Enjoy it with a Cuban cheese toast or other breakfast sandwich and you'll know why it seems that all of Old Town frequents this little shop.
If it is busy, and usually it is, a coffee line forms on the left side. If you don't want coffee, head over to the cash register and place your order. 5 Brothers serves one of the best Cuban Mixes on the island – a sandwich with ham, pork, swiss, lettuce, tomato, mustard, and mayo served on Cuban bread and pressed & toasted on a hot press machine.
Location: 930 Southard Street
Hours: Open Monday to Saturday
5 Brothers Menu
Breakfast
• Cuban Toast – $0.85
• Cheese Toast – $1.85
• Cheese & Tomato – $2.10
• Egg & Bacon – $3.25
• Egg – $2.50
• Egg & Cheese – $3.10
• Ham & Egg – $3.45
• Bacon & Egg – $3.95
• Steak & Egg – $6.25
Pastry
• Guava – $0.50
• Cheese – $0.75
• Guava & Cheese – $0.75
• Muffins – $1.00
Coffee
• Cafe Con Leche – $0.75 small, $1.25 medium, $1.50 large, $2.00 ex-large
• Espresso – $0.50 small (buchi), $0.75 medium (double bucki), $1.50 large (colada)
• Cortadito – $0.75
Sandwiches
• Cuban Mix – ham, pork, salami, Swiss cheese, lettuce, and pickles – $4.75
• Veggie Mix – lettuce, tomato, onions, pickles, and Swiss cheese – $4.00
• Midnight – ham, pork, Swiss cheese, and pickles – $4.50
• Ham & Cheese Sandwich – ham, Swiss cheese, lettuce, and pickles – $4.25
• Steak Sandwich – sliced palomilla steak, lettuce, onions, and pickles – $5.75
• Pork Sandwich – slices roast pork, lettuce, onions, and pickles – $5.75
• BBQ Pork Sandwich – on Cuban bread or bun – $5.25
• Roast Beef Sandwich – sliced roast beef, lettuce, onions, and pickles – $5.75
• Turkey Sandwich – sliced turkey breast, lettuce, onions, and pickles – $5.25
• Tuna Sandwich – plain tuna, lettuce, tomatoes, onions, and pickles – $4.25
• Hamburger – lettuce, tomatoes, onions, and pickles – $3.75
• Cheeseburger – lettuce, tomatoes, onions, and pickles – $3.95
• Bacon Cheeseburger – lettuce, tomatoes, onions, and pickles – $4.95
• Veggie Burgers – lettuce, tomatoes, onions, and pickles – $3.75
• Frita Cubana – onions, ketchup, and potato sticks – $3.25
• B.L.T. – bacon, lettuce, and tomatoes – $3.85
• Fried Grouper Sandwich – lettuce, tomatoes, onions, mayo – $6.75
• Fried Chicken Sandwich – lettuce, tomatoes, onions, and mayo – $4.95
Side Orders
• Bollos – $4.00/$2.00
• Conch Fritters – $7.25/$3.75
• French Fries – $1.25
• Yuca Fries – $1.75
• Sweet Potato Fries – $1.50
• Ham Croquettes – $0.60
• Empanadas – $2.00
• Papa Rellenas – $1.75
• Jamaican Patties – $1.75
Daily Soups
(small $3.00, large $3.95)
• Monday – Chicken
• Tuesday – White Beans
• Wednesday – Red Beans
• Thursday – Garbanzo
• Friday – Grouper Chowder
Lunch Specials
(all served with white rice, plantains or yuca)
• Monday – Picadillo with Black Beans – $6.95
• Tuesday – Ropa Vieja with White Beans – $6.95
• Wednesday – Beef Stew with Red Beans – $6.95
• Thursday – Chicken Fricasse with Garbonzo Beans – $6.95
• Friday – Ox-tail or Grouper/Moro – $8.95