Traditional Cuban cuisine from this neighborhood institution.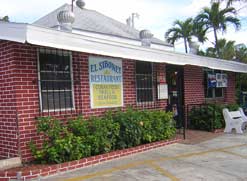 One could say that Key West is surrounded by Cuba. Certainly to our south is the island Cuba, only 90 miles from Key West. But also to our north, on the mainland of Florida, is the largest Cuban American community in the United States.
For Key West, the epicenter of good Cuban food is El Siboney. A modest building tucked among Old Town streets, this restaurant serves delicious and traditional Cuban cuisine. Favorites include Paella, Arroz con Pollo (Chicken & Rice), Cuban Mix sandwiches, and other Cuban creations.
Hours: Open Monday-Saturday 11:00 am to 9:30 pm
Location: 900 Catherine Street (corner of Margaret St.)
El Siboney Restaurant Menu
Main Entrees
All entrees served with choice of Yellow or White Rice with Black Beans, Sweet Plantain, and Cuban Bread OR French Fries, Salad, and Cuban Bread
Pork
Roast Pork – Puerco asado – $9.50
Fried Pork Chunks – Masa de puerco fritas – $9.50
Roast Pork, Casava, Tamale – Puerco asado, yuca, tamale – $9.50
Breaded Pork Chops – Chuletas de puerco a la plancha – $10.50
Grilled Pork Chops – Chuletas de puerco a la plancha – $10.50
Grilled Pork Tenderloin – Filete de puerco a la plancha – $14.50
Beef
Siboney Steak – Skirt Steak – $14.50
Palomilla Steak – Bistec de Palomilla – $12.50
Hamburger Steak – Bistec de Hamburger – $9.50
Breaded Palomilla Steak – Bistec de Palomilla empanizada – $11.50
T-Bone Steak – Bistec T-Bone – $16.50
Delmonico Steak – Bistec Delmonico – $14.50
Ham Steak – Bistec de Jamon – $9.50
Liver Steak – Bistec de Higado – $9.50
Liver Italian Style – Higado a la Italiana – $10.50
Vaca Frita – Grilled Shredded Beef – $10.50
Ropa Vieja – Shredded Beef – $10.50
Picadillo – Ground Beef – Picadillo – $8.50
Cuban Roast Beef – Boliche Asado – $10.50
Seafood
Butterfly Yellowtail – Rabirubia Empanizada – $15.95
Breaded Grouper Filet – Filete de Cherna Empanizada – $12.95
Grilled Mahi-Mahi – Dorado a la Plancha – $13.95
Stuffed Crab – Cangregio relleno – $9.95
Grilled Snapper Fillet – $13.95
Chicken
Grilled Chicken Salad – $10.50
Half Roast Chicken – Pollo Asado – $9.50
Half Grilled Garlic Chicken – Medio Pollo a la Plancha – $9.50
Half Fried Chicken – Medio Pollo Frito – $9.50
Half Barbeque Chicken – Medio Pollo Barbeque – $9.50
Grilled Chicken Breast – Pechuga de Pollo a la Plancha – $11.50
Paella Valencia – minimum 2 persons, please allow 1 hour – $19.95 per person
Sandwiches
Cuban Mix – $5.50
Ham and Cheese – $4.50
Boliche – $5.95
Pork – $6.50
Steak – $6.50
Fish – $6.50
Hamburger – $2.75
Cheeseburger – $2.95
Chicken – $3.75
Side Orders
Conch Chowder – cup $2.95, bowl $3.95
Chicken Soup – cup $1.95, bowl $2.95
French Fries – $1.95
Plantanos Maduros – $2.75
Tostones – $3.50
Two Fried Eggs – $2.25
Croquettas – $2.95
Yuca Frita – $2.95
Yuca – $2.95
Tamala – $3.75
Salad – $3.25
Rice – $1.95
Black Beans – cup $1.95, bowl $2.95
Moros – $2.50
Chicken Fingers – $3.95
Beverages
Jumipa/IronBeer/Matelva – $1.50
Root Beer – $1.50
Coke, Sprite, Diet Coke, Fanta Orange – $1.50
Lemonade – $1.50
Cafe con Leche – $1.75
Cafe Espresso – $0.85
Orange Juice – $1.95
Milk – $1.50
Iced Tea – $1.50
Bottled Water – $1.50
American Coffee – $1.50
Imported Beer – $3.50
House Wines – Chablis/Blush/Rose/Burgundy – Pitcher $12.95, Half Pitcher $9.95, Glass $2.95
Homemade Sangria – Pitcher $12.95, Half Pitcher $9.95, Glass $2.95
Desserts
Key Lime Pie – $3.25
Natilla – $1.95
Rice Pudding – $2.25
Flad – $2.95
Guava Cheese Cake – $3.25