Our favorite fish sandwich in Key West – from an island legend.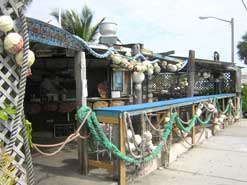 When people ask us where to get a great fish sandwich in Key West, this is where we send them: B.O.'s Fish Wagon.
Yes, it looks like a shack that a hurricane blew to pieces. That's because it has…more than once.
Owner Buddy Owen (hence the B.O.'s…you didn't think it mean't something else, did you?) has been through a few hurricanes, and afterwards picks up the pieces and nails it all back together. A true Key West character, this man is beloved by many.
Outstanding fresh fish sandwiches are served on fresh-baked Cuban bread with B.O.'s famous Key Lime sauce. Also offered are burgers, conch fritters, french fries, hot dogs, and other delicious finger foods. Outdoor covered seating gives a great view of island life near the Historic Seaport.
Location: The small eatery sits on the corner of Caroline and William Streets, across the parking lot from the Waterfront Market.
Hours: Open every day, 11:00 am – 8:59 pm. (subject to their policy as pictured)
B.O.'s Fish Wagon Menu
Sandwiches
Fish Sandwich (fried) $8.75, (grilled) $9.75
Shrimp Sandwich $9.25
Soft Shell Crab Sandwich $10.00
B.O.M.F. Burger (Mother's Finest) – $7.75
BBQ Chicken Sandwich – $7.25
Teriyaki Chicken Sandwich – $7.25
Oyster PoBoy – $8.75
Cracked Conch Sandwich – $12.50
Chili Dog $6.00
Hot Dog $4.50
Slaw Dog $5.50
Appetizers & Sides
Grilled Shrimp on a Skewer (grilled, teriyaki, italian, or bbq) – $5.50
Conch Fritters: 1/2 dozen $6.25, 1 dozen $9.25
Fries: Large $4.00, small $2.00.
Beans & Rice – $3.75
Bowl of Chili – $4.50
Coleslaw – $2.50
Entrees
Grilled Scallops with one side (rice & beans or salad or fries) – $14.00
Fish & Chips: small $8.75, large $15.00
Fish, Conch Fritters, & Fries: $13.50
Fish Dinner – Grilled $17.75, Fried $15.75 includes 2 sides (choices include: salad, beans & rice, fries, or coleslaw)
Shrimp Dinner – Grilled or Fried $15.25 includes 2 sides (choices include: salad, beans & rice, fries, or coleslaw)
Fish Nuts with fries or beans & rice – $8.75
Shrimp & Chips $10.25
Salads
Fried Fish $10.50, Grilled Fish $11.50
Fried Shrimp or Grilled – $10.00
Soft Shell Crab – $12.00
Grilled Chicken – $9.75
Beverages
Pepsi, Diet Pepsi, Sierra Mist, Key Lime Ade, bottle water, iced tea – $2.00
Domestic Beer: Bud, Bud Light, Rolling Rock, Miller Lite, Michelob Ultra, & O'Douls – $3.75
Corona, Landshark, & Heineken – $4.75
Wine: Chardonnay, Pino, Merlot, White Zin – $4.75