A casual and lively Key West party spot made famous by Ernest Hemingway.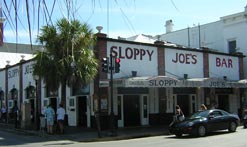 Sloppy Joe's Bar was born on December 5, 1933, the day prohibition ended. The bar was destined to go through two name changes and a sudden change of location before it would become today's Sloppy Joe's Bar.
Joe Russell was the original proprietor and the bar was then named the Blind Pig located in a rundown building that Russell leased for three dollars a week. With the addition of a dance floor, the name was changed to the Silver Slipper. The bar was a place of shabby discomfort, good friends, gambling, fifteen-cent whiskey, and ten-cent shots of gin.
It was suggested by Ernest Hemingway, a favorite patron of Russell's bar from the start, to change the bar name to Sloppy Joe's. The new name was adopted from Jose Garcia's Rio Havana Club which sold liquor and iced seafood. Because the floor was always wet with melted ice, his patrons taunted this Spanish Joe with running a sloppy place…and the name stuck. This bar & restaurant has become a Key West institution.
More bar than restaurant, Sloppy Joe's continues to serve up bar-food in their lively atmosphere during the daytime. Very popular attraction with the day crowd seeking sandwiches, cold drinks, burgers, and other indulgences. And yes, they do serve a good "sloppy joe". Live music gets louder as day goes on.
Location: 201 Duval Street
Sloppy Joe's Bar Menu
Key West Snacks
Peel & Eat Key West Shrimp – steamed in beer & served chilled with cocktail sauce: $9.95 1/2 lb., $16.95 1 lb.
Fried Calamari – tender squid rings lightly fried, served with marinara: $7.75
Conch Fritters – half a dozen served with Key Lime sauce: $7.75
Sloppy Joe's Smoked Fish Dip – a creamy blend of smoked fish, cream cheese, and herbs. Served with club crackers: $7.25
Key West Conch Chowder – a tasty blend of tomato, spices, vegetables, and ground Conch: $4.95
Havana Nachos – tortilla chips, topped with jalapenos, tomatoes, black olives, black beans, cheddar and jack cheese, onions, served with sour cream and salsa: $8.25 (add Sloppy Joe $1.75, add Chicken $2.00)
Sloppy Sampler Platter – 2 Conch fritters, 3 plain wings, 3 onion rings, 2 cheese sticks, hot sauce, and Key Lime mustard: $9.95
Sloppy Wings – ten wings served plain or hot with blue cheese dressing and celery sticks: $7.75
Chicken Fingers – Five tender fried chicken breast strips served with BBQ sauce: 7.50
Fried Cheese Sticks – six lightly fried mozzarella sticks, served with marinara sauce: $6.95
Fried Potato Skins – with jack and cheddar cheeses, bacon bits, and sour cream: $7.95
Fried Onion Rings – crisp batter dipped sweet onions: $6.50
Classic Soft Pretzels – hot from the oven, salted or unsalted: $4.50
Sandwiches
The Original Sloppy Joe Sandwich – delicious ground beef in a sweet rich tomato sauce, with onions, peppers, and spices: $7.95
Grilled Cuban Pork Sandwich – thin slices "mojo" style pork with shredded lettuce, thin red onion, with mayo on Cuban bread: $7.95
Half Pound Grilled Ernie Burger: $7.95. Add cheese $0.75 (choice of American, Cheddar, Jack Provolone, or Swiss). Add bacon $1.25.
"Full Moon" Style Burger – with peppers, onions, mushrooms, & cheese: $9.25
Sloppy Quesadilla – large flour tortilla with shredded cheddar and jack cheeses, and black beans. Grilled. Served with sour cream and salsa: $7.75. Add chili $1.50. Add Chicken $2.00. Add Sloppy Joe $1.75.
BBQ Pork Sandwich – pulled smoked pork sandwich in Sloppy's BBQ sauce: $7.95
Portabella Mushroom – large grilled mushroom cap with sauteed onions: $7.75. Add cheese $0.75.
Parmesan style Portabella Mushroom – with marinara sauce, provolone and parmesan cheese: $8.50
Fish Sandwich – grilled, deep fried, or blackened: $9.95. Add cheese $0.75
Famous "Full Moon" Fish Sandwich – batter dipped, deep fried, and smothered with peppers, onions, mushrooms, and cheese: $11.25
Grilled Jamaican Jerk Chicken Sandwich – grilled chicken breast marinated in island spices and citrus juices: $8.25. Add Cheese $0.75. Add Bacon $1.25
Wraps
Antipasta Wrap – a tossed antipasta of lettuce, onion, tomato, ham, provolone cheese, olives, artichoke hearts, roasted red pepper, portabella mushroom, parmesan with a light vinaigrette dressing in a tomato basil tortilla wrap: $8.95
BLT Wrap – bacon, lettuce, tomato served with mayonnaise in a flour tortilla wrap: $8.25
Chicken Monterey Wrap – chicken breast, bacon, tomato, lettuce, and cheddar cheese with chili mayonnaise in a chili tortilla wrap: $8.25
Turkey Sub Wrap – sliced turkey breast with lettuce, red onion, tomato, provolone cheese and mayo: $8.95
Sloppy Philly Wrap – large flour tortilla stuffed with thin sliced steak, onions, mushrooms, peppers, and your choice of cheese, served with mayo on side: $8.95
Fish & Chips
Traditional Fish & Chips – batter dipped, deep fried fish with steak fries: $11.95
Shrimp & Chips – ten breaded, deep fried shrimp with fries: $12.95
Pizza
Cheese Pizza – 10″ personal pizza with sweet tomato sauce and mozzarella cheese: $7.50
Pepperoni Pizza – 10″ personal pizza with sweet tomato sauce, mozzarella cheese, and pepperoni: $8.50
Sloppy Joe's Pizza – 10″ personal pizza with Sloppy Joe, diced tomatoes, jack and cheddar cheeses: $8.50
add any of the following for $1.00 each item: pepperoni, mushroom, onion, roasted red pepper, grilled chicken, black olives, portabella mushroom
Salads
Simple Caesar – our classic mixture of fresh romaine, crispy croutons, parmesan cheese, and thin sliced red onion, tossed in our creamy caesar dressing: $7.95. Add chicken $2.00
Taco Salad – fresh mixed greens with tomatoes, onions, black olives and black beans, garnished with tortilla chips, topped with shredded cheese. Served with sour cream and salsa: $7.95. Add Sloppy Joe $1.75. Add chicken $2.00.
House Salad – bed of garden fresh lettuce, sprouts, tomatoes, cucumbers, croutons, jack and cheddar cheeses with your choice of dressing. Ranch, bleu cheese, balsamic vinaigrette, honey mustard or lite Italian: $7.50. Add chicken $2.00.
Greek Salad – fresh greens with hard boiled eggs, black olives, tomato, artichoke hearts, red onion, roasted red peppers, peppercini and feta cheese. Tossed in a Greek vinaigrette dressing: $9.25
Fried Chicken on a Salad – served on a bed of greens with tomato, cucumber, onion, sprouts, and choice of dressing: $8.95
Chef Salad – bed of lettuce with ham, turkey, swiss cheese, hard boiled eggs, tomato, cucumber, onion, sprouts, choice of dressing: $9.50
Sides
Sloppy Joe's Key West Red Chili – beef chili topped with jack and cheddar cheeses: $4.95
Tortilla Chips – with black bean sauce and spicy tomato salsa: $5.25
Cheese Fries – steak fries topped with cheddar and jack cheeses: $5.95
Sloppy Fries – steak fries topped with Sloppy Joe's meat sauce and cheddar and jack cheese: $7.95
French Fries: $3.25
Cajun Fries – a little extra fire on your fries: $3.50
Black Beans & Yellow Rice – a Key West/Cuban tradition: $4.50
Cole Slaw: $1.95
Side Salad – bed of greens with tomato, onion, cucumber, sprouts and croutons with choice of dressing: $4.50
Dessert
Key Lime Pie: $4.25
Cuban Flan: $3.95