Jimmy Buffett's restaurant in Key West, home of the cheeseburger in paradise.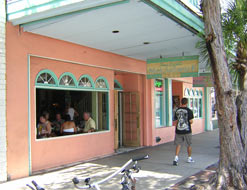 Just saying the word Margaritaville can bring many a Jimmy Buffett fan to near frenzy.
Thoughts of beaches & blenders, pirates & sailors, fill the minds Parrotheads and frequently send them on a one-way course to Key West.
And why not? Buffett was singing about the American Caribbean we love – Key West.
So while in town, if you need a Buffett Break, head to Margaritaville Cafe for some of the cold drinks, cheeseburgers (of course), and songs by the man himself.
Chances of him showing up and playing a tune? They increase with every blender drink.
Location: 500 Duval Street
Margaritaville Cafe Menu
Soups, Salads, Starters
Bahamian Style Conch Chowder – $5.25/bowl, $4.74/cup
Black Bean Soup – $4.25/bowl, $3.75/cup
Shrimp Salad – with jalapeno mayo – $7.95
Avocado, Tomato, & Red Onion Salad – $5.95
Tropical Fruit Plate – with honey yogurt dressing – $7.25
Caesar Salad – $5.25
House Salad – $3.95
Conch Fritters – $6.95
Squid Rings – $5.95
Key West Shrimp – peel & eat em – $10.25
Smoked Local Fish Spread – with Cuban crackers – $6.25
Couch Potatoes – fries topped with chili, cheese, & onions – $5.95
Sides
Vegetable of the Day – $3.95
French Fries – $3.75
Potato Salad – $3.75
Cole Slaw – $2.95
Red Beans & Rice – $4.25
Peas & Rice – $4.25
Black Beans & Rice – $4.25
Side Caesar Salad – $4.25
Paradise Found
Cheeseburger in Paradise – served with fries – $8.95 (also served like the song says, add bacon – $1.50)
Caribbean Club Sandwich – hand pulled roast chicken w/ bacon and our own avocado mayo – $7.95
Local Fish Sandwich – plenty of tartar sauce suggested, chargrilled to perfection or deep fried to a golden brown – $8.95
Fresh Yellowfin Tuna – chargrilled or bar-b-que – $9.75
Broiled Yellowtail Snapper Sandwich – $9.50
Delta Catfish Rueben – crispy fried, farm fresh catfish grilled on Texas toast w/ Swiss cheese, sauerkraut – $8.75
Fish and Chips – $9.75
Caesar Salad with Grilled Chicken – $8.75
Caesar Salad with Key West Pink Shrimp – $9.95
Caesar Salad with Key West Pink Shrimp & Avocado – $10.75
Blackened Hotdog (aka BHD, Cajun style) – served with french fries $5.25 (w/ chili cheese & french fries – $6.95)
Sandwiches come with choice of potato salad or coleslaw
Platters
Below items come with choice of 2 side dishes
Local Catch of the Day – chargrilled or deep fried to a golden brown – $15.75
Fresh Yellowfin Tuna – chargrilled or bar-b-qued – $17.95
Native Yellowtail Snapper – broiled to perfection – $16.95
Half Chicken – oven roasted or bar-b-qued – $13.75
Key West Pink Shrimp – $18.75 (choices include: skewered and chargrilled to perfection, w/andouille sausage, Jamaican jerk style with a special blend of Caribbean spices, bar-b-qued style w/ our own tailgate sauce, deep fried to a golden brown, or Barbados style with our own Caribbean sweet and sour sauce)
Plates
Shrimp Scampi – Key West pink shrimp sauteed in butter & fresh garlic, served over rice w/ veggies – $17.95
Enchilado de Mariscos – a Cuban soul-food stew w/ local fresh fish, shrimp, and scallops, served with rice and beans – $17.95
Bar-B-Que Ribs – a full slab of baby back ribs, slow cooked and finished on the chargrill w/ our own sweet and spicy sauce, served w/ potato salad – $16.95
Andouille Sausage – New Orleans favorite, spicy smoked sausage, grilled and served with a belly full of red beans, rice, and Cuban bread – $14.25
Desserts
J. B. Key Lime Pie – $4.50
Key West Ice Cream Co. Ice Cream – $4.75
Eli's Cheesecake – $4.95
Chocolate Suicide Cake – $5.50
Island Drinks
Margarita – frozen or on the rocks – $6.25
Margaritaville Gold Margarita – we use our own premium Margaritaville Gold Tequila – $6.95
Uptown Margarita – $7.95
Natural Fruit Margaritas & Daquiris – strawberry, raspberry, banana, peach, lime, mango, guava, or passion fruit – $6.75
Pina Colada – $6.75
Calypso Daquiri – pina colada w/ a splash of Kahlua – $6.95
Rum Runner – a Keys favorite – $6.95
Beer
Corona, Corona Light, Heineken, Amstel Light, Budweiser, Bud Light, Miller Light, Coors Light, Michelob Ultra, Key West Sunset Ale, Red Strip, Kalik – $3.50 – $4.00
Wine List
Champagne
Moet & Chandon Cuvee Dom Perignon – $195.00
Moet & Chandon White Star – $65.00
Domain Chandon Brut – $36.00
Korbel Brut – $33.75
White Wine
Chardonnay, Jordan Sonoma – $39.50
Chardonnay, Mondavi Napa – $37.50
Chardonnay, Kendall Jackson, Santa Rosa – $29.50
Sauvignon Blanc, Silverado, Napa – $27.50
Poilly Fuisse, Joseph Drouhin, France – $36.50
Pinot Grigio, Santa Margherita, Italy – $33.50
Red Wine
Merlot, Columbia Valley – $29.50
Pinot Noir, Ninth Island, Tasmania – $28.50
Cabernet Sauvignan, Rodney Stron, Sonoma – $29.50
Toscana, Antinori, Italy – $29.50