One of the most striking examples of Queen Anne Victorian architectural style on in Key West.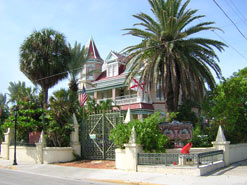 One of the most striking buildings in all of Key West is the Southernmost House & Museum. The structure is an impressive example of Queen Anne Victorian architecture and sits proudly overlooking the Atlantic Ocean.
The house a collection of important and interesting documents, many of which are signed by presidents of the United States, including John F. Kennedy's inaugural address.
Visitors are welcome (for a few dollars more) to spend the day poolside, enjoying the cocktails and impressive property.
Location: 1400 Duval Street