A tiny Key West airline grows to be the largest in the United States. And it all began here.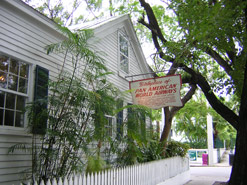 For those aviation buffs out there, visit Kelly's Bar & Restaurant (started by the actress Kelly McGillis), the original home to Pan Am airlines.
Pan Am, originally named Pan American, was the largest airline in the United States from 1927 to 1991. And it all started in little Key West when the small airline began regular passenger and mail service to Havana, Cuba.
Today the building houses a bar in the shape of an airplane wing. Continuing with the aviation theme, the ceiling fans look like the rotary engines of an aiplane.
No museum or tour. Small case diplays Pan Am artifacts.
Enjoy the in-flight beverages.
Location: 303 Whitehead Street