Key West's original co-op features works by local artists, each chosen by jury to be in the gallery.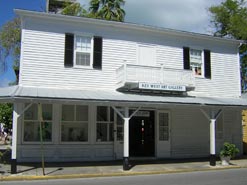 The building that houses the gallery was constructed in the 1850's near the waterfront for use as a grocery store. Later years, after a fire, the building found use as the first W.P.A Art Project under President Roosevelt.
Today the gallery is organized as an artist's co-op and has a wide choice of art by dedicated local artists and with a price range to suit everyone.
Hours: Open daily 10-5.
Location: 301 Front Street